Thirteen Books For Kids With African American Characters
Recommendations from parents, teachers, and librarians for kids ages 3 through 12.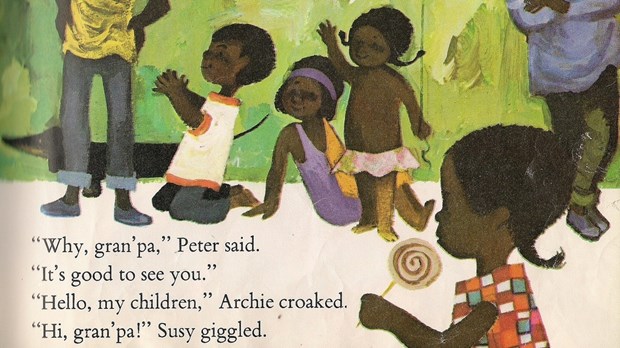 Image: EmyAugustus/Flickr
Yesterday I wrote about my ongoing search for chapter books for my kids with African American protagonists. I have only just begun to look, so I cannot personally recommend all the books on this list. But from asking other parents, librarians, and teachers, here are a few books for three different young age groups that you might enjoy with your children:
Ages 3-5: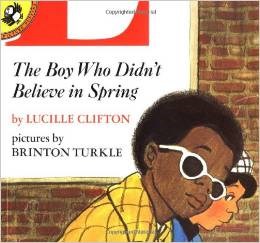 The Boy Who Didn't Believe in Spring by Lucille Clifton
"Two skeptical city boys set out to find spring which they've heard is "just around the corner".
Corduroy by Don Freeman
"This story of a small teddy bear waiting on a department store shelf for a child's friendship has appealed to young readers generation after generation."
Sugar Plum Ballerinas by Whoopi Goldberg and Deborah Underwood
"Alexandrea Petrakova Johnson does not want to be a beautiful ballerina, and she does not want to leave her friends in Apple Creek. Unfortunately, that doesn't stop her ballet-crazy mother from moving them to Harlem, or from enrolling Al at the Nutcracker School of Ballet. "
The Snowy Day by Ezra Keats
"No book has captured the magic and sense of possibility of the first snowfall better than The Snowy Day. Universal in its appeal, the story has become a favorite of millions, as it reveals a child's wonder at a new world, and the hope of capturing and keeping that wonder forever."
Ages 5-8:
Dancing in the Wings by Debbie Allen
"Sassy is a long-legged girl who always has something to say. She wants to be a ballerina more than anything, but she worries that her too-large feet, too-long legs, and even her big mouth will keep her from her dream. When a famous director comes to visit her class, Sassy does her best to get his attention with her high jumps and bright leotard. Her first attempts are definitely not appreciated, but with Sassy's persistence, she just might be able to win him over. "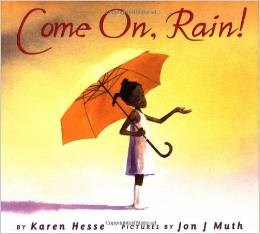 Come On, Rain! by Karen Hesse
"Newbery Medalist Karen Hesse recreates the body and soul-renewing experience of a summer downpour after a sweltering city heat wave."
Princess Truly and The Hungry Bunny Problem by Kelly Greenawalt
"[A]n enchanting tale about a clever, problem-solving princess with magical curly hair featuring the delightful illustrations of Amariah Rauscher."
The Bat Boy and His Violin by Gavin Curtis
"Reginald loves to create beautiful music on his violin. But Papa, manager of the Dukes, the worst team in the Negro National League, needs a bat boy, not a "fiddler," and traveling with the Dukes doesn't leave Reginald much time for practicing.
Soon the Dukes' dugout is filled with Beethoven, Mozart, and Bach -- and the bleachers are filled with the sound of the Dukes' bats. Has Reginald's violin changed the Dukes' luck -- and can his music pull off a miracle victory against the powerful Monarchs? "
Ages 8-12:
Make Way for Dyamonde Daniel by Nikki Grimes
"Dyamonde Daniel may be new in town, but that doesn't stop her from making a place for herself in a jiffy. With her can-do attitude and awesome brain power she takes the whole neighborhood by storm. The only thing puzzling her is the other new kid in her class. He's grouchy - but Dyamonde's determined to get to the bottom of his attitude and make a friend."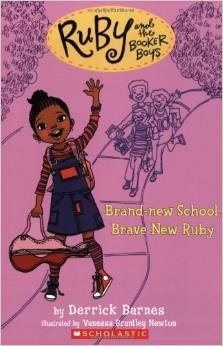 Ruby and the Booker Boys #1: Brand New School, Brand New Ruby by Derrick Barnes
"Eight-year-old Ruby Booker is the baby sis of Marcellus (11), Roosevelt (10), and Tyner (9), the most popular boys on Chill Brook Ave. When Ruby isn't hanging with her friend, Theresa Petticoat, she's finding out what kind of mischief her brothers are getting into. She's sweet and sassy and every bit as tough as her older siblings"
Donovan's Word Jar by Monalisa DeGross
"Donavan is fascinated by words. They seem to leap out at him from books, signs, even the back of cereal boxes. He savors each word as he learns to say it and discovers its meaning. He keeps the words he collects on slips of paper in a big glass jar. But one day the jar is almost full and Donavan has a dilemma. How can he make room for new words without giving up all the terrific words already in his jar? A visit to his grandmother provides the unexpected solution in this heartwarming story about how important words can be."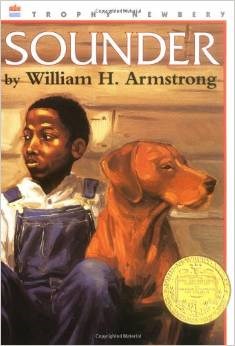 Roll of Thunder, Hear My Cry (Ages 11+) by Mildred D. Taylor
"Set in Mississippi at the height of the Depression, this is the story of one family's struggle to maintain their integrity, pride, and independence in the face of racism and social injustice. And it is also Cassie's story—Cassie Logan, an independent girl who discovers over the course of an important year why having land of their own is so crucial to the Logan family, even as she learns to draw strength from her own sense of dignity and self-respect."
Sounder by William H. Armstrong
"This classic novel shows the courage, love, and faith that bind an African-American family together despite the racism and inhumanity they face. Readers who enjoy timeless dog stories such as Old Yeller and Where the Red Fern Grows will find much to love in Sounder."
Support our work. Subscribe to CT and get one year free.
To add a comment you need to be a registered user or Christianity Today subscriber.
Recent Posts
Thirteen Books For Kids With African American Characters