When Summer Vacation is Hard
Don't worry. Don't beat yourself up. The idyllic memories will come... eventually.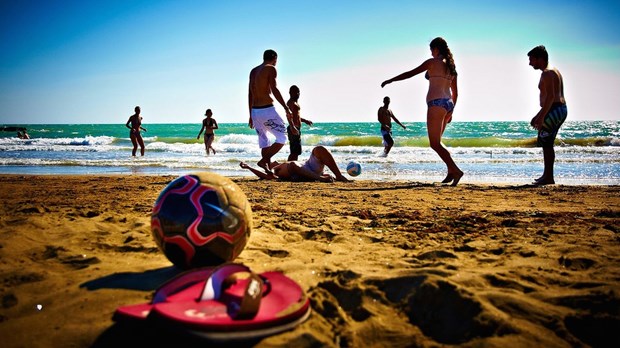 Image: Moyan_Brenn/Flickr
My memories of summer are filled with bliss. Laughing with my sisters on the raft in the middle of the cove near my grandparent's beach house. Playing card games with three generations around a painted white table past my bedtime. Watching storm clouds roll in, low and fierce yet almost comforting in their advance, with the promise that the sticky heat might dissipate, that cool breezes might return tomorrow.
I remember bike rides and fireflies, singing songs with my grandfather on an old Sunfish, collecting sea glass in a jug. I remember scampering over rocks and making tie dyed shirts and hanging them out on a clothesline in the sunshine.
I remember warmth and happiness. And I am very grateful.
So when I became a mother and the summertime rolled around, and we went to visit that same beach house with yet one more generation of children, I expected to pass along the same warmth and happiness and laughter and memories.
But reality got in my way.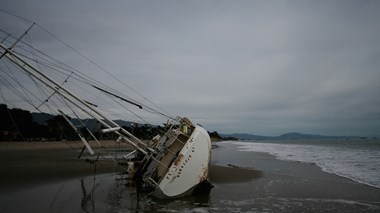 Image: DieselDemon/Flickr
First, my kids were too young to make memories. I used to think that childhood started with talking or walking, or something else that happens for most kids early on. I'm beginning to suspect that what I think of as "childhood" really began around age seven or eight, which is to say, the age of my oldest child. I've spent almost a decade expecting summertime to feel like my memories, when instead it has often felt like a disappointing set of unmet expectations.
Second, for these early summers, my kids didn't need happy memories or card games. They needed food and sleep. And the disruptions of salt air and creaky floors, the stimulation of all these unexpected people, the need to accommodate our schedules to the various family members with different plans didn't help with food or the sleep. So the kids were cranky. And the parents were cranky too.
Third, it wasn't fun to go on vacation. We were more tired than usual and there no longer seemed to be any way for a vacation to involve relaxation so Peter and I snapped at each other and gritted our teeth through another poopy diaper or another round of applying sunscreen or another failed attempt to read one page of a novel on the beach. And in the midst of all the grimacing, I felt guilty. I wasn't providing positive memories for my kids. And I wasn't even enjoying the time myself.
Is anyone else with me here?
I just finished a week of family vacation. Our kids are now 8, almost 6, and 3. It was a great week. They rode bikes. William collected dead crabs. Penny read chapter books on the beach. Marilee put on a purple floatation device and floated in the Long Island Sound for hours with shouts of, "Mom! Am I swimming? Is this me swimming?" We ate watermelon and made orange juice popsicles and sat on the porch swing and talked.
I could say that it was great because I finally learned to let go of expectations and love my children for who they are. I could say that I've prayed for years that we would experience more joy in our times as a family and that my prayers have been answered. I could say that we've become better at managing our schedules and our children's sleep needs. I could say I've learned something about patience, about perserverance, about trusting that good things will come eventually. And all those things would be true.
But I would also say that we have simply entered an easier space as a family. Our youngest is no longer in diapers and our oldest has not entered puberty. We weren't failing at summer vacation in years past. It was just a more challenging time. I suspect we will enter another time of discord before too long. Meanwhile, I hope I can receive this summer as a gift of grace.
Support our work. Subscribe to CT and get one year free.
To add a comment you need to be a registered user or Christianity Today subscriber.
Recent Posts
When Summer Vacation is Hard