Who is the Sabbath for?
Some thoughts on the differences in the Biblical accounts of the Sabbath commandment, and on why that matters to us now.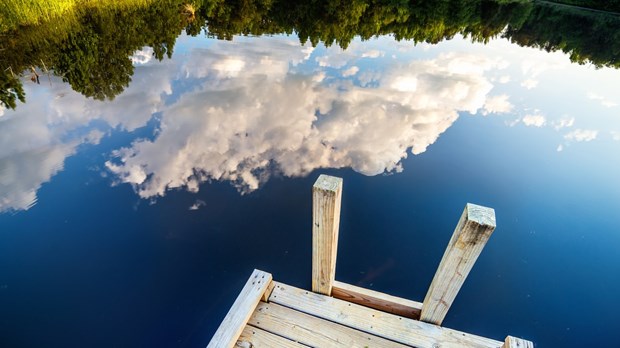 Image: Sky Noir/Flickr
I've been thinking about the Sabbath—this weekly day of rest, or is it a day of worship?—for years now. It first piqued my interest in college, when a Christian friend of mine decided to stop doing homework on Sundays. I was intrigued—he looked so happy and relaxed outside throwing the football while I scurried to get my assignments done. And I was judgmental—didn't he know that the Sabbath was an antiquated custom and that Christians aren't obligated to observe it any more?
I became more and more interested as the years went by, as both rest and worship became harder to find in my everyday life of work and motherhood. Then, in seminary, I had to write a paper comparing the two different places in Scripture where Moses receives the Ten Commandments (Exodus 20 and Deuteronomy 5), and I was struck by the differences between the reasoning for observing the Sabbath. In both lists, keeping the Sabbath shows up as the fourth commandment, and scholars usually include the Sabbath as the last of the four commandments about our relationship with God: Don't worship other gods, Don't have idols, Don't misuse God's name and keep the Sabbath day holy. The next six commandments have to do with our relationships with other people and our community: Honor your parents, don't steal, don't commit adultery, don't lie, don't covet.
What struck me though, was how the lists were more or less identical in Exodus and Deuteronomy except when it came to the Sabbath. In Exodus, the Israelites are commanded to rest on the seventh day as an act of adoration, as a way to remember God as their creator. The Sabbath is linked to the other three commands about God. In Deuteronomy, the Israelites are commanded to rest on the seventh day as an act of both rememberance and of service to others. Here, the emphasis lies not upon God as creator but God as redeemer, as the one who brought the Israelites out of slavery. The Israelites must rest in order to allow their laborers to rest, in order to recognize the humanity—the God-given creatureliness—of their fellow human beings, whether or not those people share their faith.
So I began to wonder if this fourth commandment was a hinge command, a command that both linked to the first three commandments in our relationship to God and a command that linked to the following six commandments in our relationship with others. It made me wonder whether the Sabbath was somehow integral to loving God and loving neighbor, somehow integral to my life as a Christian.
But I continued to struggle to "keep" the Sabbath. And I continued to wonder—what sense are modern day Christians to make of this ancient Jewish practice? We don't even observe it on the same day anymore, and plenty of Christians disregard it altogether, and plenty of non-religious people in our culture get plenty of rest on Sundays. As a Christian, what makes the Sabbath different, both from the Jewish practice of it and from the secular practice of it?
It was with all these questions in mind that I asked a few friends and fellow writers to reflect upon the Sabbath together. Next week, as I head off on vacation with my family (and try to rest in a way that honors God and others!), I'm delighted to share a series of essays with you on the nature of the Sabbath. First, on Monday, Michelle Van Loon offers a Jewish-Christian perspective on Shabbot, providing some historical and contemporary context for this day of rest. On Wednesday, Jen Pollock Michel writes about her experiences as a mother of young children with a part time job trying to figure out what it might mean to enjoy and practice slowing down once each week. Finally, on Friday, David Zahl offers thoughts on the dangers of legalism when it comes to the Sabbath and yet the beauty of the invitation Jesus offers us through this day.
In the midst of my own reflections, our pastor preached about the discipline of rest. She had recently been diagnosed with a serious concussion that left her in bed in a dark room for weeks on end. She talked about a whole new understanding of rest. And she made the point that on the Sabbath we aren't simply invited to rest from all our labor. We are invited to rest with Jesus. "Come unto me, all you who are weary and burdened, and I will give you rest.," Jesus said (Matthew 11:28). The Sabbath is an invitation, yes, but an invitation not to solitude or self-indulgence. It's an invitation to rest with God.
I haven't figured this all out. I'm as convicted as I am compelled by reading the posts that will appear on this blog next week. But I continue to believe that this practice of regular purposeful rest, rest with God, offers a way to know God better and to love our neighbors and serve our communities all the more.
Support our work. Subscribe to CT and get one year free.
To add a comment you need to be a registered user or Christianity Today subscriber.
Recent Posts
Who is the Sabbath for?