Sinless Down Syndrome Angels? Or Something Else?
A Perfectly Human guest post by author Margot Starbuck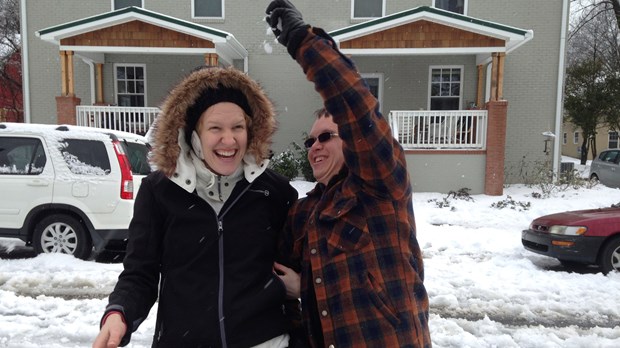 Peeking out from my living room window, I see one of my sons chucking a snowball at a neighbor who has Down Syndrome.
This could be disconcerting for some moms, I know, but not this one.
It's February in North Carolina and, after a rare snowfall, the friendliest snowball fight you could ever imagine is unfolding before my eyes.
Twenty months ago Christianity Today's This is Our City series featured our Durham neighborhood—then a dilapidated bunch of apartment buildings that were being renovated to become a community around our friends with disabilities.
Today some units are homes to families that include young adults with disabilities. Two buildings have become Friendship Houses (that Amy Julia has featured before) where Duke Divinity School students live with and learn from young adults with disabilities. Some young adults live in their own apartments, alone or with a friend. Other singles and families, like mine, are scattered into the mix.
Now my friend Amy Julia wants to know: "So, what's it like?!"
It's Like the Kingdom
The corny answer I want to offer is that it's like the kingdom of God.
But, really, what does that even mean? Since no one seemed to know in the first century, either, Jesus told stories to describe what his Father's kingdom was like.
The parables I'd use to describe Jesus' kingdom, and the one I actually live in, would sound something like this…
· A dynamic student named John, from his school's Exceptional Children classroom, is nominated for his high school's homecoming court. At the homecoming football game, more people show up to cheer for John than the football players. That's what the kingdom is like.
· A motley assortment of people gather daily for morning devotions. Sometimes one of the people will talk a lot, and sort of loudly, about things completely unrelated to morning devotions. That's what the kingdom is like.
· On Saturday nights, everyone who likes to party gathers at Sloan's house for karaoke. Everyone is welcome. Some of the worst singers are the biggest hits. That's what the kingdom is like.
· At Christmastime, a band of carolers—old and young, physically-able and wheel-chair-using, those with intellectual disabilities and those pursuing graduate degrees, black and white and Asian—elicit smiles at the Latino market across the street. That's what the kingdom is like.
· When one neighbor, living independently for the first time, winds up in the hospital, another neighbor, who lives with his adult sister, walks her dog for her. That's what the kingdom is like.
· When John is not elected as King of the homecoming court, the popular young man who is—the brother of a girl with autism—gently places his crown on John's head and the crowds erupt into thunderous applause. That's what the kingdom is like.
Naming What is Unique
Seriously, if I could package this stuff, I'd be a zillionaire.
Always the entrepeneur, I've been noodling on how it is that—in so many of my friends' faces—God's warm gracious countenance is so seeable and touchable and knowable. And I don't mean the old school Down Syndrome "they're sinless angels" stereotype. #NotTrue
There's something unique and authentic, though, that ropes in fifty people to sit on freezing cold stadium bleachers to cheer for John. There's something that has drawn in families, like mine, who wouldn't want to live anyplace else in town. There's something that brings people from all over our city to volunteer among our friends on Tuesday nights.
There's no place we'd rather be than among these friends.
Honestly, the reason I want to be with John and Sloan, with Jasmine and Alex, is because it feels good.
On most days, they're not pining to be any other than they actually are. And because they receive me unconditionally, as I am and not as I should be, I don't need to be other than I actually am.
That's the stuff that is, regrettably, not bottle-able.
So many of us slog through life slathered in shame, masking up to convince others that we're a wee bit better than we actually are. And, quite frankly, it's exhausting.
Very few people I've met are able to glide through the world like many of these friends, receiving others exactly as we are. My friends' graciously-receiving faces show me what God's face is like.
They show me the kingdom.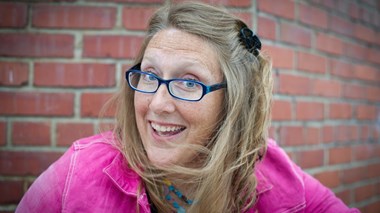 Margot Starbuck is the author of the recently-released Not Who I Imagine: Surprised by a Loving God. If it were 700 pages longer, she'd add lots of stories describing her friends' fabulous faces. Connect at MargotStarbuck.com or on facebook.
I will be hosting a giveaway for Margot's newest book on my Facebook Author Page.
Support our work. Subscribe to CT and get one year free.
To add a comment you need to be a registered user or Christianity Today subscriber.
Recent Posts
Sinless Down Syndrome Angels? Or Something Else?