The Need for Spiritual End-of-Life Care
Prayer and a ministry of presence can make an eternal difference.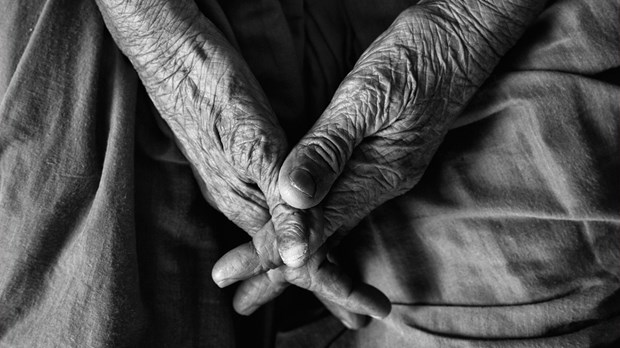 Image: Vinoth Chandar/flickr
My grandmother died ten days ago. She was 88 years old. By all accounts she had lived a colorful life, with three husbands, three children, six grandchildren, and seven great-grandchildren. She routinely stated her intention to live another decade. Even though her body was failing her through arthritis and muscle loss, she hadn't lost her desire to live, to see those great-grandchildren grow up, to enjoy the daffodils in April. But when she was diagnosed with colon cancer in early January and decided not to put herself through surgery, she knew her days were numbered, and she started to prepare to die.
Much has been written of late about the problems with end-of-life care in America. In an earlier post (Have Christians Made an Idol of Life?) I wrote about Ezekiel Emanuel's argument that Americans should aspire to die around age 75. For many Americans, the final years are a series of financially debilitating medical decisions that—more importantly—result in suffering for patient and family members alike. Many studies have shown that doctors aren't well-equipped to talk about death with patients, and often physicians suggest further treatments even when they know it will not serve the patient well. For the alleviation of physical suffering and financial burden, a national conversation about health care and end-of-life care has begun. (See, for instance Dying Shouldn't Be So Brutal in the New York Times, The Ultimate End-of-Life Plan in the Wall Street Journal, and More on Faith and Life Care here in Christianity Today.)
In my grandmother's case, good health insurance, financial plenty, devoted family members, and a daughter who had worked for years as an oncology nurse secured the care she needed. She was able to understand the options before her—risky surgery (given her age and physical condition) or palliative care. She chose the latter, and between Hospice and a live-in caregiver, she was able to achieve her goal of minimal pain and maximum lucidity. She died at home, surrounded by family.
But neither money nor medicine could provide the other crucial aspect of care for my grandmother. She needed spiritual care as much as anything else.
It would have been easy to dismiss her as a lost cause. She had walked away from the church sixty years earlier, and her conversations rarely brought up spiritual matters over the course of those decades. And yet, even before she knew about the cancer, she had begun to ask questions about faith. For a long time, she kept it light: "When I die, I'm going to have my own cloud, and all my friends will have a cloud, and we'll just zoom around and talk to each other."
She also told me her routine prayer was, "Lord, help me to help myself."
But then one day last summer, she said, "I don't pray that same prayer anymore. Now I just lie in bed every morning and pray, 'Lord, help me.'"
I think she saw it as an admission of weakness, which in a sense it was. But I saw in her simple prayer my own story of recognizing that God was God and I was not. I saw in that prayer the gospel of grace—that even though we can't earn God's love or favor, we can cry out to him for it anyway.
Over time, she told me more and more. She told me how she stopped going to church after her first husband died of a heart attack and she was alone at age 28 with two small children. She told me how it was anger and doubt and grief that kept her out of the pews year after year after year. And she told me about how now that her prayer had changed she had finally, for the first time, begun to actually feel that God was present with her and cared for her.
Once she was diagnosed, she asked me to pray with her. I put my hand on her knee and we closed our eyes and bowed our heads and I asked for God's comfort and help. Over the phone and in person, every time we were together this winter, we prayed.
Recently, she told me that she didn't know the Bible very well, and she'd like to have a better idea of where she was headed. So the next time I visited, I brought her ten index cards with verses about heaven, promises about comfort and love, about the banquet God has prepared for those who accept his invitation to become part of the heavenly family.
I talked with her a few weeks back, on my way to the airport for a family vacation. I told her I would come visit as soon as we got back. She said she was in a little pain, so she might increase her medication soon. Over the course of the week we were away, the whole family gathered. By the end of the week, it became clear that I might not make it back for that visit I had promised, and so I sent a prayer over email. My dad read out loud to her, and my sister said my grandmother squeezed her hand the whole time until he reached Amen. I paced the beach on vacation, working out my own faith as I tried to believe I was present with her through that work of prayer, even if I couldn't be there in person.
We were on our way to visit her—straight from the airport after our return flight—when she died. She slipped away peacefully, with a turn of her head and a final breath. Nothing dramatic or prolonged. As our daughter Marilee said, "Her light is gone to be with Jesus."
I have to believe that one reason she died in peace was because of the spiritual transition she made at the end of her life, her renewed openness to the possibility of God's love in the midst of her helplessness, the renewed interest in what might happen after death, the words of surrender: "Lord, help me."
In a population whose life expectancy is inching ever higher, I hope Christians will play a pivotal role in crafting policy for health insurance companies and government agencies when it comes to support for those who are dying. But even more, I hope Christians will remember the men and women who are approaching the end of their days with spiritual questions, hopes, and fears. And I hope Christians will be the ones to address those beloved ones—neighbors, friends, family members—with a ministry of presence and prayer, remembering that Though outwardly we are wasting away, yet inwardly we are being renewed day by day. For our light and momentary troubles are achieving for us an eternal glory that far outweighs them all (2 Corinthians 4:16-17).
Support our work. Subscribe to CT and get one year free.
To add a comment you need to be a registered user or Christianity Today subscriber.
Recent Posts
The Need for Spiritual End-of-Life Care