Joy in the Bleak Midwinter
When the weather and the news lead us toward despair, we can still choose to rejoice.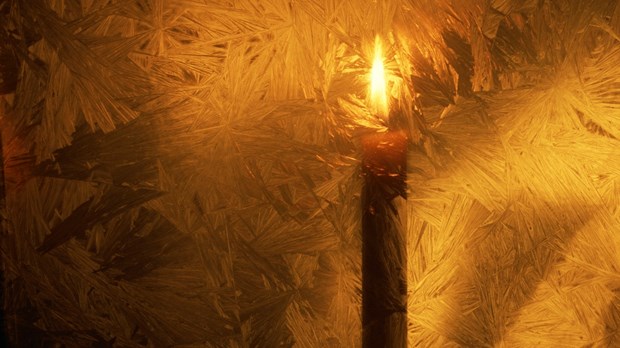 Image: State Farm/flickr
Today the sky is bright ribbons of white and cornflower blue. Flakes—like goose feathers escaping from the stretched seam of a pillow—fall onto a thick blanket of snow. Bare tree limbs and branches are drawn against the winter sky, as whimsical as pencil sketches.
But this winter hasn't always been so idyllic, at least not here in the Chicago area.
In December, we glumly kept track of how many days it had been since we'd last had direct sunlight. The skies were leaden, and there was no snow. Mud dirtied our sidewalks and shoes. Sleds sat untouched in the windows of the hardware store, as though they were old-fashioned decorations and not actual playthings of winter.
It was fitting weather, I suppose, for Advent, a season when we sing carols that are filled with longing, a time when we are told to watch and to wait. But as a backdrop for Christmas? Not so much.
On a rainy Christmas Eve, despite our best efforts, the luminaria we had placed in front of our house wouldn't stay lit. It didn't much matter—neighbors with battery-powered tea lights or those who were more savvy than us about such things made sure the way was lit for Mary and Joseph. And, despite the news that had badly bruised and broken our hearts over the past weeks—murders, injustice, the not yet realized promises of the Civil Rights movement and of Christ's gift of peace—joy came.
My church's Christmas pageant included a cantankerous Caesar Augustus, Magi trailing behind a little girl in a star costume (wired with twinkly lights), and set pieces that swayed and threatened to topple. I sat in the pew beside my eldest child—contented to have him home from college—and laughed until I was in tears, like I do almost every year during the pageant. Its familiar sweetness and comedy of errors (falling scenery, forgotten lines, the rush of preschool angels tromping down the center aisle when "suddenly a heavenly host appears") and the message of hope that undergirds the nativity never fail to fill me with what I can only describe as joy.
Maybe joy, I reflected this Christmas, is about choosing a posture of "never the less."
We are—and will again and again be—knocked to our knees by tragedy, by how God's children turn against each other in violence and hate, by the way religion is twisted and misused as justification for subjugating and abusing others. We feel—and will again feel—shame and frustration for our own fears, failings, and insecurities. So often we find ourselves stalled or numbed spiritually—and we will find ourselves in that kind of place again.
But—never the less—we show up and trade Advent's "O Come, O Come Emmanuel" for the "Hark, the Herald Angels Sing" of Christmas. We show up, perform familiar tasks (at Christmas these might include fashioning pipe cleaners into halos and hanging ornaments on a tree), and we choose joy.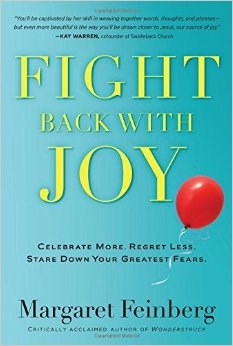 It's not a joy that pretends that ugliness, suffering, and death don't exist. This joy requires that we take deep breaths and choose not to be afraid. We choose to trust in a God, Emmanuel, who promises to be with us. We choose to trust that each of our little lights—whether flickering in a soggy paper bag on the sidewalk in the rain or brilliantly shining down from a billboard in Times Square—matters and points to a bigger, brighter light. Our joy at Christmas and now at the start of a new year is what author Margaret Feinberg calls a "defiant" joy and what I've come to understand as a "never the less" kind of joy.
It's about taking our lives seriously, while remembering how small and insignificant we are. It's about resting in the knowledge that love casts out fear and that darkness will not overcome us.
In her latest book, Feinberg describes her journey through breast cancer. After receiving her diagnosis, she crafts a surprising mantra that takes her through her surgery, treatment, and recovery: she decides to "fight back with joy." Her book, to which she's given that phrase as a title, isn't just about illness, but other battles we face—griefs, losses, and failings of all kinds.
My challenge this January—even on days less beautiful than this one—is to follow Feinberg's example and fight back with joy. When news stories of my broken world cause me to lose hold of trust and confidence. When my own flickering light of hope and purpose seem nearly extinguished.
I will keep my candle lit and continue to live into trusting that, as Feinberg writes, God's love for me is "tigerish" and "fierce" and that joy can be my weapon when I face the inevitable hardships and disappointments of life.
In other words, I'll choose joy, never the less.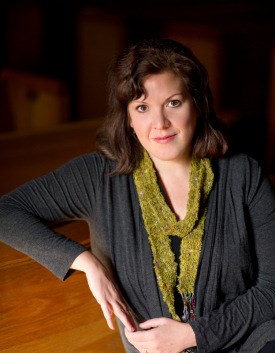 Jennifer Grant is the author of four books: Love You More, MOMumental, Disquiet Time, and Wholehearted Living, a book of short, daily reflections for women. Grant is a frequent speaker at women's groups and retreats where her speaking topics include faith and skepticism, joy and lament, good-enough parenting, marriage, and midlife. Jennifer has four children, ages 12, 15, 16, and 18 and lives in the Chicago suburbs with her husband and two German Shepherd mixes, Shiloh and Scarlett. Find her online at jennifergrant.com.
Support our work. Subscribe to CT and get one year free.
To add a comment you need to be a registered user or Christianity Today subscriber.
Recent Posts
Joy in the Bleak Midwinter