Classes of 200 and Broken Chalkboards, Only after Your Chores Are Done
School is a scramble for refugees from Sudan and South Sudan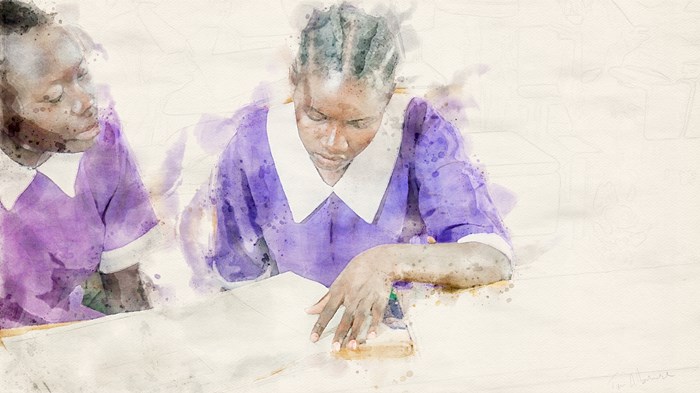 Have you ever wondered what life is like in a refugee camp?
I interviewed Amer, a young single woman from South Sudan, and Richard, a middle-aged father from Sudan, to listen to their firsthand experience. Both have lived in Kakuma refugee camp in northwestern Kenya for more than fifteen years. At their request, I am using pseudonyms to protect their identities.
Kakuma refugee camp was established in 1992 in response to a wave of refugees fleeing war in Sudan.
Nearby Kalobeyei refugee settlement was established in 2016 in response to a large number of incoming refugees as South Sudan deteriorated into civil war. Together they host nearly 200,000 refugees from 22 countries, most of whom are from South Sudan, Somalia, DR Congo, and EthiopiaUNHCR, Kakuma Camp and Kalobeyei Settlement Briefing Kit, May 2019. Link: Briefing-Kit_May-2019-approved.pdf (unhcr.org). Amer and Richard are among them.
Please tell me about primary and secondary school in the camp.
Amer said that while "statistics will show that 96% of school aged children are enrolled in primary schools, most of them do not go to school on a day-to-day basis." That's because "most children are involved in fetching water for the family or helping their parents out to get that extra financial [income] that they need to keep the family going. And that makes it really hard for kids to go to school."
She went on to note how schools in the camp are short on everything. There are not enough classrooms, books, or even teachers. She put it bluntly. "Going to school is discouraging. Imagine being in a class packed with 200 children all screaming. How are you able to learn?"
Richard noted that the number of students in a class "can go beyond 200 – especially in primary school." Classrooms are "so congested that there is no space even for a child to listen." Kids in the back of classrooms often have nowhere to sit and can't see the blackboard. "You can see the teacher is teaching, but the children are not getting what the teacher is saying."
Teachers must make do with some chalk and damaged blackboards. And while schools have small libraries from which children can check out books, there are not enough. Amer noted how this makes it "really hard for teachers to give homework to the students because they will definitely not do it without the resources."
The majority of kids need to buy textbooks or do without. But they also need to supply their own pens and paper. Amer put it bluntly, "Being able to afford these resources is impossible as they don't have the money to purchase them."
So classrooms are filled with children – most without pens, paper, or access to textbooks. Amer noted, "That's why it is hard for teachers to ensure efficient learning is going on."
Kakuma is an extremely remote place with a harsh climate. It does not attract many trained Kenyan teachers. Amer said that "most of the teachers [in the camp] are refugees – and we are not trained. But we as refugees have to step up for our own."
Amer taught high school biology in the camp. "I finished my high school degree in 2015 and started teaching in 2016. But I wasn't trained to be a teacher." All she got was three months of training to prepare her to become a teacher. "But that's not enough."
Richard lamented the ineffectiveness of the camp school system. "A child might be in sixth, seventh, even eighth grade, but not able to read and not able to write."
Amer said that only 6% of the children who finish primary school make it to high school. "And out of the 6%, only 1% will make it out of high school." Of those who do make it to high school, the majority are boys. She noted that in her class "of 120 [students] only 10-15 were girls." And the girls rarely showed up in class because of responsibilities at home.
Amer explained that this has to do with cultural expectations of teenage girls in the camp. "You take care of your siblings or your neighbor's kids. You're the one in charge of cooking for the whole family. You're in charge of fetching water or even fetching food at the distribution centers. By the time you come back, there is no time for you to be in school."
It's no wonder that the dropout rate is high. Amer said that "many girls turn to marriage as a source of comfort or [in attempt] to escape fate." But she saw how marriage often "becomes another big burden. After 2-5 years of marriage, you have a staircase of kids that you cannot take care of."
In the end, many more boys graduate from high school than girls. Amer estimates that "5-6 girls finish high school in a class – or even less."
Nevertheless, Amer noted that schools in the camp still make some valuable contributions to the lives of the children. It is good for the kids to see "other kids that look like them. That helps destigmatize the trauma that most children have gone through." The schools also "provides space for refugees to interact –and come up with solutions to solve the war back home."
I asked Amer and Richard how the global Covid-19 pandemic affected education in the camp.
Amer responded first.
"When Covid-19 hit, schools shut down for one year." But it wasn't possible for classes to move online.
"Kakuma is literally in the middle of nowhere. We don't even have accessible roads. How can we connect to wifi when we don't even have electricity?" Even if we had access to wifi, how would students be able to access it? Most households have 6-10 family members but have only 1 or 2 smartphones to share between them. It's not enough.
Both Amer and Richard noted that the UN provided some radios and radio classes for students. Amer observed, "if there is a radio, your parents are more interested in the news that is going on back home than you actually listening to your classes."
"When you are living in this environment that everyone is scrambling for the few resources that you have, there is competition and people often give up.
Richard shared that "it was very, very, very hard because school was not there and all the children they were just at home. Children did not have any way to learn up to this year. But now we can thank God for opening school this year for the children."
Researchers from Wheaton College and other refugee organizations are training and equipping refugees in the Kakuma Refugee Camp in Kenya to better understand and care for traumatized people. To learn more about the Humanitarian Disaster Institute and our M.A. program in Humanitarian & Disaster Leadership, visit our website. May 11, 2021 marks the final admissions deadline for the cohort beginning in 2021-22.
The Better Samaritan is a part of CT's Blog Forum. Support the work of CT. Subscribe and get one year free.
The views of the blogger do not necessarily reflect those of Christianity Today.