It's Tornado Season. Spiritual First Aid Can Help Those Serving Victims
Try this new method developed by the Humanitarian Disaster Institute when administering crisis care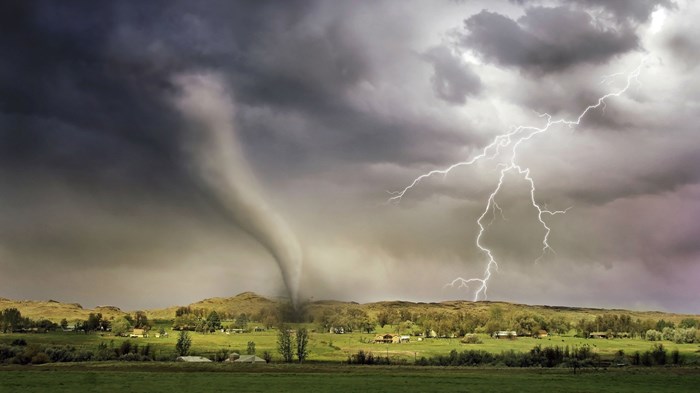 As the Marketing & Communications Leader for the Humanitarian Disaster Institute at Wheaton College, it is my actual job to share the benefits of Spiritual First Aid with you and the world. This is a role I absolutely love and definitely "fan-girled" my way into after first connecting with the incredible resources provided by this team during my tenure on staff at a church in the early days of COVID-19 shutdowns.
I count it a unique privilege to hold my position because I get to both spend my professional hours helping other leaders understand the basic tenets of the world's first evidence-based and biblical peer-to-peer intervention while also learning more each day about how I can personally work this out in my everyday life. An opportunity to practice what I preach came up in late March when tornadoes hit my community near Birmingham, Alabama.
During the afternoon of March 26, a severe thunderstorm charted a 100-plus mile path through my state and neighboring Georgia, generating roughly 50 tornados. Homes were damaged across the state, including in neighborhoods just south of my suburban home. My family and I planned to camp at a local state park the night of the storm but reconsidered when we watched the forecast. Instead of an evening under the stars we spent our hours huddled in our safe space with our two large dogs. I'm grateful we cancelled our reservation - the tornado hit the park while we were at home in our safe space.
The morning after the storm dawned bright and beautiful and I knew that although my home was fine inside and out, many of my not-so-distant neighbors were waking to much different realities. I also knew with complete certainty that God equipped me in advance to serve so I grabbed my heavy work gloves, laminated tip sheet, and Book of Common Prayer, hopped in the car, and headed to a neighborhood whose name I heard on the news during the storm. I grew up in Wichita, Kansas and learned from a young age that storm cleanup requires a lot of spontaneous helping hands the morning after, along with willingness to stay engaged in more organized cleanup efforts in the weeks and months following the initial work. I have firsthand experience - my college apartment complex was hit by a tornado eight days before graduation. Without the many people who lent their support in the aftermath of the storm, my experience would have been much more difficult.
As the miles passed and I neared the neighborhoods impacted by the Alabama tornadoes, I witnessed the randomness of the storm. A car's bumper twisted in a powerline strung from a pole still upright across the street from an entire row of downed lines and poles. The windows of one building were completely blown out while its neighbor's remained completely intact. Personal items in trees. A bike on a roof.
Tornadoes unnerve me in many ways, but particularly in how they don't ever seem fair. Unlike a hurricane or blizzard that impact wide swaths of communities, tornadoes often seem to pick and choose their targets. I heard this sentiment expressed throughout the morning I spent helping with cleanup and it opened the door for me to begin serving as a Spiritual First Aid caregiver. As I listened to my neighbors process their experiences, I engaged in conversations about their most pressing Belonging, Livelihood, Emotional, Spiritual, and Safety needs, following the BLESS Method.
Here's what happened, step by BLESS Method step:
Belonging: in this step we watch interpersonal interactions and assess relational needs. Thankfully, many people in my community felt the same inclination I did to come out and help.
Livelihood: this offered the biggest challenge in my case as this normally requires asking resource questions and processing material losses. Fortunately, our local news organizations were quick to publish phone numbers and addresses for community assistance. The one time someone mentioned this need, I simply texted a link to an article.
Emotional: providing emotional care opens the door for lament and in addition to helping clear debris and drive supplies, this seemed like the most valuable form of assistance I provided. Letting people be sad about their losses and crying with them moves Saint Paul's words in Romans 12:15 off the Bible's pages and into practice (weep with those who weep, rejoice with those who rejoice).
Spiritual: as a Christian and Better Samaritan in training, I always set out into any situation with the gospel in mind. I hold a Master of Divinity degree (M.Div.) from Fuller Seminary and a strong urge to turn as many moments as possible into gospel-preaching opportunities! However, the BLESS method helps me realize that this impulse is often about me and my inclination to ride into helping situations with a savior mentality, which is rarely helpful. When people are hurting, they don't need to hear a sermon, they need to see one. As I worked, I kept the Book of Common Prayer on my dashboard and the Holy Spirit opened opportunities for conversations about Jesus and for prayer.
Safety: fortunately, the families I worked with directly have local safe places to stay as they prepare to rebuild their homes.
While I will never fully understand why God creates space for tornadoes and the devastation they bring, I am eternally grateful to have a framework and set of tools in the form of questions I can use to help provide care whenever and wherever God calls me to serve.
If you would like to join me in serving as a Spiritual First Aid caregiver, click here for more information about resources and training opportunities.
Christa Cordova works with faith-based organizations and churches as an engagement strategist. Her current work includes leadership of the marketing and communications team at the Humanitarian Disaster Institute at Wheaton College. She holds degrees from Fuller Seminary (Master of Divinity, '18) and the University of Kansas (Journalism, '03).
The Better Samaritan is a part of CT's Blog Forum. Support the work of CT. Subscribe and get one year free.
The views of the blogger do not necessarily reflect those of Christianity Today.