Parents, You Are Blessing Your Kids When You Get the COVID-19 Vaccination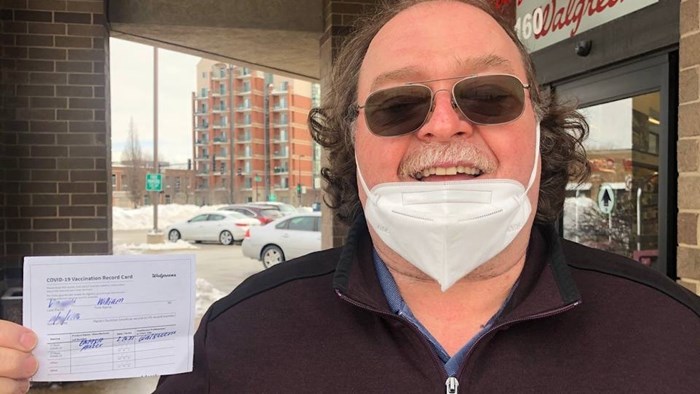 Mom and Dad,
We know you would rather not deal with this. Nearly half of you, in fact. Forty-five percent of white evangelicals surveyed last month said they definitely or probably will not get the vaccine. In fact, nearly 60 percent of surveyed Republicans between 50-64 are not even concerned about a local outbreak. Even elderly people in other countries are expressing reluctance.
We know you have deeply held faith beliefs, and these are affecting this decision. We know you are concerned about the use of fetal tissue in research. (You needn't be, but that's another discussion.) There are many, many more political, religious and societal beliefs mixed in with your feelings about this pandemic, even peer pressure: maybe it's not the news, but your friends telling you that they don't plan to get vaccinated. ("It's fine for everyone else, but not for them.") The personalities you love and follow are skeptics. It all adds up.
We hear all of those concerns. We hear your skepticism.
And Mom and Dad, please hear us too: this is not about your politics or mine. It's not about who was president, who is president, who is governor, or where COVID-19 was first discovered. It doesn't need to be a political statement, or an 'agree to disagree.'
This decision is about you, me, and your grandkids, and refusing to prolong this pandemic.
We are gutted by the idea of this issue tearing apart our relationship—but that's because we are even more terrified of the idea that we might give you COVID, and COVID might kill you.
COVID is still just as contagious as it was one year ago, when we all put teddy bears in our windows in a display of solidarity. This is still the same virus... only a bit worse, especially among kids. These are still the same grandkids you FaceTimed with, and sent gifts to, and can't wait to hug and kiss. They can't wait to hug and kiss you too—safely.
More than 80 percent of COVID victims so far are over 65. As I write, that's 424,274 people your age. So many of those victims had kids and grandkids too.
I know you've been skeptical about reported causes of death. But excess mortality rates prove what we already know. These numbers show us how total death counts differ year over year, and they prove that COVID was devastating. For example, 54% more U.S. seniors died the week after Christmas, 2020, than the week after Christmas, 2019. That's no coincidence.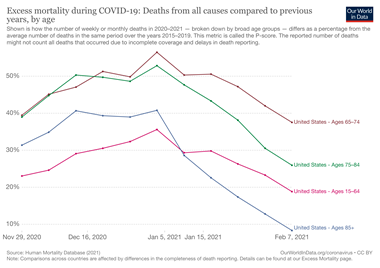 Mom and Dad, this chart is why we are so concerned about your health. Masks are not a perfect or permanent COVID solution. (But keep wearing them until we reach herd immunity, please!) Just imagine what it would be like for us to lose you to COVID-19 in six months, knowing that a vaccine might have protected you. Or worse, imagine our agony if we, or someone else in your life, had given you a virus that a vaccine would have protected you from. It would crush us. It would crush your grandkids forever.
We've seen a lot of shortages over the last year. Remember how horribly people fought over toilet paper last March? As well as masks, hand sanitizer, and COVID tests. All of these have evened out. We no longer have to live with this scarcity mindset. Getting a test is now as easy as picking up your prescription in the drive-through lane. We are about to see millions of vaccines become available, including the coveted one-dose J&J. Access is no longer the issue—it's up to you to make this choice. (I promise, you'll find it just as worthwhile as you have always found MMR!)
You bless us when you agree to be vaccinated. You bless us with peace of mind. You bless us with the ability to see you, both now and for years to come. And text us a picture of that bandaid, because that picture will be an answer to many, many prayers.

Laura Finch edits this blog and produces the Better Samaritan podcast. She has worked for C-SPAN, the U.S. House of Representatives, and two state legislatures, and her writing has been published in various news outlets. As of April 27, both of her parents will be fully vaccinated.
The Better Samaritan is a part of CT's Blog Forum. Support the work of CT. Subscribe and get one year free.
The views of the blogger do not necessarily reflect those of Christianity Today.