Pursuing a Career in Disaster Response? Here's the Insider Advice You Need
This generation has survived a unique season of disruption and is especially motivated to reduce suffering caused by disasters, according to a 20 year expert.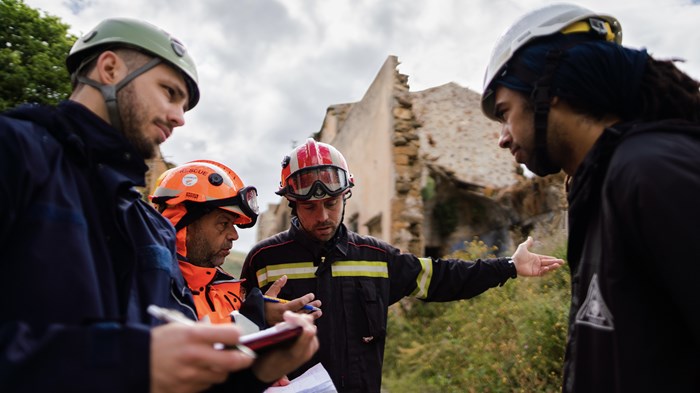 I wish a program like Wheaton's M.A. in Humanitarian & Disaster Leadership had existed 20+ years ago. At that time, I had no idea that some day I would lead a company focused on global disaster risk reduction and emergency management based in Washington D.C. Yet I wouldn't trade my journey for anything, and hope my story inspires more faith-based disaster research and participation of communities of faith to be moved by compassion and vision to serve before, during and after disasters.
The summer of 2000 bore much fruit in my life. Motivated by my faith and interest in ministry and biblical studies (along with a bit of hubris and youthful zeal to change in the world), I explored college options expecting to serve as a vocational minister. But in while volunteering with a Christian ministry in Ghana for eight weeks that summer (during which time I met my future wife), I had a distinct moment in prayer. I knew that when I returned home, I needed to switch the trajectory of my studies toward business. While I didn't fully understand it, I was resolute and felt encouraged to pursue this path by my father and others when I returned home.
Upon my return, I was excited to discover that my school had launched a new focus area within the business major focused on non-profit management. This inspired a few thoughts. The first thought was that if I aspire to leadership in ministry, it would be good to know a thing or two about business. Second, I thought perhaps some day I could be part of an organization serving communities in a humanitarian context improving spiritual, social and economic development around the world. The more I considered it, the more I liked the idea, and I joined the business school. I already had an affinity for things like working with people, administration, and business in general - it was a natural fit. Also, I caught the travel bug and began pursuing opportunities to serve all over the world, inviting friends along for the journey. Things seemed to begin to make sense in life.
Soon after I was married, my wife and I made a plan to spend a season traveling to 19 countries on an around-the-world trip mostly in Asia, Africa and the Middle East. While on our journey, we worked with dozens of faith-based ministries and humanitarian organizations and led teams in many countries. I quickly observed that people in this field are incredibly committed to their missions, passionate, and willing to sacrifice everything. I also observed high degrees of burnout, lack of resources, and disillusionment of many friends who eventually grew weary and switched careers. We were offered numerous jobs while on our trip, but had a gut feeling to turn them all down, knowing that this was not the path for us.
It was while serving post-conflict refugees and disaster survivors in Asia and Africa that I had an idea - what if we could take the passion and energy of the volunteer and combine it with the resources of private industry and the government? After talking with several confidants, I concluded that to have the type of impact I wanted to have I needed more education and experience. So that's what I did. I moved to Washington D.C. and pursued higher education in public administration because I felt I already had a background in business and ministry, while also serving as a first responder in an urban campus environment.
Since then, I have used every bit of my education and experience in a career in homeland security, disaster risk and emergency management. My work has focused on the intersection of research, policy, operations, and innovative technology solutions that address critical and systemic challenges before, during and after disasters. In 2015, I ventured out in faith to launch SPIN Global, a public benefit corporation that exists to disrupt disasters from neighborhoods to nations.
As I've spent the last 20 years in this space, particularly with the goal of "disrupting disasters," I've learned three things:
Disasters are more a consequence of socio-economic than natural factors. For example, a flood is an impartial equal-opportunity hazard. The "disaster" occurs at the intersection of people, the things we have built or need, and the hazard. If we commit to it, humanity is capable of improving disaster resilience, reducing risks, and mitigating losses.

We have a readiness deficit. Disasters happen. People and institutions are too reactive and unprepared for disasters that are only increasing in frequency and intensity. This results in needless disruptions, suffering and losses. Yet, these disruptions can be a positive and vital catalyst for change for individuals and communities.

We need to build a culture of preparedness. The human and economic toll of disasters can't be ignored any longer. This generation needs to flip the script and become proactive in disrupting the impact of future disasters through preparedness, risk reduction, and resilience.
College students today were alive during 9/11, record-breaking fires, floods, hurricanes, a global pandemic and conflicts of all kinds. This generation has survived a unique season of disruption, and is motivated to reduce suffering caused by disasters. Christians should be amongst the most informed and inspired to be a readiness culture ambassador in our communities. Theologically, it aligns with the essence of our entire existence, which is to prepare ourselves and our communities for the return of the Messiah. As a humanitarian, disaster work provides a fantastic way to care for the social and economic welfare of humankind, no strings attached.
A final word for students and young professionals...someone I greatly admire told me: "Money follows life, so don't waste your life chasing money. Instead, live your life, and trust God to provide." If you have an interest in humanitarian or disaster work, but are unsure of what that looks like, then my advice to you is pursue your passion, live expectantly and just do it.
Joel Thomas is the Founder and CEO of SPIN Global, a public benefit corporation that exists to disrupt disasters from neighborhoods to nations. He is a trusted advisor to private industry, non-profits, and governments at local, state, national and multinational levels. He has degrees from Trinity International University (B.A. Business / Non-Profit) and The George Washington University, (M.A., Public Administration / International Development). He is also a Senior Fellow at Tulane University's Disaster Resilience Leadership Academy. Visit www.spinglobal.org and connect on LinkedIn to learn more.
The Better Samaritan is a part of CT's Blog Forum. Support the work of CT. Subscribe and get one year free.
The views of the blogger do not necessarily reflect those of Christianity Today.