Really Seeking Good? Or Just Seeking Attention?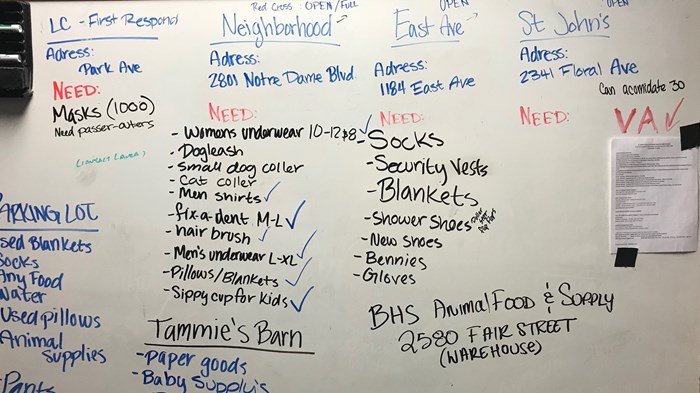 Right after the devasting Camp Fire in November 2018 (which destroyed 18,804 buildings), we had a unique experience. Suddenly about 30,000 people in Paradise, California became homeless, and the majority escaped to Chico.
The obvious and globally reported need demanded urgent response from both locals and those further away. In her role as executive director of our local homeless ministry, the Jesus Center, Laura received an emblematic call a few days before the Thanksgiving holiday from a group located in the San Francisco Bay Area (which is about 150 miles away). To honor the holiday for those who were displaced, they wanted to bring a Thanksgiving meal.
But it wasn't needed: other groups had already volunteered, including the famous Guy Fieri. More urgently, Chico needed help for the days following Thanksgiving.
So, she asked, "Is there any way you might come the following week?"
"No," the reply came, "the trucks are being loaded now." When her straightforward answer was repeated, the caller dug in unsympathetically.
We wish this experience was unique. We can tell you from events of the Camp Fire—as well as Greg's experience as a pastor in New York City right after 9-11—it's not.
We do get it. Scripture repeatedly tells us to serve those in need. One of our favorite passages is Isaiah 58:10: "If you pour yourself out for the hungry and satisfy the desire of the afflicted, then shall your light rise in the darkness and your gloom be as the noonday."
Think of Simon Sinek's simple yet profound typology: Why, How, What. It fits perfectly here. As people of faith our mandate (the Why) is clear. God wants us to care for others particularly those stripped of rights, opportunities, and basic needs.
There's nothing quite as clear as what that happens in times of tragedy—the hungry and the afflicted are right before our eyes. And it's not just moments like the Camp Fire or 9-11, the COVID-19 pandemic has offered us myriad possibilities of caring in times of crisis. The amazing thing, as psychologist Stephen Post discovered with his colleagues at Stonybrook, is that caring for others actually helps us be more resilient.
The How for people of faith, is also clear:
These compelling words from Philippians 2:3-4: "Do nothing out of selfish ambition or vain conceit. Rather, in humility value others above yourselves, not looking to your own interests but each of you to the interests of the others."
Our core values or way of doing and being (namely, our How) are about putting others first, seeking their good, being servants.
And yet, as the character Elphaba sings in the musical Wicked,
"One question haunts and hurts
Too much, too much to mention,
Was I really seeking good,
Or just seeking attention?"
As we seek to serve our neighbor more effectively, it's a question worth pondering.
Here then is a gut check in times of tragedy. When we feel compelled to respond—which is a good thing—let's ask: Why do we try to do good? Is it for others or for ourselves?
And honestly, the answer isn't always clear. But we can make things easier on ourselves by asking: What is our role? What is ours to contribute? Should I show up, send money, or offer support to others on the front line?
The third part of Sinek's framework is the What. It changes, depending on a thousand factors, most of which are opaque to those of us not in the "know." Even if we are on the front line, we still have to ask many questions. Our advice: Ask first. Make sure you ask first before you make plans.
If we're "serving" others and they don't need it, we're probably not looking to the interests of others.
Let's ask first, then serve. And then let those you're seeking to serve guide you.
On the front page of the Jesus Center website for months during and after the fire, our advice to those who asked was to give money to the North Valley Community Foundation (NVCF). Not to the Jesus Center, although many did. We invited people to give to the one agency that would be focused on the immediate needs and the long-term needs for years to come. Three years later, having now just received another grant from NVCF, and witnessed their strategic work stewarding over 70 million dollars, we'd do the same thing again.
May we learn to be people of conviction and inquiry, following God's admonition to care for others. May we do what is best for others, not for ourselves, lest we add yet another tragedy of good intentions, doing more harm than good.

Laura Cootsona is executive director of the Jesus Center in Chico, California, and Greg is a Presbyterian pastor, a lecturer at Chico State University, and co-director of Science for the Church.
The Better Samaritan is a part of CT's Blog Forum. Support the work of CT. Subscribe and get one year free.
The views of the blogger do not necessarily reflect those of Christianity Today.