Responding to Daily Disasters in Memphis is 'Trial by Fire,' Literally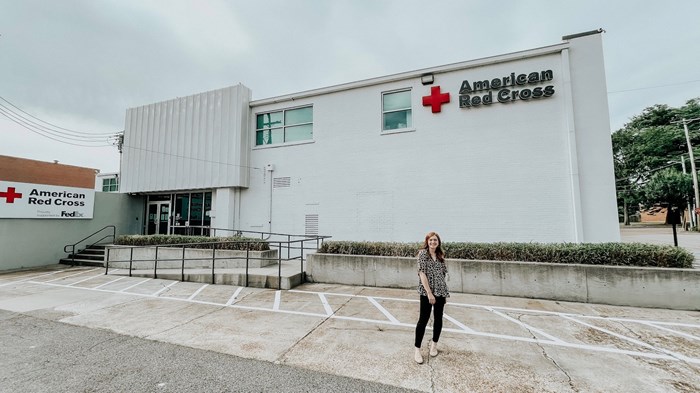 "Trial by fire" is a phrase often used to describe when a person jumps into a new job or role and learns through experience, both the good and the bad. This is a phrase I have found myself using to describe taking on my new role as a Disaster Program Specialist with the American Red Cross. It is a phrase many of my friends have used when they ask about my experience. Unfortunately, it is also a phrase that is a little too literal in my new position.
House fires may not be the first thing you think of when you think of the American Red Cross, but it is the bulk of what we respond to on an almost daily basis. In my first month with the Red Cross, my team responded to 43 separate disaster events, almost all of which were house or apartment fires. Though our chapter covers 10 different counties, most of these fires happened within the Memphis Metro area. 214 people received assistance from our chapter in the month of June. Talk about "trial by fire."
Typically, when we get a call, it is because the person did not have renters or homeowners insurance and/or they had pre-disaster vulnerabilities. Many of the people we work with live below the poverty line and were already disadvantaged before the disaster struck, making their post-disaster vulnerabilities even more complex to address.
In my role, I spend most of my time on the response and recovery side of things (we have great preparedness programs that my coworker runs). This means I spend my day coming in contact with people who have been trapped in cycles of poverty, addiction, and violence. We work with those who have no resources, nowhere to go, and no one to fall back on.
The American Red Cross is not a Christian organization, but its mission, vision, and principles share common ground with Christian ideologies. My team and I have the unique opportunity to step directly into those vulnerabilities and extend the love, mercy, and grace of Christ through humanitarian aid. Because of my role with the organization, I get to show my city the way that Christ walked alongside the needy, poor, and broken.
My fieldwork experience, a final requirement for my degree in Humanitarian & Disaster Leadership, has been an interesting one in the fact that it started when I started my new job. Much of my time up until now has been spent on onboarding and simply learning my role. However, since my fieldwork project is focused on volunteer engagement, it has given me an excuse to really pour into getting to know our amazing volunteer team. I am over both our disaster action team and our casework team. While neither one of these teams is very large, they are very dedicated. I have been so encouraged by their dedication to carrying out the mission of the Red Cross. Some of these volunteers have been serving for over 50 years!
The team has faced quite a bit of transition over the last year or so: They have transitioned to all virtual programs; they have had to learn and start using two completely new systems; a person was hired for my current role but resigned after just three months; I joined the team, and now they are slowly transitioning back to in-person services. These are big changes for volunteers, especially for those who are used to doing things a certain way. My goal for this summer is to gather feedback on these transitions, analyze the data, and implement any needed changes. We know that things are going to change and adapt down the road; our question is how we can best prepare and support our volunteer teams through that process.
While I have gotten to spend some time getting to know our volunteer team and our new systems, the reality is that the majority of my time has been spent learning my new role as well as the mission and values of the American Red Cross. My hope for the next few weeks is that I would be able to finalize our volunteer survey, host a few in-depth interviews, analyze the data, and start thinking of those creative solutions.
This experience has indeed been "trial by fire" in both figurative and literal ways, but I am so thankful for the opportunity I have been given. At the same time, I am not naïve of the responsibility and expectations that have been put on me. However, I am so grateful to work with a knowledgeable and patient team and for the educational background I have to help me carry out this work with excellence.

Christi Garretson is graduating in August with her Humanitarian & Disaster Leadership (HDL) Masters degree from Wheaton College. The HDL degree requires that students gain fieldwork experience. For more information about the HDL program, please visit Wheaton's site or apply online.
The Better Samaritan is a part of CT's Blog Forum. Support the work of CT. Subscribe and get one year free.
The views of the blogger do not necessarily reflect those of Christianity Today.