Why You Should Think Twice Before Sharing That Next Viral Post About Human Trafficking
Sharing misleading information online—even unintentionally—has real-world consequences.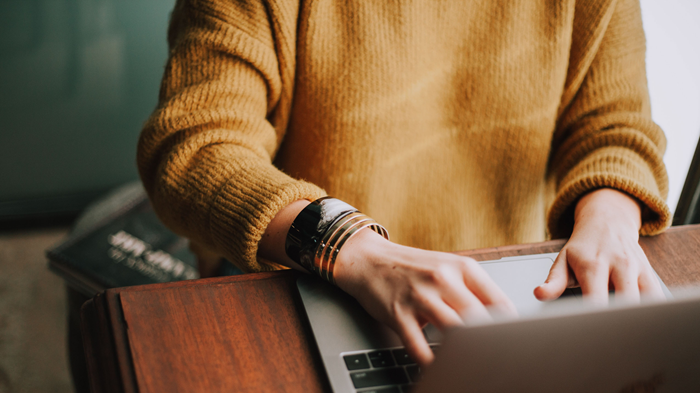 January is Human Trafficking Awareness Month. Throughout this month, we'll be sharing posts and resources that shine a light on the reality of this global problem and ways you can combat modern slavery. Today's post comes from Shayne Moore, HDI's Director of Operations and Anti-Human Trafficking Fellow. She currently teaches a course on Anti-Human Trafficking & Gender-Based Violence in our M.A. in Humanitarian and Disaster Leadership program at Wheaton College Graduate School.
The internet today is full of clickbait articles, edgy memes, and viral conspiracy theories. These viral posts are capturing the attention and imagination of vast swaths of the American public. Posts associated with the QAnon conspiracy, which claims that Donald Trump is fighting sex trafficking rings embedded in America's elite, are particularly popular. Roughly 1/3 of adults polled in a recent Civiqs survey said they believe the QAnon conspiracy is at least partially true.
But on an issue as important as human trafficking, sharing these viral posts and conspiracy theories causes more harm than good. Every one of us, but men and women of faith most of all, have a responsibility to do better.
Viral posts are a potent source of misinformation. A lot of these posts supposedly shine a light on human trafficking, sometimes featuring very troubling and sensationalized images of children and victims. But many of the incidents they talk about are simply false, such as the viral story that erroneously claimed Wayfair was selling children through its online website. Others distort data and information, as is the case with the viral QAnon graph alleging that human trafficking arrests rose by 200% under Donald Trump.
You may not realize it, but sharing misleading information like this often has real world consequences for the law enforcement officials working to stop human trafficking. Passionate people incensed by what they read online can clog up vital law enforcement resources with unhelpful tips and reports. The National Center for Missing and Exploited Children, for example, has reported a 200% increase at their call center since the beginning of the pandemic. It's a big enough issue that Ambassador John Richmond, who leads the U.S. State Department's efforts to combat human trafficking, recently took time out of an online event discussing human trafficking to urge people not to post and share these types of stories. He encouraged everyone to stick to the principle of "if you see something, say something." In other words: report real concerns, do not post and do not reshare unsubstantiated posts.
What's more, when we focus on false and sensationalized stories we often ignore the less sensational but still very real forms of human trafficking happening every day in our own backyards and at our own borders. The unfortunate and horrible reality is that human trafficking is very prevalent, even in the United States. The State Department reports that, in 2016, there were an estimated 40.3 million people living as the victims of this modern slavery. In the U.S., a disproportionate share of trafficking victims, including 95% of labor trafficking victims, are immigrants. But there are no viral posts about the immigrant promised a good job at a local restaurant, who finds himself coerced to work for no pay and unable to escape the situation.
Disproportionate attention to viral social media flurries wastes the passion and energy of people who could better use their time advocating for real change in response to real world events. QAnon believers today are still protesting and marching with signs calling for an FBI investigation of the long-since-debunked Pizzagate conspiracy. Meanwhile, in the real world, the Department of Homeland Security quietly suspended the lifesaving protections provided by the Trafficking Victims Protections Protection Act (TVPRA). The TVPRA is a vital piece of legislation that grants a desperately needed degree of security and safety to unaccompanied minors at the U.S.-Mexico border. But citing public health concerns related to the COVID-19 pandemic, DHS has stopped enforcing the TVPRA. As a result, children are being returned to situations where there is a high risk of trafficking, violence, and exploitation.
Anyone seriously invested in fighting back against human trafficking would make a far greater impact by supporting measures to protect public health during this pandemic without disregarding the life-saving protections guaranteed by the TVPRA. With this in mind, I recently added my signature to a joint letter urging Ivanka Trump to protect vulnerable children on our borders and to ensure that our government is enforcing the legislation designed to protect the most vulnerable. The letter was written by humanitarian anti-trafficking organizations like World Relief, World Vision, and International Justice Mission. I encourage everyone to join their voices to the work by organizations like these. Advocacy and action can take many forms, but posting online is not one of them.
These problems are real, and people are right to be incensed. They are right to be angry. They are right to demand justice. But conspiracy theories like QAnon are a distraction from the real fight against human trafficking.
For over a decade, my faith has driven me to work in human trafficking education and advocacy. I understand what it means to feel passion and anger at the atrocity of human trafficking. Yet passion is never an excuse for casually sharing potential misinformation online. Let's post less and educate and advocate more. That way, we can bring lasting change to the most vulnerable.
Shayne Moore is a graduate of Wheaton College and an anti-human trafficking fellow at the Humanitarian Disaster Institute. She is co-author of Refuse to Do Nothing: Finding Your Power to Abolist Modern-Day Slavery (InterVarsity Press, 2013).
The Better Samaritan is a part of CT's Blog Forum. Support the work of CT. Subscribe and get one year free.
The views of the blogger do not necessarily reflect those of Christianity Today.