Violent Assassination in Haiti: How Do Country and Church Need to Respond?
An interview with local nonprofit leader on the current state of the country.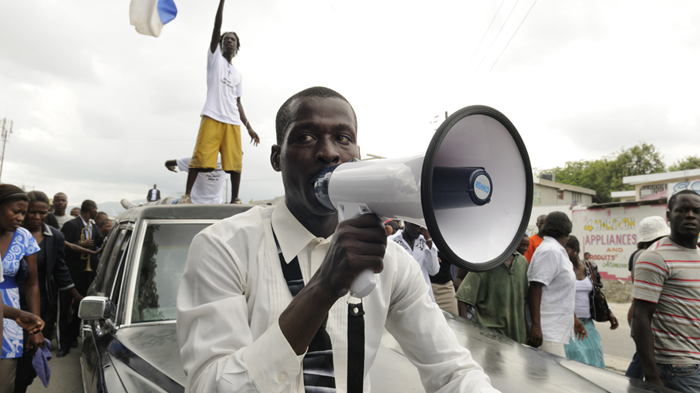 Editor's Note from Kent Annan: Last night the Haitian president was assassinated. A country already in turmoil now faces uncertainty and even steeper challenges. Hours after the coup d'etat, I talked with my longtime colleague and friend Enel Angervil, who is director of DAI-Haiti, about the situation on the ground. Enel is one of the most gifted, dedicated leaders I have known. My heart breaks for Haiti and also for Enel, whose courage and dedication presses on even when mine would have long ago waivered.
Enel, I've seen you dedicate your life, and even risk your life, for almost twenty years working for your country. As someone who has worked for long-term change - for justice and peace and human rights - in Haiti, how are you feeling after the assassination of the president?
It's discouraging for those of us who have been working for social justice for many years--working for a society that respects human rights and respects people's lives. At the same time as this has happened, we're conscious that we are dealing with the circumstances of bad governance in our country for generations, of not fully applying the rule of law, and of impunity. The Bible says in Proverbs 14:34: "Righteousness exalts a nation, but sin condemns any people." In this moment, I hope and ask that all Haitians engage so that we can have a country where justice is the only cock that crows.
What is going to be the impact on people's lives during the coming days?
The consequences will be very serious. Already the government ministers are observing a 15-day period where all institutions are not allowed to work and restrictions are in place--like a state of emergency. On Monday, July 12, the official national exams are scheduled for high school students around the country. How can a student take a test in such a traumatic situation? This is just one example of the disruptions that will impede life moving forward in Haiti. The questions feel so heavy right now.
How will Haitians agree to a transitional government? How will we cope economically and emotionally? The Dominican Republic has already closed the borders, and Haiti is very reliant on the Dominican Republic for a supply chain of food and material goods. We have the rapid increase of the COVID-19 Delta variant and the insecurity [of crime and gangs]. Will there be more violence in the coming days, more corruption, more traumatized people, more coronavirus cases and deaths, more Haitians that try to leave the country illegally?
What is the Haitian church's role during a difficult time like this?
This is the moment for churches to show their compassion, their holistic mission and service. Long before this, we have been working with churches to teach and preach as messengers of reconciliation, justice, peace and forgiveness. We have an opportunity to play a role of mediation between political parties. We work with churches who already, and must continue to, support people with economic opportunity. We can be a gospel witness through our faithfulness and love during crisis. In DAI-Haiti, we train leaders all around Haiti--for the country and for the church--and we see the difference this makes for leaders and their institutions. We live by faith and love, not by fear--even if these are somewhat scary times.
How do you hope that Christians outside of Haiti would pray for your country now?
First, we want justice and to be a nation that walks in justice, in security, in respecting people's rights. God asks in Jeremiah 29:7: "Also, seek the peace and prosperity of the city to which I have carried you into exile. Pray to the Lord for it, because if it prospers, you too will prosper."
Second, if you are reading this, please pray for Haiti. Here are urgent needs for Haitians that you can pray for: people who can play a role of mediation, security for the nation, economic means to address high poverty and hunger rates, a transitional government, messages of comfort coming from God, safety and encouragement for students as they go into official exams, a heart of repentance and forgiveness, and finally, a feeling of love to save Haiti. We need so much to help Haitians: training on trauma, conflict management, food, protection and healing from COVID-19. So much...
Editor's Note: I deeply respect how Enel takes responsibility for and is thinking about what he and other Haitians can do for his country. At the same time, as outsiders, it's important to be aware and take responsibility for the way that we as the U.S., for example, have contributed to Haiti's political and systemic injustices over the centuries and recent years. As Enel seeks to take responsibility, so we too should seek to take responsibility as together we learn to do good, better. For more political and social context about the assassination and aftermath, please check out this podcast we did with Tearfund Haiti's director.
Enel Angervi is the director of DAI-Haiti and FOKA. Kent Annan is director of Humanitarian and Disaster Leadership at Wheaton College, where he leads an M.A. program as part of the Humanitarian Disaster Institute.
The Better Samaritan is a part of CT's Blog Forum. Support the work of CT. Subscribe and get one year free.
The views of the blogger do not necessarily reflect those of Christianity Today.