Kakuma Refugees Are Getting Vaccinated—but the Global Rollout Is a Fiasco
From KANERE refugee news service in Kenya, a much different picture than the U.S. is seeing.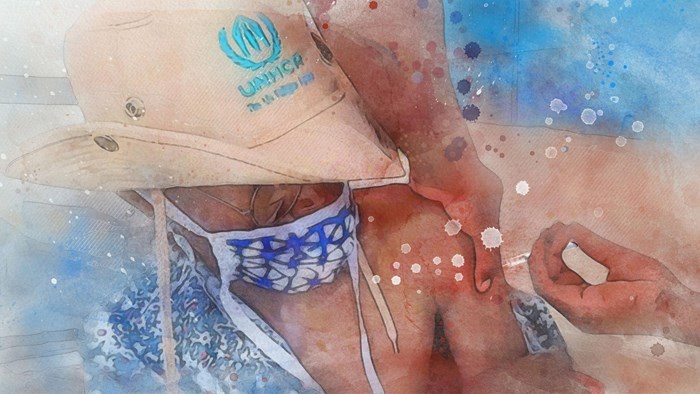 In April 2021, during World Health Week, the first phase of the COVID-19 vaccination program for refugees and asylum seekers living in Kakuma and Kalobeyei was rolled out at Ammusait General Hospital, Clinic 7 and Natukubenyo Health Centre, respectively.
In Kakuma, the first phase sought to prioritize health workers, security personnel, teachers, other critical service providers and refugees who are 58 and older. These groups are now eligible to receive their first vaccine dose from Monday to Friday between 8:30am- 3:00pm. Accordingly, around 2800 refugees, who account for 3% of the total refugee population, are expected to get priority access to COVID vaccines in the first phase of the roll-out.
On World Health Day, UN High Commission for Refugees Filippo Grandi called for vaccine equity: "The blatant imbalances observed in vaccine-sharing among states are counterproductive and shortsighted. A 'my country first' approach just cannot work in a pandemic that knows no borders."
Kakuma reported its first positive case on 13 March, 2020. As of April 30, 2021, the positivity rate was 7% among refugees and 4.9% among humanitarian workers, with the total number of cases and refugee deaths being 935 and 12, respectively.
As per recent UNHCR statistics, children who are younger than 18account for 52 % of the total population, suggesting that 104,000 refugees are excluded from the vaccine roll out entirely in Kakuma and Kalobeyei. Conversely, this means that 48 % of the total refugee population, constituting approximately 96,000 people, are eligible for vaccination in Kakuma and Kalobeyei.
"During the first phase 2000 jabs of the AstraZeneca vaccine have been allocated for refugees," said a doctor at Clinic 7, who wishes to remain anonymous. He added that "the shortages will be revealed at the later phases" of the vaccine roll out.
The arrival of COVID-19 vaccine is a ripe opportunity for refugees, whose livelihoods rely mainly on humanitarian assistance from aid agencies, as they are not able to adhere to preventive measures and lack access to essential goods to prevent the spread of COVID-19 (e.g. hand sanitizer and other sanitary goods).
Throughout the camp, misinformation has been circulating since the outbreak of the COVID-19 to justify reluctance to wear masks and again now several myths and misconceptions are being put forth to deter vaccination. The implications of this misinformation have been that many refugees are refusing the vaccine, even when it is available for free.
An outreach volunteer who was vaccinated at FilmAid international said "I took the first dose of the Covishield and I am still ok." Covishield is the local name given to Oxford -AstraZeneca by the Indian Serum manufacturer.
According to the doctor at Clinic 7, "vaccine hesitancy and misinformation" are the main challenges being exhibited during the first phase of the campaign and "so far over 1000 refugees have been vaccinated," a figure much smaller than the total number of refugees eligible for vaccination.
"In the first place, I will not take this vaccine, because the virus is the wrath of God up on us, read Revelation 19:15 if you don't believe me. The only solution is to pray," said a 65 year old refugee who stated he will not be vaccinated.
UNHCR and religious institutions have been calling for fair distributions of the vaccine to low income countries and vulnerable groups, including refugees and asylum seekers. "We commend these countries for their exemplary dedication and leadership.By including refugees in their vaccine distribution, they mitigate the risks associated with exclusion and discrimination," said Grandi.
On March 3, 2021, amid the third COVID-19 wave in Kenya, the Ministry of Health (MOH) received 1.02 million doses of the AstraZeneca vaccine and launched their vaccination campaign. Per the MOH, Kenya is using the AstraZeneca vaccine that is given in two doses; the roll out became available in all counties on March 4, 2021. According to the Kenyan Ministry of Health directives, the first phase will run until the end of June 2021 and to boost effectiveness, the second dose will be administered 12 weeks after the first dose. In Kakuma and Kalobeyei, the second dose will be administered after 8 weeks. The target population will be vaccinated in three phases between 2021 and 2023.
Kenya is one of the few countries in the world to start vaccinating refugees.
Tolossa Asrat is an Ethiopian journalist based in Kakuma Refugee Camp in Kenya. He holds a bachelor's degree, diploma, and several certificates, and is currently earning a diploma in Community Interpreting through the University of Nairobi, with an expected graduation date of December 2021. Tolossa is also a photographer and professional interpreter, translator and voiceover artist in the Amharic language. For more information about the KANERE Refugee News service, visit https://kanere.org/.
The Better Samaritan is a part of CT's Blog Forum. Support the work of CT. Subscribe and get one year free.
The views of the blogger do not necessarily reflect those of Christianity Today.