June 4, 2021
Yes, the Evangelical Church Desperately Needs Refugees. Here's Why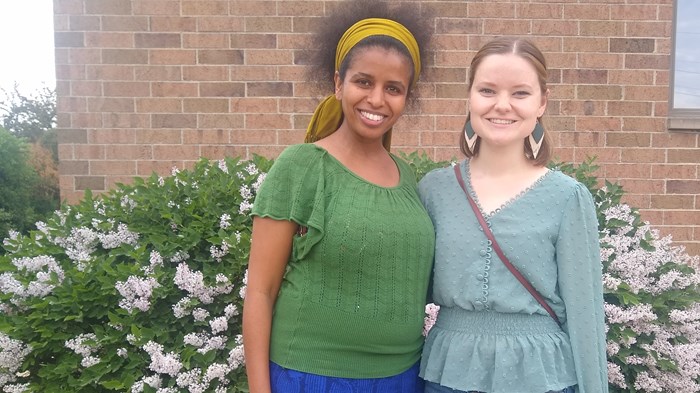 Many Americans are asking, "Should the U.S. welcome refugees?" For Christians, this should be of little question. The Bible clearly calls us to care for the foreigner, the oppressed, the widow, and the orphan. God also calls us to love one another and celebrate diversity, as one unified body of Christ. The U.S. Church can play a significant role in advocating for our refugee brothers and sisters, and refugees can strengthen our churches.
However, according to Pew Research Data, a staggering 68% of white evangelical Protestants believe the U.S. does not have the responsibility to accept refugees. Data also shows that 25.4% of all U.S. citizens identify as Evangelical Protestant Christians. The Evangelical Church needs refugees in order to develop a richer understanding of scripture, learn how to suffer well, and be challenged to set aside presumptions and lean into our biblical callings as advocates for the oppressed.
The Evangelical Church needs to glean from the biblical wisdom and experiences of their refugee brothers and sisters. In Fiscal 2019, 79% of refugees who resettled in the U.S. were Christians. Refugees who are fleeing war, famine, violence, and persecution will read the Bible through a different lens. They will offer unique perspectives as the Church studies Exodus, Ruth, or the Parable of the Good Samaritan. They will help us connect more deeply to the humanity of Jesus, a Middle Eastern Refugee, when we are confronted with the suffering, violence, instability, and rejection He experienced on Earth.
Mehret was born in Tigray, Ethiopia. She was only nine months old when her family had to flee to Sudan. They lived in a refugee camp for about four years before World Relief helped them resettle in Wheaton, IL. Mehret's family was blessed by an abundance of support from both World Relief, and supporting churches and families in the Wheaton area. Today, Mehret is a teacher and works with refugees from all over the world. In an interview, she shared her thoughts on the Church's relationship with refugees as well as aspects of her own story.
When asking Mehret about her thoughts on welcoming refugees into the Evangelical Church, she responds by saying, "Jesus was a refugee. When we open our hearts to people of this status it is our Savior-Jesus who we honor: the one who saved us, the one who called us by name, the who loves us and who knows us. He himself was a refugee."
Mehret knows how destructive unforgiveness and dissension can be on a micro and macro level. When talking with Mehret about her experiences with war, diaspora, and political division she humbly acknowledges,"It is a painful but worthy commitment to not let differences and pain keep me from loving others." She further explains, "There is a commitment in my heart to sustained global peace, and this is what it means to be Christ and be committed to the humble journey of honest conversation and forgiveness. This takes trusting our Savior in the journey."
Refugees will help strengthen our theology of suffering. No one is immune from suffering, especially refugees. Many have experienced unimaginable trauma as they have been forced to flee their home countries due to persecution of various forms. Therefore, refugees can offer a unique perspective on walking through suffering personally and with others.
Spending the first few years in a refugee camp, experiencing great loss throughout her life, and mourning the current state of Tigray, Mehret is familiar with suffering. When asking how refugees can shape our theology of suffering she responds "I believe there is a unique wording that God has given me to be able to draw people into lament. We must learn to lament beyond definitions that are formed by our theology and our politics. In this situation with Tigray, we must learn to lament and intervene when others hurt. No matter what. War is not the time to decide what defines genocide or famine, if there is suffering and there is hurting- we must act, we must cry out, we must pray. One death is too many. One child denied food by force is too many."
They will help us to overcome fear and grow in love. One of the best ways to overcome prejudice and fear is proximity. If we have refugee men and women sitting in our pews, leading worship, or preaching the word, Evangelical Christians may begin to view refugees differently. What we know about the refugee crisis will no longer be a reflection of the news, but the stories of our friends and neighbors. If given the platform, they can educate our churches about the needs of refugees, both locally and globally, and instruct us as to how we can better support and advocate for them. They can teach us how to forgive and listen to one another. Getting to know local refugees from different cultural and faith backgrounds will help evangelicals to choose love over fear and have a greater value for diversity.
Mehret also believes that we need to humanize refugees and reframe how we view them. She says, "God has placed you in one another's lives for you to shape them and for them to shape you. It's a symbiotic relationship. It's a humbling and beautiful journey of being human together. Receiving refugees has become very politicized, and it doesn't have to be because we are a global family, and we need to care about each other. If you hurt, I hurt. It doesn't matter where you're from."
The Evangelical Church is blessed by Mehret's rich wisdom, her passion for justice and healing, and her determination to propel peace and unity in every sphere. We need refugees to share their stories with us, help us understand that the gospel is not only for the individual but for the community, and to remind us that we are all sojourning in this land, awaiting our eternal home. Ultimately, we need each other. May we welcome our brothers and sisters with open arms.
Katie Fuhs is pursuing her M.A. in Humanitarian and Disaster Leadership at Wheaton College. She received her BSW from the University of Illinois at Urbana-Champaign. Katie is passionate about advocacy, biblical justice, and empowering women.
The Better Samaritan is a part of CT's Blog Forum. Support the work of CT. Subscribe and get one year free.
The views of the blogger do not necessarily reflect those of Christianity Today.