How Churches Can Observe National COVID-19 Day
Six ways that your church can observe and participate in this National Day of remembrance and hope.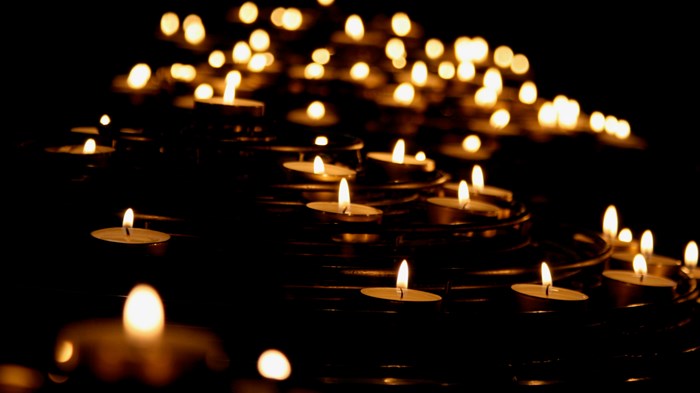 If your church is like most, during the COVID-19 pandemic, you've been diligently hustling to adjust. You've changed the ways you worship. You've implemented fresh strategies to care for members. You've been creative about the ways you're reaching out to care for your neighbors. Like a lot of congregations and organizations, you've been working hard to keep up during these unprecedented days.
And, like most, you're likely weary. You need space to process what you and your congregation have endured. Though you've met the needs of many, you need to practice self-care by pausing to reflect, to grieve, and to heal.
To mark the day COVID-19 was declared a pandemic, the Humanitarian Disaster Institute at Wheaton College, VOMO, and World Vision have announced National COVID-19 Day, an opportunity to process grief and find hope. The purpose of National COVID-19 Day is to help the United States navigate our shared grief, come together virtually, and find opportunities to volunteer with proper safety protocols.
Here are 6 ways that your church can observe and participate in this National Day of remembrance and hope.
Participate in an Online Service of Remembrance
Join our team from the Humanitarian Disaster Institute and the National Association of Evangelicals on March 11 for the COVID-19 Memorial Service. This service will help people of faith and churches from across the U.S. and around the globe to join together for a service of prayer, worship, lament, and hope. The special service will begin at 4:00 pm CT / 5:00 pm ET and will include prayers, Scripture readings, and messages from special guests including Dr. Walter Kim, Francis S. Collins, M.D., Ph.D., Rick Warren, Nona Jones, Nicole Baker Fulgham, and many others, as well as music from recording artist Francesca Battistelli.
Notice and Reach Out to Those Who May be Lonely
The suffering created by COVID-19 is more pervasive than what we can see in the regular reports of lives that have been lost to the virus. While practicing social distancing has saved countless lives, it some it has also created intense feelings of isolation, helplessness, and loss. Sometimes these are members who live alone. They might not have family nearby. If they live with a disability or other challenges, they might be particularly isolated. Consider encouraging members to care for one another by reaching out and checking in regularly. (Note: this doesn't need to be a complicated effort that needs a committee. It can be as simple as emailing 10 people and asking them to reach out to someone to whom they're already connected who might be lonely.)
Be Intentional in Your Pastoral Care of Survivors
Twelve months ago, many of us in the United States didn't know someone personally who'd been affected by the loss of a loved one to COVID-19. Today there are likely few, if any, who do not. Whether someone in your congregation lost a loved one nine months ago or nine days ago, pause to care for them. Write a letter. Make a phone call. Let someone who's suffered due to COVID-19 know that you care.
Get Equipped to Help Others
Our team at the Humanitarian Disaster Institute and Food for the Hungry in collaboration with International Justice Mission are presenting the 2nd Annual Spiritual First Aid Summit online on National COVID-19 Day for church leaders and anyone needing encouragement, practical guidance, or advice on how to respond to ongoing emotional and spiritual struggles caused by COVID-19. People can attend live online. It features talks from speakers like John Maxwell, Nicole Martin, Patrick Lencioni, Brenda Salter McNeil, Michelle Reyes, Gary Haugen, Danielle Strickland, Bruxy Cavey, and Krish Kandiah, and others. It will also include interactive chat and breakout sessions, a guided virtual retreat, free resources and giveaways, and a virtual book fair.
Continue to Make Room for Grief
The purpose of National COVID-19 Day is to make space for people to remember, to grieve, to heal, and to hope. But as we know, grief and healing know no boundaries. So in your preaching, in your communications, in your interactions, continue to make space for members to continue to grieve and to heal. To get better equipped, we've developed the Spiritual First Aid online course and certificate, which teaches the BLESS Method to take the guess work out of helping.
Get Resourced
You can visit the official National COVID-19 Day website for more resources and support. We're including helpful resources, online trained listeners and counselors, and even videos which participants can personalize to recognize others in our communities and country who are making a difference. You can also find lots of additional free resources from our National COVID-19 Day partners like the National Association for Social Workers, Hospice Foundation of America, Inspire, Harvard Human Flourishing Program, Healthcare Ready, Yale Dwight Hall, Faces of COVID, Access Services, The Friday Minute, COVID-19 Loss Support for Family & Friends, Pandemic of Love, COVID-19 Long-Haulers Discussion Group, and more.
Jamie Aten, Ph.D. is founder and co- director of the Humanitarian Disaster Institute at Wheaton College and Blanchard Professor of Humanitarian & Disaster Leadership. Follow on Twitter at @drjamieaten or visit jamieaten.com. Kent Annan, M.Div. is co- director of the Humanitarian Disaster Institute and Associate Lecturer of Humanitarian & Disaster Leadership at Wheaton College. Follow on Twitter at @kentannan or visit kentannan.com. They are also the co-founders of National COVID-19 Day.
The Better Samaritan is a part of CT's Blog Forum. Support the work of CT. Subscribe and get one year free.
The views of the blogger do not necessarily reflect those of Christianity Today.