Is There a Balm in Gilead?: Responding Responsibly to Questions Amidst a Pandemic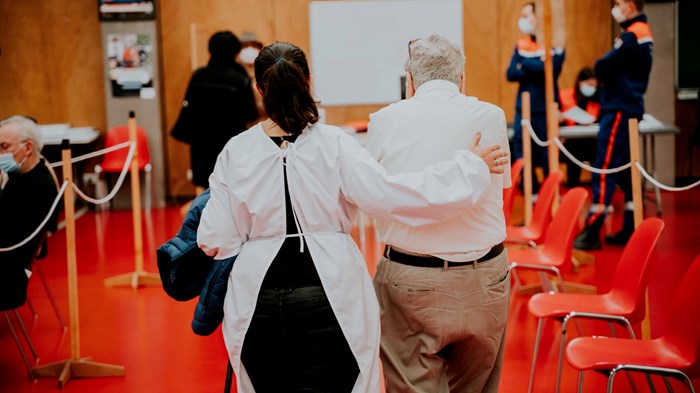 Fear and uncertainty often walk hand in hand. In the last year, as our mortality and human fragility have come face-to-face with a devastating global pandemic, it has often produced a debilitating fear. Fear often prompts questions. Physicians, pastors, politicians, parents, epidemiologists and researchers can all attest that with the disuption of the COVID-19 pandemic have come an avalanche of questions. How? Why? When? How Long? Why me?; all of these queries, and many more, are at the heart of what Victor Frankl called, "humanity's search for meaning" which can become more acute during times of crisis and loss. With over 2.5 million lives lost around the world and over 500,000 deaths in the United States people are searching for answers, or at the very least, seeking a sense that their questions are being heard. As Christians, we affirm the truth that we serve a God who welcomes questions and loves us through our fear. As the book of Job poetically reminds us, God welcomes our questions in the middle of our grief.
Existential questions invite a pastoral response. The Prophet Jeremiah's lament has served as a foundational Biblical template for NaLEC's national information and service campaign in response to the COVID-19 pandemic. The weeping prophet, beleaguered by an incessant siege, asked the question that millions in our underserved communities are asking, "Is there no balm in Gilead? Is there no physician there? Why then has the health of the daughter of my people not been restored? (Jeremiah 8:22)" The pandemic has lasted more than a year and so many feel, like Jeremiah, as they are under a relentless siege. Just as millions were praying and hoping for healing to come, three vaccines were developed and distributed. And finally, the response today is, "THERE IS A BALM IN GILEAD!"
Still, even with this great news, many in our Hispanic and African-American communities remained concerned, "our people had not been restored." The on-going challenges of historic distrust and lack of equitable access to healthcare served as a clarion call to our network of pastors and leaders to launch a national campaign that both informed and served the Latino Evangelical community with pertinent and timely information and services. The chasm between the need in our communities and the response required an urgent response. If there is a balm for our collective suffering; part of NaLEC's vocation is to ensure that this balm reached our communities.
Since the early days of the pandemic, the National Latino Evangelical Coalition (NaLEC) assumed a posture of empathetic listening that has built bridges of trust and collaboration. As pastors and congregations continued to reach out to us, NaLEC felt responsible to provide responses that were culturally, linguistically, and theologically contextualized for Hispanic faith communities. Many pastors bemoaned the fact that while Latino communities were disproportionately impacted by the COVID-19 virus there was a scarcity of outreach and materials in our communities. In March 2020, NaLEC hosted multiple webinars and listening sessions with Latino Evangelical congregations across the United States and the Caribbean. NaLEC prepared a manual for Latino churches, in English and Spanish, for how to reopen congregations according to CDC guidelines. In addition, we trained thousands of pastors on how to access the funds for the Payroll Protection Plan (PPP) to keep them afloat.
Early this year when the vaccines were announced, we discovered that fear concerning the virus was being further complicated by massive misinformation or lack of information concerning vaccinations. Questions are always welcome but when rumors and conspiracy theories are the rejoinders, crises are exacerbated. Rumors and conspiracy theories soon flooded social media platforms and dinner conversations. There were allegations that the vaccines were the "mark of the beast" or contained a microchip to track people. Moreover, the continued concerns around vaccination access for immigrants and uninsured people also needed a response. In the Latino community there is a long memory of sterilization experiments among Latina women and less-than-quality healthcare among the most vulnerable. Historical injustices, misinformation, and lack of information bred anxiety and distrust that compelled trusted spokespersons to respond. Christ harkens to us, "You shall know the truth and the truth shall set you free."
Systemic challenges necessitate systemic responses.
Systemic challenges necessitate systemic responses. Dr. King reminds us that one of the ethical implications of "The Parable of The Good Samaritan" is to take a closer look at the systemic failures on The Jericho Road. The lack of illumination and protection on The Jericho Road led to many injured travelers. As the Evangelical faith community responds to the historical distrust of medicine coupled with the disparate distribution of vaccines and healthcare, we ought to reply with the twin antidotes of prophetic advocacy and pastoral truth. The Better Samaritan not only lifts the injured traveler, but seeks to make The Jericho Road safer and more accessible. Healing balms without access are empty promises that feed frustration. In the end, we prisoners of hope—or as my son often says, "Dad, we are hope dealers!" It is that holy pursuit of becoming Better Samaritans that prompted our most recent national efforts to inform and serve Hispanics with COVID-19 vaccination efforts.
The Better Samaritan not only lifts the injured traveler, but seeks to make The Jericho Road safer and more accessible.
Better Samaritans must be relentless in our pursuits of healing and hope. The Prophet Jeremiah wept, "The harvest is past, the summer is ended, and we are not saved." Prayerfully, we can soon end the winter of our global ailment, but until then, we will work to proclaim that there is a balm in Gilead and we will carry it to as many as we can. No matter how long it tarries, we will see the Spring of our global healing.
NaLEC has launched an intentional and aggressive campaign to combat the avalanche of obstacles, disinformation and myths that hinder our communities from obtaining much-needed vaccines.
NaLEC, in partnership with the Ad Council, helped create a Spanish-language PSA on COVID-19 vaccines. In addition, NaLEC joined the CDC and HHS, and hosted three national Spanish-language calls, and partnerned with African-American pastors like Bishop TD Jakes and Dr. Barbara Williams-Skinner to reach Black/Brown faith coalitions. NaLEC is collaborating with some of our partner congregations to help them become vaccination sites.
Visit the NaLEC website for more information, or to donate.
The Better Samaritan is a part of CT's Blog Forum. Support the work of CT. Subscribe and get one year free.
The views of the blogger do not necessarily reflect those of Christianity Today.