World Water Day 2021 – What Does Fresh Water Mean to You?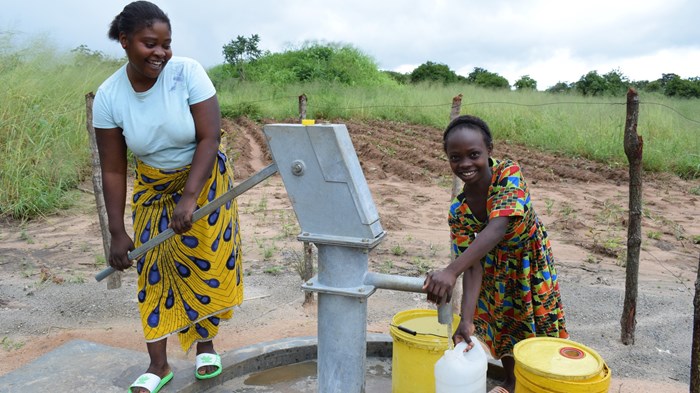 Water is a big deal! Like the air we breathe, each one of us relies on water for our well-being, and ultimately for our very survival. I live in the Chicago suburbs with the world's largest freshwater reservoir just a few miles away. I get my water from Lake Michigan, where it is received into the world's largest water treatment plant before being piped straight to my house. When I am finished with it, my wastewater is pumped out to the DuPage River (treated first!), where it ultimately flows into the Mississippi River and then the Gulf of Mexico.
So, what does water mean to me, or those of us living in the Chicago suburbs? Beyond turning on our taps or flushing our toilets, many of us rarely think about it except when we need to pay our water and sewer bills. But that's not the same for everyone.
Right out of college, I accepted a teaching position in Lusaka, Zambia. At that time, Zambia was facing a financial crisis, causing a reduction in government services, including water. Water services in the city became less reliable and left the rural sector even further behind. Gone were the days when city dwellers could open a water tap and expect water to flow out from it. I learned that many people, often women and children, had to spend long hours each day walking to and from a water source so that their families could drink, cook and bathe. What does water mean to the people of Zambia?
I later became a water engineer, worked on river and bridge projects in the U.S., then, through Mennonite Central Committee, moved to Eastern Indonesia where I worked through a local university and alongside local churches to help design and install water systems for isolated communities. After completing one project in the village of Jenderau, a local pastor told me, "Before building our new water system, the situation was always the worst in the rainy season. It was hard to climb the slippery mountainside to our spring and once there, the water was always red with sediment. Many children would get sick in the rainy season." What does water mean for the people of Jenderau?
The United Nations has designated March 22 as World Water Day.
Years later I worked on a water and sanitation project in the half-island nation of East Timor. There, I partnered with my Timorese counterparts in the government water department to build rural water systems where none existed, strengthened local water departments and created a structure for a resilient rural water sector in East Timor. Together we worked to set priorities, develop a maintenance system and create robust water management policies. All this in a new country where many rural people counted a 3-month long "hungry season" and rains were often not sufficient for people to grow enough produce to keep them fed throughout the year. What does water mean for the people of East Timor?
Here in the U.S. many communities also struggle with water quality and supply. Examples include Flint Michigan with lead in pipes, Texas cities with contaminated water, or no water, following the February 2021 power outages, and many communities that daily struggle to maintain aging water systems or an ever-lowering groundwater table. What does water mean to these communities?
The United Nations has designated March 22 as World Water Day. A day when people around the world come together and consider both the blessings that God's water brings to them, our responsibilities when we receive that blessing in great abundance and how we can work together so that all may benefit from the blessing of water that God sends to all of us. This year's World Water Day theme is, "Valuing Water," and asks, "What does water mean to you?" As you consider this question for yourself, you may also want to ask:
Where does my water come from?

How do I use water and why is water important to me?

What do others around me do with water (farmers, businesses, families, etc.)?

How can we work together to make God's gift of water work for everyone?

What can we do to ensure that clean water will be there for our grandchildren and beyond?

What does water mean to others around the world?
As you consider these questions, think of actions that you can take, both locally and globally, that will help all to share in the abundant gift of God's water.
Jeff Yoder is a civil engineer and has spent many years working on relief and development projects, primarily in Southeast Asia. He now serves as Wheaton College's Engineering Program Coordinator where he occasionally teaches courses in disaster risk reduction and management. As time allows, he enjoys conducting international development program reviews.
The Better Samaritan is a part of CT's Blog Forum. Support the work of CT. Subscribe and get one year free.
The views of the blogger do not necessarily reflect those of Christianity Today.