3 Ways the Humanitarian and Disaster Leadership M.A. Has Shaped My Life
I Found My Answer to "What's Next?" through HDI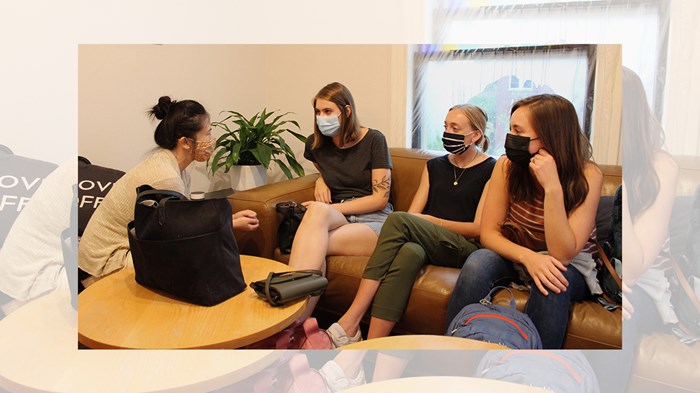 "What's next?"
I remember dramatically picking up a stick to write these words in the snow, as I took time on a walk to pray and discern what the future might hold for me. I had completed my undergraduate degree the previous year, and I loved what I was doing in life - working for a nonprofit whose vision I aligned with, and living in a city that I had fallen in love with. but I still felt like there was more I wanted to learn and do.
I had a bachelor's degree in Intercultural Leadership, and I grew up surrounded by people in the missions world. I knew I was passionate about community development, cross-cultural ministry, and social issues. What I was looking for was a degree that offered practical theology and application, a deeper understanding of different social issues around the world, and a community of people who were as invested as I was in the future of how faith, humanitarian work, and social issues intersected with each other.
So when I found the Humanitarian and Disaster Leadership MA, it almost felt too good to be true - but it wasn't. As I learned more about the program and had conversations with professors, I soon felt confident that this program was the answer to my question: "what's next?" Now, as I've been in the program for a few months, I continue to feel that same confidence that this was the next thing for me.
Professionally, the topics I'm learning are already impacting the ways I approach my role in the nonprofit I work with. I'm learning to ask better questions and look at things from a systems-oriented perspective, and I'm challenged to keep wanting to improve instead of settling for "good enough". As a part-time student, I've loved the ability to go between work and school and see the overlap between them both in real time.
Spiritually, I feel more hopeful for the future of the global church. To know the other students in my cohort are committed to living out their faith in action, and to see how many of them are coming into the program with a wealth of diverse experiences already, I am reminded that Jesus is actively at work through each one of us. We are all, as the body of Christ, designed to be living proof that God is present in the world and cares for the vulnerable. Seeing how the Humanitarian Disaster Institute, and by extension the M.A. program, leads the way in this, is truly encouraging.
On a personal note, I am grateful to be formed by faculty whom I have come to trust as I've watched them model what they teach. Even as experts in their fields, they have cultivated an environment of ongoing learning and humility. Best practices continue to change in the humanitarian world as global dynamics do, and watching my professors teach with this reality in mind inspires me to engage in my work in the same way.
As I look ahead to the rest of my time in the program, I'm eager for what's to come. This program hasn't answered all my questions - it's done more than that. It has equipped me to ask more and better questions, and to seek the answers alongside others who are asking them, too. I'm excited to know that this program is setting me up for success the next time I ask the question, "what's next?", and every time after that.

Rebekah Thompson is a student in the Humanitarian & Disaster Leadership M.A. at Wheaton College, with an expected graduation date of 2023. She currently works with One Collective, a global Jesus-centered nonprofit, coaching individuals interested in pursuing cross-cultural ministry. She is passionate about the intersection of faith, culture, and social issues.
The Better Samaritan is a part of CT's Blog Forum. Support the work of CT. Subscribe and get one year free.
The views of the blogger do not necessarily reflect those of Christianity Today.