Decisions Made at the UN Climate Conference Could Save Millions of Lives
As COP26 begins in Scotland this week, one attendee unpacks the implications for the gathering.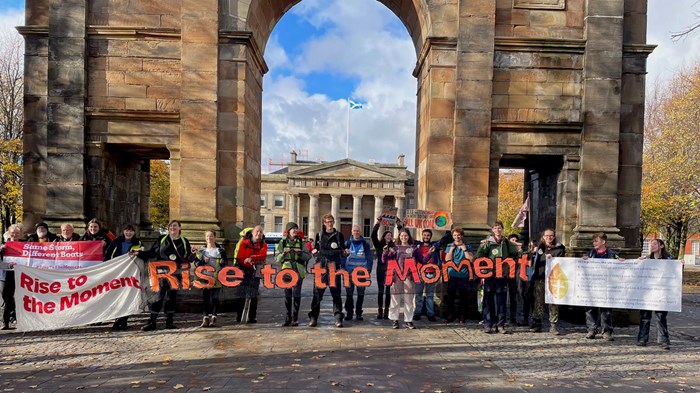 Sunday began COP26, the United Nations Climate Change Conference. The event is widely considered one of the most important and urgent opportunities to date to curb the climate crisis' most deadly effects. It is being watched closely, including by Christians, for its life-and-death implications.
The two-week-long COP ("Conference of the Parties"), which runs through November 12 in Glasgow, Scotland, was postponed from 2020. It brings together the nations of the 2015 Paris Agreement to update their national commitments to drastically reduce greenhouse gas emissions and follow through on the financial support pledged to countries most harmed.
Christian climate scientist and past contributor Katharine Hayhoe likens the conference to a global potluck. Each country is expected to bring a dish (their national pledge) proportional to what they have contributed to the problem. Based on historic pollution, it is clear which countries ought to bring one of the mains and which will be doing their part with a bag of chips.
The proceedings face numerous hurdles. Beyond skepticism that it will achieve real success are concerns of exclusion, given that women, youth, and Indigenous leadership are underrepresented. And travel restrictions (and other factors) mean COP26 is shaping up to be perhaps the whitest and most exclusionary summit to date at a summit where leadership from the global south, Indigenous tribes, and island nations is needed most. Small island states and least developed countries are in the most immediate peril from climate change and hence, often drive more ambitious goal-setting.
And ambitious goal-setting is sorely needed. Almost all countries are behind on their pledges made in Paris. Even if these current pledges are met, the world would still be on track for a devastating level of warming (indeed, conditions under the current 1.1°C of warming above pre-industrial levels is already devastating millions of people). In order to limit warming as much as possible to the 1.5°C (2.7F) limit dictated by science, countries (especially high-polluting countries like the U.S.) need to make much stronger commitments at COP26 and then actually keep them.
The potluck effort of COP26 will focus on keeping that 1.5C goal within reach by drastically reducing emissions by 2030 and then virtually eliminating them by 2050. Its other priorities are to: adapt to protect communities and natural habitats, make sure countries pay what they've pledged to aid the hardest-hit countries, and of course, keep everyone at the table.
COP26 follows extreme weather events rocking the world this year, including wealthy countries that did not expect to see climate impacts so severe, so soon, and so close to home; the U.S., for example, has experienced 18 billion-dollar disasters so far this year. And the gathering falls just months after the latest scientific report confirmed that human influence is "unequivocally" responsible for the overheating planet, no place on earth is untouched, and the current trajectory is dire. Yet this same report also lays out real possibilities for keeping close to 1.5°C, thereby protecting millions upon millions of lives.
And this is about human lives.
Sure, the event will be conducted with all the pomp of international diplomacy and in the technical language of science and policy, but from a Christian humanitarian perspective, the real impact of COP26 will be on people. Limiting warming to 1.5°C (and by every fraction of a degree possible) is a matter of life and death for millions of people. In a real way, the commitments set at COP26 reveal what individual nations are willing to do with the power they hold to protect human life.
This includes all of us and our families. None of us alive today is or will be left untouched by an overheating planet. But many of our neighbors are bearing the consequences of political inaction today. When the climate is destabilized and extreme weather events strike more frequently and severely, the people hurt first and worst are the poor, the oppressed, women, and children—groups that scripture shows to be of special concern to God. For too long, the world's powerful have passed them by and left them in the ditch.
Part 2 of this post continues here. The pilgrimage pictured above was conducted by Young Christian Climate Network and was recently featured by CT.
Nate Rauh-Bieri will attend COP26 as part of the Christian Climate Observers Program. He attended Wheaton College (B.A.) and Duke Divinity School (M.Div.) and lives in Grand Rapids, Michigan.
The Better Samaritan is a part of CT's Blog Forum. Support the work of CT. Subscribe and get one year free.
The views of the blogger do not necessarily reflect those of Christianity Today.