Giving Hope and Receiving Hope: Why Christians Should Still Care about International Adoption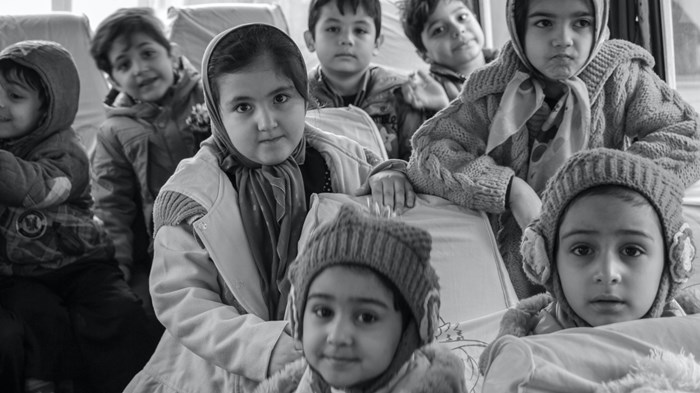 Over the years, I have been to 46 countries, and most of my travel has taken me into places where children are out of sight and unheard by the masses. I have met children living on the streets and others living in orphanages. I have met children whose health is failing and whose hope is waning because they have been abandoned and rejected. Across many countries and cultures, one thing remains constant - each child's face reflects a story of what it means to be living in a broken world.
However, all children's faces tell a greater story—a story of God's goodness and redeeming love. The Lord desires for all children to have a place in His family through Christ and a family on this earth. Throughout all of history, God has been in the business of "setting the lonely in families'' (Ps. 68:6).
Born deaf and blind and taken to an orphanage in Calcutta, Advika was set apart because of her disabilities and never received a bindi on her forehead. She was told she wasn't worthy to be a Hindu. All too often, it is in this rejection where the story ends for children like Advika.
Instead, Advika's story contains hope and a future because one Christian family sought after this sweet girl who needed the love and acceptance of a family. Today, Advika is flourishing in her family, surrounded by love, security, and the gospel. Advika today is not only a daughter, but also a big sister to another little girl with vision impairment whom her family adopted.
On the decline, but not down to zero
Over the last several years, international adoption has been on a sharp decline. Covid-19 exacerbated this trend and put a damper on many families considering adopting internationally. While some of the decline can be attributed to positive trends including healthy domestic interventions both by in-country churches and the government, the decline in international adoptions leaves a void of permanence for those children whose best available option is intercountry adoption. Some U.S. organizations have even stopped doing international adoptions altogether.
While many nations have become much more engaged and involved with vulnerable children in their communities, most domestic options serve younger, healthier children. All the while those children aged 3 and over, those who are a part of a large sibling group, and those with special needs are often left deprived of a family or meaningful intervention.
The intersection of church and the vulnerable child
This is where the church must engage.
While the last 18 months have ushered in sickness, crisis, weariness, and personal pain, we must not neglect the call to love and care for the vulnerable. During a global pandemic, it seems that personal crises can crowd out the call of Christ to care for the orphan and the widow. Specifically we find this call in James 1:27 where Jesus beckons His children to help those who are voiceless and vulnerable - the widow and the orphan.
There are many ways to fulfill the call of James 1:27, but one life-changing approach we must not neglect is international adoption. While international adoption is not the singular solution for the global orphan crisis, it is the exact right solution for many children who will never find the permanence of a family to love and disciple them in their nation of origin.
Adopting internationally isn't easy. It is filled with fears and worries, and adjustments for the child and the family on all sides —culturally, socially, emotionally, physically, and linguistically.
Particularly relevant during the COVID-19 pandemic, international adoption can be complicated by global uncertainty - delayed travel and geopolitical disagreements and lack of diplomacy. These delays and confusions have left many children and families waiting much longer than expected to travel in order to be united. Furthermore, the global pandemic has certainly taken a toil on children around the world, leaving many more orphaned and in need.
If you have considered international adoption, while complexities exist, please do not delay because there are children who desperately need a family. Here are three truths that I believe may reframe your thinking and grow your understanding of God's grace through intercountry adoption.
International adoption teaches about the beauty of God's adopting grace.
Even in their young lives, most of the kids available for international adoption have experienced more sorrow and trauma than many of us will experience in our lifetimes. Losing a parent or being separated from family, siblings, and communities can be overwhelming. However, children who have been orphaned often show spunkiness, determination and unmatched resiliency. These children are fighters both for themselves and those they love. Ultimately, just like our souls, these children need a father and a family that will fight for them.
Nina and Olga were sisters living in an orphanage in the Ukraine. With no one to protect them, they relied on each other. When Olga would get picked on, Nina would lay in front of the bullies, determined to protect her younger sister. Years later when the sisters were adopted, they were fiercely protective of each other but learned to trust and rely upon their family. God our Father is loving and kind to bring us in and give us rest and faith in Him to relieve our independent striving.
International adoption shows the power of hope.
There is a misconception that those who are orphaned are hopeless. On the contrary, many embrace hope that they will get through today and see a better tomorrow. They have an uncanny unspoken belief that God is the Father to the fatherless who places the lonely in families. For many, it's a faith that one day they will be wanted and embraced in a forever family because God has placed the idea of family in their hearts. Hope is what keeps them alive when the world tells them they are unwanted and unneeded. Hope is what holds children like Advika until a family shows up to take her home.
We are God's ambassadors of hope. Through international adoption, we can give children stability and safety and help fulfill their dreams for a better future. We were once restless and hopeless without Christ, and the redemptive power of God's love is extended to the orphan when we embrace their hope as a value worth fighting for.
International adoption reveals God's redeeming work.
It's one of the great mysteries of how God works—we put others first, and yet, we are blessed in return. When we adopt internationally, we don't do so because our family needs a child. We do so because a child needs a family. We adopt because God first adopted us into his family. We needed Him. International adoption is a powerful picture of God's continued work of setting the lonely in families, of setting individuals in communities, and of bringing new life.
Deaf from birth and placed in an orphanage, Donghai never believed he would learn to communicate, let alone be adopted into a family. He was wrong on both accounts. Donghai was adopted, but he was also told of the good news of Jesus and learned how to communicate in sign language. Donghai has now committed his life to go back to the deaf community in China to offer hope.
This is God's redeeming work that happens when we open up our hearts and lives to adopt internationally.
James 1:27 is not an edict to adopt; instead, it's an edict to care. As the largest organism in the world, the church of Christ can change the lives of countless orphans if we say yes to international adoption and yes to go and care.
Herbie Newell is the President of Lifeline Children's Services, the largest Evangelical Christian adoption agency in the United States. The organization serves vulnerable children and families through private domestic and international adoption, family restoration, and pregnancy counseling.
The Better Samaritan is a part of CT's Blog Forum. Support the work of CT. Subscribe and get one year free.
The views of the blogger do not necessarily reflect those of Christianity Today.