Margaret Diddams Reflects on Micah 6:8 and the Humanitarian Disaster Institute
The former Provost of Wheaton College—and her banker husband—were both changed by the program. Here's the story.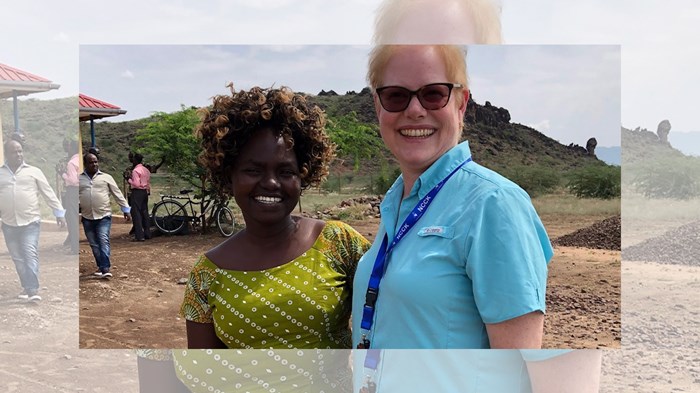 Margaret Diddams, former Provost of Wheaton College, is now principal consultant with The Diddams Group and editor of Christian Scholar's Review.
Back in June 2016, as I started my new role as Provost at Wheaton College, Jamie Aten invited me to pray at the end of the Humanitarian Disaster Institute (HDI) bi-annual conference. I had no idea what to expect but I was grateful to Dr. Aten for reaching out to his newbie chief academic officer and inviting me to spend part of my busy day at the conference.
As I entered the lecture hall, I was immediately struck by the diversity of the conference attendees. It is no hyperbole to say that people had come from around the world to gain some understanding of how to marry their Christian faith to humanitarian and disaster work. At the end of the day, I was equally struck by one other observation. It was clear that the attendees wanted much more knowledge and understanding of the topics than what they could possibly get at a multi-day conference.
So, staying behind, as Jamie and the staff of HDI were saying goodbye to the attendees, I casually asked him, "have you ever thought of starting a master's program to address the needs that you are hearing from these attendees?"
If you ask people about some of the core characteristics of Dr. Aten, most will tell you that he loves the Lord, he is kind, he is a visionary and he writes with the ease with which other people breathe. But just underneath those characteristics is a deep tenaciousness; Jamie gets things done. He saw the importance of having an academic program linked to the institute, so he was game from that moment on to launch a M.A. in Humanitarian and Disaster Leadership (HDL) even though there was a good deal of risk involved. We suspected that there would be student interest but there are not many programs of its kind in the country and certainly none at a Christian institution at the time. It meant changing his academic appointment from psychology to completely focus on HDI and this new M.A. program which, in turn, meant moving him and the institute to a new academic home where it would have more autonomy. What if we made all these changes and there simply wasn't the enrollment to support these moves? What then?
Working with Dean of the Graduate School, Scott Moreau, and checking in with me every couple of weeks, Jamie had a plan for a new program to go to the Board of Trustees for approval ten months later. We envisioned that there would be two types of students; those who were recent college graduates ready to go right into graduate school and those who were older, working full time, and looking to increase their skill set or pivot their careers. Accordingly, the program was designed to be completed either with full-time instruction in one year or as a two-year part-time program. Given that we expected the program to generate international interest, it had to be offered online, which was a fairly new model for Wheaton. However, we wanted students to be in community with one another, so the program would include an intensive week of onsite instruction at the beginning and end of the program.
The Wheaton Board of Trustees approved the program in the summer of 2017 with an expected launch in fall 2018. We conservatively budgeted for a total enrollment of twenty students across both tracks for the first year. Jamie used his network and social media presence to create interest and in August 2018, enrollment in the cohort exceeded our expectations. Jamie had built it and they had come.
Some people have been in the camp for decades without any hope of returning home or resettlement.
Three years later, fifty-six students have graduated and fifty-four students are currently enrolled. One of the current students is my husband Stan who will graduate in 2022. Here is his story. HDI is not just a think tank; its staff regularly travel to some of the most forsaken places on the earth. At least once a year, under the auspices of HDI, Wheaton sends one or two people to the Kakuma refugee camp. This UN camp in northwest Kenya sprung up in 1992 to absorb the people fleeing the Sudanese civil war. Although the horrors of that war subsided a decade ago, subsequent civil war in South Sudan and conflicts in other neighboring countries have caused the population to continue to grow, with the number approaching 200,000. But because it is meant to provide only temporary shelter the housing, food, employment, medical care and schooling in the camp are wretched. Some people have been in the camp for decades without any hope of returning home or resettlement. They wait and they wait.
But there is a vibrant Christian community in the midst of this seemingly nothingness. Given the fragility of life in the camp, very few outsiders who do not work for major aid organizations are given permission to enter. But the Christian leaders in the camp regularly ask the National Council of Churches – Kenya to request permission from the UN High Command for Refugees to allow up to three people from HDI to spend a week in the camp to provide theological education and leadership development to pastors.
During the first week of March in 2020, the President of International Association for Refugees Tom Albinson, Wheaton Theology Professor George Kalantzis, my husband, and I flew to Kakuma on the daily UN flight to spend a week with the Christian community. During those precious few days before COVID changed the world, George taught theology and I taught teaching methods to pastors and church leaders. My husband, a banker, talked with pastors, visited churches, and heard about their desire to start small businesses in the camp.
And what does the Lord require of you but to do justice, and to love kindness, and to walk humbly with your God?—Micah 6:8
My husband returned with a new passion to have a second career in which he could apply his financial knowledge and operational skills to support those who work with refugees. But he knew little about the workings of international humanitarian aid, so he started the HDL master's program in August 2020 with a global cohort of students. The online format has allowed for many expert instructors from around the globe and each Saturday morning this semester, his class project group logs on to their group video meeting at 8 a.m. PT to accommodate classmates across nine time zones. I am getting a front row seat in observing the program's robust and meaningful course material, challenging instruction, and the development of friendships as well as professional relationships that will last well beyond next summer's graduation ceremony.
I retired as Provost in 2020, but I have a small wooden plaque in my new office in Seattle which was a gift from the HDL class of 2019. It's a simple 10-inch piece of a one-by-four painted white with Micha 6:8 stenciled in black – "and what does the Lord require of you but to do justice, and to love kindness, and to walk humbly with your God?" Students who graduate from this program have a better understanding of the profundity of that question. Thank you, Jamie Aten, Kent Annan, Jamie Goodwin, other faculty and staff at HDI, and the graduates of HDL who are bringing the message of gospel hope to those in need throughout God's Kingdom.
The Better Samaritan is a part of CT's Blog Forum. Support the work of CT. Subscribe and get one year free.
The views of the blogger do not necessarily reflect those of Christianity Today.