October 4, 2021
Church, Rise Up: Time to Welcome 50K Afghan Refugees
World Relief spokesman Matt Soerens opens up about the challenges facing refugee resettlement agencies over the coming months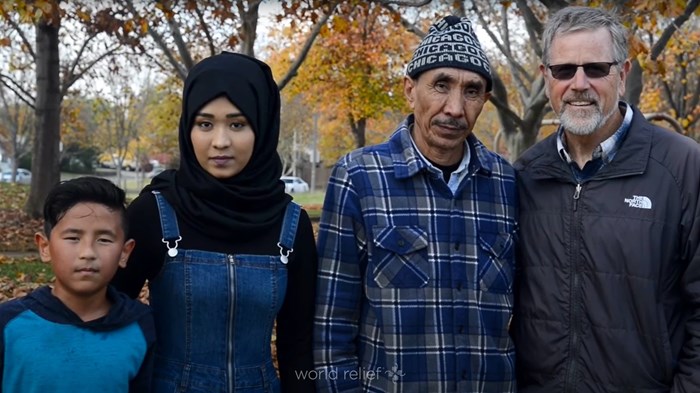 Humanitarian Disaster Institute co-director Kent Annan just returned from a two week stint on a U.S. military base in Virginia, helping to process thousands of Afghan refugees just landing in the U.S.
Tens of thousands more are expected to land in the U.S. over the next 90 days—over 50,000, in fact. And World Relief will oversee up to 10,000 of these resettlements.
Kent asked Matt Soerens, US Director of Church Mobilization & Advocacy for World Relief and National Coordinator for the Evangelical Immigration Table, a few questions about the size of the task and what it means for World Relief.
The U.S. is admitting more than 50,000 evacuated Afghans who will be resettled in the weeks and months ahead. During the Trump administration, refugee resettlement declined significantly, which also meant that the capacity of the nine organizations that do resettlement was reduced. How has this dynamic made the resettlement of Afghans more challenging?
It's definitely true that the U.S. infrastructure for refugee resettlement – which has been built up over literally decades of public-private partnership – was dramatically reduced over the past few years. That's basically because so few refugees were admitted – nationally, we went from receiving 85,000 refugees six years ago to less than 12,000 last year, and the fiscal year that just ended last week will likely end up even lower than that. As a result, the public part of the resettlement agencies' funding model took a stark cut. World Relief alone had to close eight of our office locations, cease resettlement (though maintaining other services) in a few other locations and lay off roughly one-third of our US-based staff. Nationally, there were about 40% fewer refugee resettlement offices at the beginning of this year than in 2017, and many of them with just a few staff.
Now, World Relief is anticipating resettling roughly as many individuals in the next three months as we have in the past three years. And though we're grateful for the incredible support – including new financial support from churches, individuals and foundations – that is allowing us to ramp up, along with the Congress passing new funding specifically to support Afghans just last week, new funds (and anticipated new funds) don't turn into fully trained staff (caseworkers, volunteer coordinators, mental health counselors and all the other roles we need to fill) overnight.
That said, largely because of the incredible community response, we're gearing up as quickly as we can and are eager to welcome the Afghans who have been paroled in as soon as they complete their processing. We've already had several hundred arrive but anticipate thousands in the coming months – and we're going to continue to need volunteers, funding, donations of furniture and household items and people interested in applying for new staff positions.
Are the country's resettlement agencies ready to resettle so many Afghans quickly—especially with having to ramp up from what they were doing the past few years? And related to this, what are resettlement agencies having to do to be ready for the work of resettling tens of thousands of people—is it primarily hiring more staff, needing to reengage partners in the communities, other things?
Hiring new staff is definitely a major challenge. We have a number of roles open right now, both staff and temporary contractor positions, and of course we're also going to need more team members who speak the particular languages spoken by Afghans and the other refugee groups whom we anticipate will be arriving.
It's difficult to find an affordable rental unit in many parts of the country right now for anyone – and then the options for a newly arriving refugee without any credit history are even fewer.
Having closed in so many locations over the past few years, we're also looking at new locations where we can begin refugee resettlement; we've announced a few new locations already and hope to be able to announce further new locations soon. But with any new operation comes new needs to build relationships with churches and other community partners, as well as to help the receiving community understand who refugees are.
One of the other very significant challenges right now is housing. It's difficult to find an affordable rental unit in many parts of the country right now for anyone – and then the options for a newly arriving refugee without any credit history are even fewer. We've been grateful for landlords who have been willing to take a chance on a new refugee family, most of whom have found resettled refugees ultimately make fantastic tenants, as we help them find work and they're quickly covering their own rent. And we've also had churches offer up parsonages, individual families offer up guest rooms as short-term housing for when a family arrives without much notice and there's simply no apartment immediately available for rent and even some incredible help from Airbnb in offering up their properties to arriving Afghans.
One challenge, as I understand it, is that Congress hasn't yet made clear what the legal pathway to (or not to) legal permanent residence or citizenship is. What decisions are, so to speak, still in the government's court to for this process?
That's a very serious concern. We're grateful that, just last week – after a lot of uncertainty – the Congress passed legislation that will ensure that Aghans who are paroled into the US receive the same governmentally-funded services and support as those formally admitted as refugees.
However, there's still a big challenge for these new Afghan neighbors: parole status – which the Biden administration has rightfully used, as past administrations have, to respond with agility to an urgent humanitarian situation – does not automatically qualify anyone to apply for Lawful Permanent Resident status. So unlike those admitted with an already-approved Special Immigrant Visa or those admitted as refugees, these parolees will not have a clear process to pursue U.S. citizenship. Some might still be approved for Special Immigrant Visas (which are specifically for those who served the U.S. military or other parts of the U.S. government's mission in Afghanistan) after arrival or might qualify for asylum, but those are complicated legal processes for which not all parolees will qualify, leaving them stuck in an indefinite temporary status unless Congress acts.
Unfortunately, we're well aware of the stress it puts on families to be stuck in this sort of perpetual "temporary" status. More than 300,000 Salvadoran and Honduran immigrants have been living and working lawfully for more than two decades but still do not qualify to apply for permanent legal status – they must pay a hefty fee to renew their "Temporary Protected Status" each 18 months, risk being laid off if the government's immigration bureaucracy fails to process their renewal in a timely manner, and always face the risk that the U.S. government could decide to stop renewing their status and return them to their country of birth. Roughly 600,000 young people who currently benefit from Deferred Action for Childhood Arrivals (DACA) are in a similar situation – and in fact are currently at risk of losing their "temporary" legal protections, losing their ability to work lawfully and being at risk of deportation to countries some left at such a young age that they cannot even remember.
World Relief, with our partners at the Evangelical Immigration Table, has long advocated for these individuals to be given the chance to apply for permanent legal status, so they could have certainty and security. And we're also advocating for Afghan parolees to have this same opportunity to not just have temporary status but the sense of belonging that comes with permanent legal status and a process to eventually pursue naturalization.
Who decides, and how, where an Afghan will be relocated? Many are still on military bases now, where I had the privilege of spending a couple of weeks working on that stage of the process. They have been starting to move off for resettlement. Can you briefly explain how "U.S. ties" works in the resettlement process for some and how it will be decided where others will move to start this next stage of their lives?
A "U.S. tie" is basically someone in the U.S. whom an Afghan (or another refugee being resettled) already knows within the U.S. It's usually a family member; with some of the Afghans, it's actually a U.S. military veteran with whom they served in Afghanistan as a translator or in some other capacity. Generally speaking, the U.S. government will try to resettle those who have a U.S. tie in close proximity to their family or friend, working with a resettlement agency in that community.
Because most Afghans' ties to the U.S. are relatives, most of course tend to mention the particular communities where there are already the largest Afghan communities. Sacramento, California, for example, is home to one in nine Afghans living in the U.S., which is why World Relief Sacramento received roughly half of all the Afghans whom World Relief resettled nationally in August. Washington, D.C., Seattle, Modesto, California, and Dallas-Fort Worth are other communities with large pre-existing Afghan communities.
But, frankly, those communities also happen to be communities where the cost of living is quite high, so while we want people to be near their family, we also want people to know there are other communities in the U.S. where the cost of living – especially the cost to rent an apartment or eventually buy a home – is much more affordable. So for any Afghan who does not have a U.S. tie, we're likely to distribute them to other parts of the U.S., and the U.S. government has also been trying to make sure people understand how dramatically cost of living can vary by geography within the U.S. With 50,000 Afghans arriving just in the next few months, while we do anticipate many will be going to a few communities with large existing Afghan communities, we also expect at least a small number to be resettled in most of the communities where we have resettlement offices.
If a church or individual says: "I'd like to help!" What do you recommend for them? What should they do next and who should they be in touch with?
I'd definitely encourage folks to reach out to whatever one (or more) of the nine refugee resettlement agencies is in their community. The Department of Health and Human Services keeps up a user-friendly map of those particular communities. World Relief is just one of those nine organizations and not in every community, but were we do have local offices or affiliates, we definitely have needs for volunteers. And even those not in one of these communities could provide financial support that we're very much going to need or use the online shopping lists to send household items that are needed.
For church leaders, in particular, we also think that one key way to help is by making sure we're discipling our congregations to think biblically about the arrival of refugees and other immigrants. While recent surveys show that the vast majority of evangelical Christians are now supportive of processes to welcome Afghans and others who have fled persecution, that has not always been the case, and I suspect that the vacillation in evangelical support for refugee resettlement betrays the reality that our views, too often, are guided by whatever is in the news and by whatever position our preferred political parties are taking, rather than by the unchanging Word of God.
The Evangelical Immigration Table has a number of non-partisan, biblical resources to help church leaders and congregations address refugee issues as a discipleship issue. And my World Relief colleagues are happy to set up a time to chat with church leaders who are exploring how their church might engage, whether that means connecting to one of our local offices resettling Afghans, helping connect them to another resettlement agency closer to them or finding other creative ways to engage.
Students earning an M.A. in Humanitarian & Disaster Leadership at Wheaton College take a class in Refugee & Forced Migration, and often go on to work in resettlement organizations like World Relief (or start their own). Learn more about the Humanitarian Disaster Institute here.
The Better Samaritan is a part of CT's Blog Forum. Support the work of CT. Subscribe and get one year free.
The views of the blogger do not necessarily reflect those of Christianity Today.