How Do We "Make Disciples" for Creation Care?
Atlanta pastor and mobilizer Marqus Cole on bringing more Christians into the environmental movement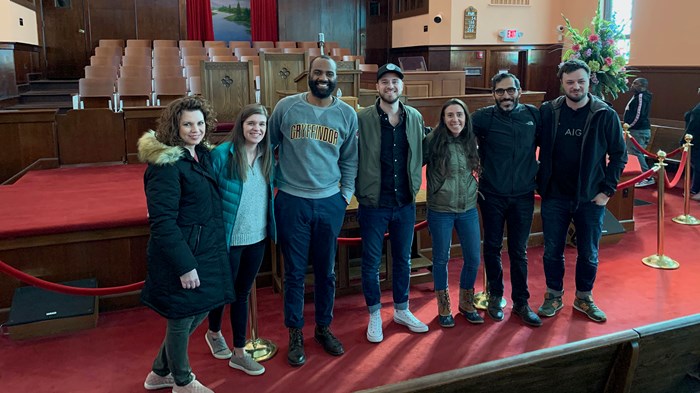 Relationships are at the center of the natural world. Every day, we're sustained by complex, interconnected ecosystems. And according to Marqus Cole, Director of Church and Community Engagement at Evangelical Environmental Network (EEN), if we want to restore the environment, we should start with the relationships that tie us together.
Marqus' role can't be summed up in one title: He's a pastor, lawyer, anti-racism consultant, and community mobilizer. But his career's throughline comes down to connections: joining with others to work towards healing and justice — whether that's in a garden, church, courtroom or classroom. At EEN, he is inviting Evangelical Christians on a journey to be better caretakers of the Earth and to bring their fellow faithful with them.
Marqus spoke with the Better Samaritan about planting seeds for change in churches and building congregations committed to creation care.
Understand where we are now
The conversation around creation care would look far different if we were having it 20 years ago, or even two years ago, Marqus says. It's important to recognize that "we're at a hinge point in the story of creation," coming to terms with a climate crisis and untold ecological destruction.
"All the science tells us that we might actually be over the line already, but we're definitely at the line and if we don't act now, some things can't be reversed," Marqus says.
Right now, the majority of those severely impacted by global warming live in the Global South.
Right now, the majority of those severely impacted by global warming live in the Global South. In places like Bangladesh, where rising sea levels will cover over 10% of the country's land by 2050, climate change is an undeniable reality. Despite increasing wildfires and extreme weather events, many Christians in the U.S. still see climate change in the abstract. Understanding our time, context, and community is essential, especially when it comes to locating shared values and uniting for the common good.
Focus on actions, not arguments
Strategies like fear tactics or in-your-face facts often do little to persuade people.
"Cognitive science and cognitive behavioral therapy tells us that you actually can't change a person's mind," Marqus says. "What you have to do is change their task, what they're doing."
Marqus tries to offer Christians new perspectives alongside new tasks to focus on. A few examples: Reducing waste, resources and the cost of printing seasonal brochures at the local church by implementing QR codes that are evergreen and easily updated online; providing more reusable coffee cups to church leaders and members, and installing bike racks to encourage a bicycle ride to church.
Experience the natural world first-hand
Deepening our relationship to the natural world isn't going to happen through the pages of a book or via a podcast. It's an intimate and personal process that needs to be embodied.
Marqus encourages people to go for walks or hikes and get to know their local ecosystems. In South Georgia, Marqus loves bringing people up to Stone Mountain at daybreak. "I think there's a spiritual thing that happens there."
Unlearn distance in your daily activities
It's easy to forget that much of our day-to-day lifestyles depend on human-created systems that create more distance between us and the natural world— think complex water systems or industrial agriculture.
For Marqus, finding a local butcher and purchasing meat from the butcher shop — rather than off the grocery store shelves — was a transformative experience.
We can all find lifestyle changes — however small—that are within our means, from cutting down on food waste to taking a more mindful approach to our energy consumption.
While they are no substitute for systemic action and policy change, these activities help us to connect ourselves with the larger story of what is happening to our world. At the same time, we can be working in our communities, churches, schools, and workplaces to make collective change on a larger scale.
Measure success by relationships, not numbers
As we embrace our identity as caretakers of creation, the natural instinct is to invite people to join us, Marqus says, and the movement multiplies. It's a discipleship model. We can look to Christianity as an example — what started with "12 folks in an upper room [transformed into] a worldwide religion 2000 plus years later."
"Oftentimes the default is to measure success by outcomes… We shift our horizon in our expectations, to measure success by relationships."
The discipleship model isn't the default in Western society. "We're in this tradition that comes out of a capitalist society, a European society where oftentimes the default is to measure success by outcomes," Marqus says. "We shift our horizon in our expectations, to measure success by relationships."
To do this, we start small — like the "yeast" in one of Jesus' famous parables— slowly spreading and transforming our world.
The reflective power of scripture
Scripture offers Christians powerful images that help us reflect on our current moment.
Marqus often returns to the picture of two specific trees in the Garden of Eden — the Tree of Life and the Tree of Knowledge of Good and Bad.
"When I look at the church now, where I'm situated in time and space and theology, I see the story of the [Garden of Eden] playing out again, where we, as the Evangelical Church in the West are sitting before two trees," Marqus says. "There's a Tree of Influence, where we can gain more and more influence with the powers of this world (political, social, cultural) or we can have a Tree of Impact."
It's up to us to choose the tree that is fruitful and leads to long-term impact by living responsibly, within the Earth's limits, rather than the one that promises short-term gains by prioritizing profit or convenience over sustainability.
"The church has often been faced with this decision," Marqus says. "Do I want influence? Or do I want impact?"
Sarah Holcomb covers faith and social and environmental movements. She is the editor for Changemakers, an online publication of Ashoka, as well as a freelance journalist whose work has been featured in CT, The New Humanitarian, Next City, and others. Sarah graduated from Wheaton College (IL), where she studied journalism and Human Needs and Global Resources, and currently lives in the D.C. area.
The Better Samaritan is a part of CT's Blog Forum. Support the work of CT. Subscribe and get one year free.
The views of the blogger do not necessarily reflect those of Christianity Today.