Strengthen Your Ability to Face Adversity with the 7 Keys to Resilience
Working the resilience 'muscle' can help you bounce back quicker, and more easily, from pain.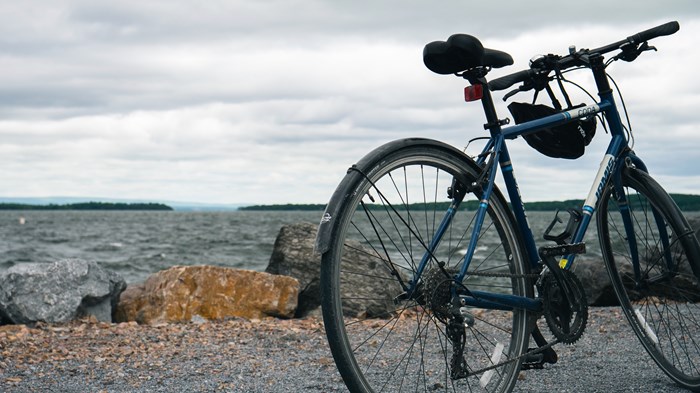 Saturday was beautiful weather and my family went for what was intended to be an 8km bike ride. My 8 and 10-year-old were excited, but a bit nervous since they have never gone that far.
Around the fourth kilometre of the trail, 10-year-old Adalia—whose bike had a sticky brake–was visibly tired. We offered to stop or turn around, but she was determined to finish.
What we thought was going to be 8km turn out to be 15km through hills, sand and gravel, but I was amazed at her determination.
The last 18 months have been hard, painful even, and you probably feel just like my daughter did when she finished and said, "I never want to do that again."
While she had sore legs for the next day and we were all starving by the end of the ride, Adalia said something incredibly insightful.
"Mom, now that I have ridden 15km, going on an 8km ride doesn't sound hard at all."
This is the power of resilience.
Resilience can feel like a buzzword. It sounds really good, what does it actually mean? And even harder is figuring out how to achieve it.
It's like the unicorn of well-being or actually achieving the allusive "work-life balance". Super nice to say and think about, but almost impossible to achieve. But resilience is what has kept people afloat during these challenging months, and it will help propel people forward.
WHAT IS RESILIENCE?
Resilience is the ability to bounce back from hardship more quickly or not getting stuck when facing challenges.
It isn't the absence of struggle or pain. Nor is resilience an achievement that can be attained or a goal reached that no longer needs development. It is the ability to come out of a time of suffering, quicker easier and perhaps with growth.
Resilience is the result of disciplines and habits that need to be maintained in order to remain strong. It's like a muscle if you don't work at it you will lose it's functioning.
There are 7 Keys to Resilience which are practical simple methods that strengthen your resilience. By practicing these you will strengthen your ability to face adversity and bounce back more quickly. Something that would benefit us all coming out of some very difficult months.
STAYING CONNECTED
We are created to be in relationship with each other and with God. (Heb. 10:25; Prov. 27:17) Although it can be tempting to isolate in times of overwhelm, refreshing and freedom from shame comes when we connect with supporters. A beautiful scripture that points to the refreshing nature of relationship is Prov. 16:24 "A kind word brings healing to the soul and healing to the body"
REST
Slowing your schedule and having intentional times of rest is not only healthy, but it is also Godly. God was the ultimate role model when He rested on the 7th day of creation. Rest was so important that it became a part of the creation story.
Rest not only includes physical rest, but it's also important to recognize when you need some extra mental, emotional, relational and spiritual rest. How do you use your sabbath and times of rest?
HAVE FUN
Do something that you enjoy, something that soothes your soul and makes you smile.
It is good to laugh and enjoy life.
For years I struggled with fun because what I think is fun is not typical. I'm pretty much a senior at 40. I like puzzles, reading, walking, playing the piano, and chatting with girlfriends over good food. But I discovered that what is fun for you is perfect. There is no need to compare or evaluate or shift your fun to match others. Only what is truly fun for you will give you the benefits of joy and resilience. Find time in your daily, weekly, monthly schedule to engage in something that makes you smile.
MEDITATION
Research has caught up to what we know as truth from the Bible and confirmed that regular practice of meditation decreases the body's response to stress and improves resilience. (Joshua 1:8)
Having mindfulness is intentionally focusing on God so that His voice is louder than our judgements. And mindfulness is produced through the practice of meditation. Or to say it differently: Meditation is the habit and mindfulness is the skill developed. Practice refocusing your mind and thoughts towards God, by using the many mediation tools available.
KNOW WHO YOU ARE
You are fearfully and wonderfully made (Ps. 139:14) God, created you on purpose and for a purpose. No other human has ever, or will ever have your gifts and talents. Don't be distracted by negative thoughts. Focus on the truth of who you are. (Eph. 2:10).
There are tons of self-reflections and assessments to learn more about your unique gifts talents and abilities. Seek them out to discover who God made you to be.
BOUNDARIES
Even Jesus would often say "no" to people and "yes" to spending time alone, refuelling with time in prayer (Luke 5:16) When someone asks you to do something, rather stressing about saying "no", tell people what you are saying yes to.
Boundaries protect us from those who have no self-control and who wish to control us. A person with clear, healthy boundaries communicates to others what is and is not acceptable. The benefits of establishing clear boundaries will be felt in every area of your life.
SELF-CARE
Self-care or soul-care is part of the great commandment to love others as yourself. (Mark 12:31) It doesn't have to be expensive, time-consuming or self-indulgent. It is simply having compassion towards yourself and being kind. Think about how you would treat a friend and then do or say that to or for yourself. Selfcare is not selfish, self-care is leadership.
Many of these keys will be familiar to you. They can seem almost too simplistic. We often think that if we're facing a complex problem, or we are struggling in many areas of our lives we need to have a complex solution. But this isn't true.
By practicing these simple (but challenging) disciplines you will build resilience. You will be better equipped to cope with life's challenges and you will find yourself bouncing back more quickly.
Resiliency isn't the absence of hardship, but it's the skills and disciplines that will allow you to get through challenges.
Trying to work on all 7 Keys is overwhelming. I encourage you to pick one key, the easiest, not the hardest, and "start where the ground is soft". Get some quick wins and then move on to the next one. When you improve in one area you are strengthening your overall resilience.
As the founder of Hope Made Strong and the Church Mental Health Summit, Laura Howe is a mental health clinician and a community development strategist for churches that want to transform their community with care ministries. She also hosts the Care Ministry Podcast.
Laura specializes in supporting local church leaders to overcome and prevent burnout, creating effective and sustainable care ministries and helping churches grow their community impact and influence.
The Better Samaritan is a part of CT's Blog Forum. Support the work of CT. Subscribe and get one year free.
The views of the blogger do not necessarily reflect those of Christianity Today.