4 Ways to Love People Well, Cross-Culturally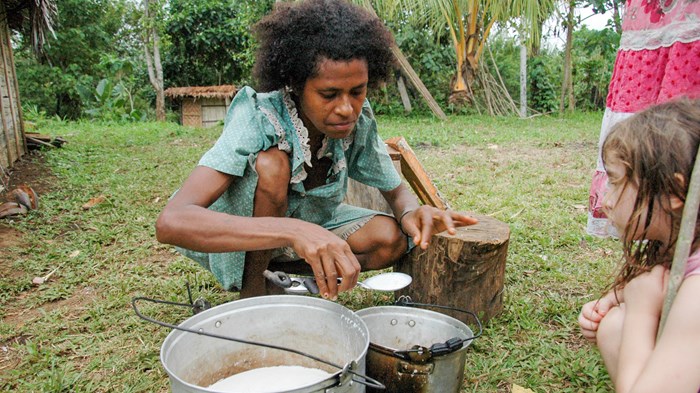 "Your food is terrible. You need to learn to cook something that tastes good."
Bubumama, an elderly matriarch of a community in Papua New Guinea, grimaced as she returned the plastic container that had held a serving of my family's dinner.
I clenched my jaw and forced a smile. We hadn't invited this woman in. She'd flung the door open and demanded a helping of our meager, carefully portioned pot of spaghetti—the one meal my kids had looked forward to all week. We were guests in her remote community, just there with Wycliffe Bible Translators to learn the local language for a month, and Bubumama was clearly in charge. So I handed over some of our food, knowing it would mean I'd go without.
This wasn't how I wanted to begin my time overseas—angry and frustrated. I understood that Bubumama would be confused if she knew I considered her behavior rude, but my knowledge of the cultural contrasts between us didn't soothe my wounded feelings.
The next morning, I perched on a log across a cooking fire from Bubumama and her daughter-in-law. Bubumama's eyes twinkled with gentle pride as she watched the young woman deftly slice sweet potatoes with a machete and add them to a bubbling pot of pumpkin greens and homemade coconut milk. I had to admit that I could see why our new friends found my little heap of noodles in bland tomato sauce so unappealing.
Patiently and kindly, Bubumama explained each step of the process to me as her daughter-in-law worked over the fire with practiced ease. I felt like a young child around these women. My university degree and life experience didn't count for much in a place where I needed help to accomplish even the most basic tasks like gathering water and staying upright on muddy paths.
Living under Bubumama's careful instruction that month taught me two things about myself: I know much less than I thought I did and I'm much more prideful than I thought I was.
My struggle to love someone so culturally different than me was rooted in my own lack of humility. Until the friction of challenging cross-cultural relationships like this one exposed my heart, I wasn't aware of how often I've assumed that my viewpoint and way of doing things was best. Over the year and a half my family served in Papua New Guinea, I gradually realized how this attitude was negatively impacting my relationships across cultural, ethnic and even generational divides overseas and in the U.S.
My struggle to love someone so culturally different than me was rooted in my own lack of humility.
Humbly loving others in the midst of differences can be difficult, but it's core to our mission as the body of Christ. So how can you love well across cultures?
I've found these steps to loving well cross-culturally (overseas or in our own neighborhoods) can be a good place to start:
Recognize that this kind of love is a product of the Holy Spirit's work in our lives.
Love that effectively crosses cultures is not an emotion or attitude you can manufacture on your own: "But the Holy Spirit produces this kind of fruit in our lives: love, joy, peace, patience, kindness, goodness, faithfulness, gentleness, and self-control. There is no law against these things!" (Galatians 5:22, NLT) You can't make yourself love with Christlike humility through sheer force of will—you can only stay connected to Jesus and allow God to transform you through Scripture, growing his own love for people within yourself.
Become a student of the people around you.
I resented Bubumama when I assumed she had little to teach me, but I began to appreciate and respect her when I realized I needed her wisdom. If you respond to others like you are a student—setting assumptions aside, asking thoughtful questions, listening without interrupting and accepting appropriate correction—you'll not only build relational bridges, but you will also gain the ability to see life through lenses other than your own.
No single culture can fully represent God's character and glory; all language communities and people groups reflect his image in their own unique ways. Learning from members of other cultures grows your understanding of both the global church and God himself.
Learn how to rebuild damaged connections effectively.
No matter how humbly you love people and learn from them, you'll eventually encounter a degree of friction and misunderstanding in cross-cultural relationships. But the way you respond to conflict tends to be shaped by your own personal and societal upbringing, and you can actually cause greater hurt by trying to resolve an issue in a culturally uninformed way.
For instance, direct confrontation is seen as aggressive and shameful in some cultures, and in others the process of conflict resolution must include an exchange of gifts. To rebuild damaged relational connections most effectively, seek guidance from those who know the culture well and learn to extend and receive grace in ways that may not feel natural at first.
Stay committed.
Don't confuse the work of cross-cultural love with the experience of cross-cultural infatuation. Many who've been on short-term international trips are familiar with the joy of discovering new cultures—and this feeling is right and good. But just like in your long-term relationships, a fleeting emotional reaction to another person's culture alone won't sustain the unity Jesus desires for his people: "I pray that they will all be one, just as you and I are one—as you are in me, Father, and I am in you" (John 17:21a, NLT). This kind of oneness implies an ongoing relationship with a person; all growing relationships require time and effort, as well as a commitment to stay engaged through both good and difficult seasons.
The humbling lessons I learned in Papua New Guinea are still transforming the way I love people across cultures and within my own. Curiosity is taking the place of my assumptions, compassion is taming my tendency to judge, appreciation is quieting my confusion, and I'm learning to stay at the table in the midst of ambiguity and discomfort. But most significantly, I'm seeing more of God's heart and relying more deeply on him as I practice loving people because he loves them.
Learning to love well across cultures is one of the most challenging journeys you will face as a follower of Jesus, but it leads to greater freedom, deeper beauty, broader understanding and truer friendship than you could have imagined. It's worth the work.
Beth Matheson is a writer and podcast host for Wycliffe Women of the Word. She and her husband, Mike, both grew up overseas as the children of missionaries and have served with Wycliffe Bible Translators since 2004.
The Better Samaritan is a part of CT's Blog Forum. Support the work of CT. Subscribe and get one year free.
The views of the blogger do not necessarily reflect those of Christianity Today.