Remittances Are Down, but Suicides Are Climbing in One Kenyan Refugee Camp
The worldwide financial downturn caused by COVID-19 is one more reason to lose hope, for some of the most vulnerable.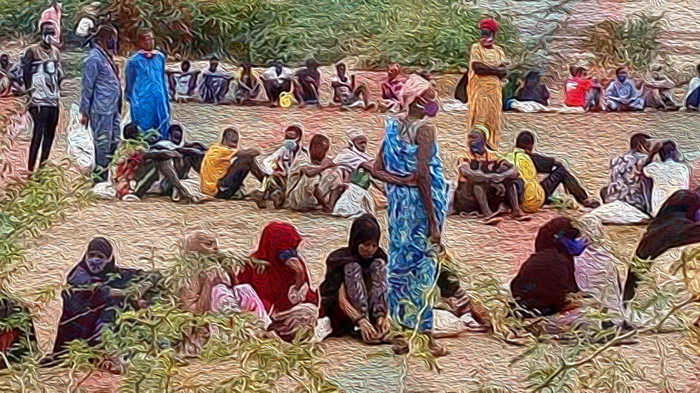 Remittances, commonly defined as earnings sent back to the home country by migrants, are a key source of income and lifeline for many families living in Kakuma refugee camp and the nearby Kalobeyei settlement in northwest Kenya. Beyond the macroeconomic benefits of remittances, studies show that they have a significant poverty reduction effect, especially for female-headed households.
But following the outbreak of COVID-19, remittances from the US and Western countries to Kakuma refugee camp and Kalobeyei settlement have dropped, according to remittance service providers.
Providers believe this could mainly be due to the loss of jobs and restrictions on movement in Western countries. The pandemic provoked global restrictions on the movement of people and activities, considerably affecting how much money is received by the families and friends of those abroad, who are dwelling below the poverty line.
Remittance service providers in Kakuma 1, a section of the refugee camp, mentioned that the decline in the amount is enormous and is forcing them to shift their business to make money in other ways. According to Abdi, a well-known remittance provider in Kakuma 1, "the amount of support coming now is very small per month as compared to the support before the pandemic."
Even before the onset of the pandemic, refugees living in Kakuma faced a range of challenges, including suicide, trauma, limited access to services, human rights violations, and a lack of opportunities. COVID-19 came with a lot of cumulative effects, not only in terms of health but also from socio-economic angles. It has impacted livelihoods in a way which is particularly severe for refugees who have been in the camp a long time. Kakuma Refugee camp reported its first COVID-19 case on 13 March, 2020.
Since the pandemic, Western countries hosting refugees and migrants have been in partial lockdown and movement restrictions have been introduced to curb the spread of disease. While these measures save lives, they also come with unintended consequences for vulnerable populations, like refugees living in protracted situations in Kakuma refugee camp. Such measures put pressure on economies in the West, which has resulted in a sudden drop in the amount of money that has been sent to relatives in Africa and elsewhere.
Remittances are usually sent through the trust-based global financial transaction system called hawala, which is dominated by the Dahabshiil, Amel, Dalsan, and Iften financial institutions inside Kakuma refugee camp. A 2018 report by the International Finance Corporation (IFC) revealed that refugees draw income from a range of sources, relying on small businesses and aid, along with remittances. The latter—sent through the above institutions and transfer agents, who use Safaricom's money transfer service—came to at least $200,000 per month.
According to the IFC report, this monthly amount is likely due to the large diasporas of Ethiopians, Somalis, Congolese, Burundians and South Sudan nationals across North America, Europe and the Middle East. Most refugees live on a handful of relief food and small e-voucher donations from aid agencies which cannot sustain them for even one month. Currently, in the Kakuma refugee camp, relief food is only distributed only once every two months.
"I used to get 100 USD every two months before the COVID-19 outbreak, but now I am getting only 50 USD every two months,'' Eva, a refugee in Kakuma 1, explained. Most remittances, which refugees see as essential sources of income, fill the gaps since they can be used to purchase household consumptions—particularly food items.
Many countries put in place measures to support the most vulnerable segments of society during the pandemic by issuing different economic benefits, including various tax cuts to support the neediest people. For instance, the Kenyan government dedicated 10 billion KSh (93 million US dollars) to support the elderly, orphans, and other vulnerable groups in the form of cash transfers. However, refugees living in Kenya have been left without any social protections or any economic stimulus packages.
For example, as in the U.S., some companies offered special COVID benefits to customers last year. One of these was Safaricom, the sole telecom provider in the camp. In an effort to reduce public health risk through the use of cash, Safaricom waived certain fees for M-PESA, a service which is one way for refugees and other Kenyans to collect remittances from abroad. But so few refugees are eligible for the M-PESA service that the benefits did little to help them.
In Kakuma refugee camp, donors have been looking at new ways they can support the most vulnerable refugee communities. In February, 2021, an initiative of the World Economic Forum called Global Shapers committed six months of donations via two entities: a microfinance nonprofit called Refugee Integration, and an organization called Impact Market, a "decentralized poverty alleviation protocol" which uses blockchain technology. The donations were intended to support the vulnerable by sending 100 KSh ($1) per day directly to M-PESA users. So far, Global Shapers claims to have assisted about 1,295 refugees, which will continue depending on the availability of funding. With 160,000 refugees in the camp as of January, this group represents .8 percent of Kakuma residents.
In many ways, this way of supporting refugees is a game changer in the Kakuma refugee camp, and is potentially revolutionary. However, economists argue that people receiving any kind of donor aid risk becoming reliant on it, and suggest that time-limited cash aid that keeps people out of refugee camps seems to have a lower risk of provoking learned helplessness.
Following the recent spike in suicide, concerned aid agencies have showed some interest in re-initiating a mental health counseling service in all centers all over the camp, but many refugees express concern with the quality of mental health services, saying it remains unsatisfactory. As per Julisha.info, a nonprofit platform for information sharing for refugees living in Kenya, 15 refugees attempted suicide while 6 refugees completed suicide this year between January-June 2021.
Since the amount of humanitarian aid provided to Kakuma's refugees is expected to decline even more, it is very important to predict how much greater the impact of the COVID-19 pandemic will be on the lives of refugees. Concerned stakeholders should continue to come up with different strategies to address the existing challenges and amplify their support to the neglected refugees.
Resources:
The Effects of International Remittances on Poverty and Inequality in Ethiopia (Journal of Development Studies, 2014)
Migration, remittances and household welfare in Ethiopia (United Nations University - Maastricht Economic and Social Research Institute on Innovation and Technology, 2014)
Tolossa Asrat is an Ethiopian journalist based in Kakuma Refugee Camp in Kenya. He holds a bachelor's degree, diploma, and several certificates, and is currently earning a diploma in Community Interpreting through the University of Nairobi, with an expected graduation date of December 2021. Tolossa is also a photographer and professional interpreter, translator and voiceover artist in the Amharic language. For more information about the KANERE Refugee News service, visit https://kanere.org/.
The Better Samaritan is a part of CT's Blog Forum. Support the work of CT. Subscribe and get one year free.
The views of the blogger do not necessarily reflect those of Christianity Today.