A Force Stronger than War: God at Work in Poland
As you pray for Ukrainian refugees, five faces to keep in mind.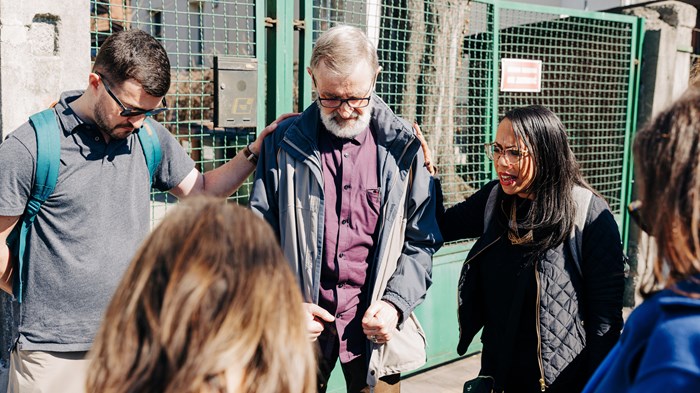 Seven weeks into the war in Ukraine, my newsfeed refreshes each day with stories of unthinkable atrocities. With each new account of suffering, it's easy to wonder, "How could this happen?"
This is a question I asked myself often during a recent trip to Poland, where I met church leaders and Ukrainian refugees whose lives have been forever changed by the reality of this war. But one church leader, Pastor Zbigniew Sobczak of First Baptist Church in Kraków, reminded me that the suffering we are witnessing is not new to humanity.
"In the first family, there was war," Pastor Sobczak said. "There were no armies, [but there was] brother killing brother."
From humanity's very first generation and down through the ages, war has been one of our biggest adversaries. But, as long as there has been war, God's Word has inspired ordinary men and women to rise up and serve in the most difficult circumstances.
That story is true today in Poland, where more than 5.4 million Ukrainian refugees have fled. In a country of 38 million, this number is not insignificant. But from the very first day of the war, Polish pastors, priests, and parishioners have opened their doors and hearts to people in need. And, in a show of service that stopped me in my tracks, Ukrainians in Poland are turning around to serve others during this difficult time. I want to share these powerful stories as a reminder to all of us that God's people, strengthened by his Word, are an unstoppable force—even in the face of devastating war and trauma.
Valentin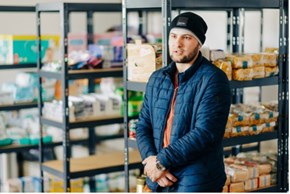 Image: Photo courtesy of the American Bible Society
Valentin and his family fled the crisis in eastern Ukraine in 2014. He reminded me of Joseph, who was brought to Egypt by God long before the rest of his family. Like Joseph, Valentin is now uniquely positioned to serve people in their hour of need. He and other volunteers with First Baptist Church in Kraków often wake up as early as 2 A.M. to help families with government paperwork and supply them with daily necessities from a new food pantry. "We are trying to support everyone," Valentin told me. "We don't want the Ukrainian people sleeping on the streets." Beyond the physical care he helps provide, Valentin sees an opportunity to share the hope of the gospel. "People are ready to speak about God," he says. "It is a great opportunity for us. Lots of organizations are supporting with food [and other resources]. But they can't give God like we can."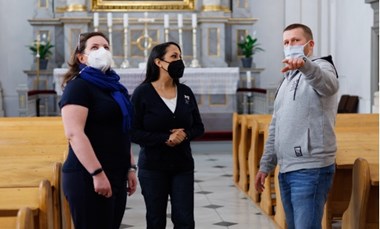 Image: Photo courtesy of the American Bible Society
Mateusz
As caretaker at Saint Martin's Lutheran Church in Kraków, Mateusz (pictured right) and his team are working around the clock to help Ukrainians with legal documentation, transportation, clothing, and shelter. "Most people walk in with one bag and two kids," Mateusz told me. They're grateful for everything they receive—including the spiritual comfort of God's Word. At the time of my visit with him, Mateusz told me that only six of the 25 Russian and Ukrainian Bibles he scrounged off an old church bookshelf were left. The rest of the Bibles, along with care packages from the church, are in the hands of Ukrainians heading for other destinations. Mateusz asked us to pray for more volunteers to serve these vulnerable families, but he also asked us to pray for more Bibles. "The problem will not end with the end of the war," he says. "The Bible and the Gospels will be helpful so people can look for consolation."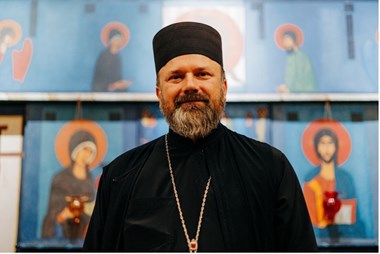 Image: Photo courtesy of the American Bible Society
Father Antosiuk
Father Jarosław Antosiuk serves as a priest at the Orthodox Church of the Assumption in Kraków. His church, which was once a military building, is now a powerful symbol of God's peace overtaking humanity's endless wars. While his congregation ministers to Ukrainian refugees in multiple ways—including language courses, legal assistance, childcare, and medical shipments to Ukraine—Father Antosiuk believes that the biggest service they provide is simply listening. In this way, he says, they provide a safe space for Ukrainians struggling with the heavy burden of trauma. "They come for consolation. They come to pray. They come to get help," he told me. During our conversation, I saw this happening with my own eyes: a constant stream of Polish and Ukrainian believers flowing into the church's sanctuary to pray.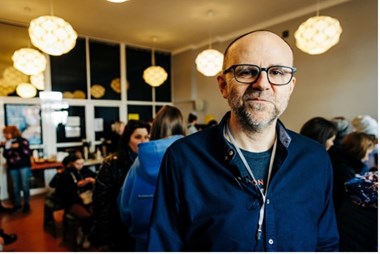 Image: Photo courtesy of the American Bible Society
Pastor Tarkowski
In just one day, Pastor Zbigniew Tarkowski and volunteers from Christian Fellowship Church in Warsaw ran out of Ukrainian and Russian Scriptures. So, the congregation of just 400 people began caring for Ukrainians in different ways, including providing apartments, medical care, a daycare center, and help with documents from the nearby Ukrainian Consulate. Standing in the church's bustling aid center, Pastor Tarkowski told me that, in the past month, his church had seen a miracle of biblical proportions: "We have actually fed 5,000 people!" Since the war began, he has witnessed two waves of people fleeing Ukraine: those who left before the war started and those who left after it began. In the second group, he says there are life-changing traumas and crises of faith. According to Pastor Tarkowski, the church's role in this crisis remains the same: being salt and light for the world. And his request for prayer is simple: "Pray for peace."
There are countless others serving alongside these church leaders and sharing similar stories. Their sacrificial service is not easy. People are experiencing deep trauma. Bibles are in short supply. Volunteers are exhausted.
And yet I am in awe of the love demonstrated by these faithful believers as they serve as the hands and feet of Christ. Through their actions, they are demonstrating the message of the Bible and showing how the Holy Spirit works through God's people in the most difficult times.
I encourage you to pray for Pastor Sobczak, Valentin, Mateusz, Father Antosiuk, Pastor Tarkowski, and many others. Pray that God would sustain them in these challenging days. Pray for the Bible Society in Poland, which is responding to the largest Scripture crisis in its 200-year history with just three staff members. Pray that the body of Christ around the world would generously supply the Scripture resources these churches need: Ukrainian and Russian Bibles, large print Bibles, Psalm booklets, and children's Bibles.
It's true that murder and warfare have existed for nearly as long as God's people. But through the example of these Christians empowered by the Holy Spirit to serve and share the hope of the gospel in Poland, I am reminded that war will not get the last word in our story. That word—the word of shalom—belongs to our faithful Savior, whose Word is a light for our path in these dark days.
Rev. Enid Almanzar is Director of Global Access Partnerships for American Bible Society.
The Better Samaritan is a part of CT's Blog Forum. Support the work of CT. Subscribe and get one year free.
The views of the blogger do not necessarily reflect those of Christianity Today.