What Can Homeless Kids Teach Us About Faith and Living Well?
3 Lessons I've Learned from the Youth I Get to Serve.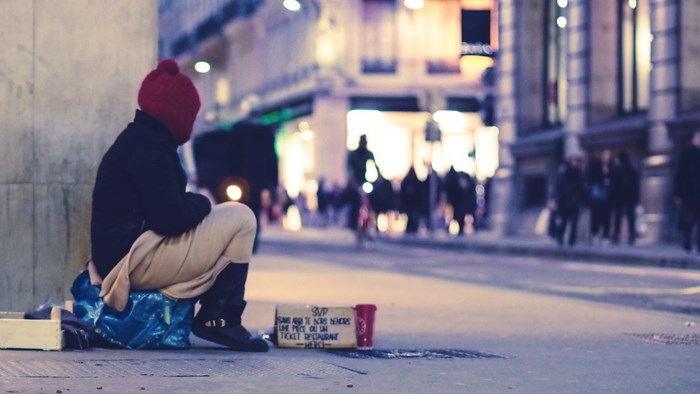 I get to lead a ministry for kids who are or have been homeless. Many editors would eliminate the "get to" part of that sentence for brevity's sake. But without those two words, you might miss the whole point of ministry. I'm honored God has called me into this work; I get to love and be loved by others–-and learn from them too.
The kids I serve live far below the poverty line. Unlike them, I've never experienced homelessness; the closest I came was through a temporary, chosen nomadic life I led for a brief period between jobs and cities. Our friendships have zero degrees of separation; without relationship and proximity, this type of ministry could never work. However, Jesus knew this kind of drawing near was the best way to engage others with the hope of His kingdom promises.
Kids whose realities include living in shelters, on the streets, in cars, or in the homes of friends or relatives face difficult odds. Almost 40% of those who are homeless in the U.S. are under the age of 18, and 57% of homeless kids spend at least one day a month without food. Homeless teenagers are three times more likely to become incarcerated than those with stable shelter, and 50% of adolescents aging out of foster care and juvenile justice systems will be homeless within six months because they are often unprepared to live independently and have limited education and no social support.
Those statistics are heartbreaking, but it's not all grim. In my years of living in proximity to homeless kids, I've learned many lessons about faith and how to live well. Here are three:
There is no end to the love of Christ.
It's easy to think that those born into homelessness are more worthy of our love and care than those who did something terrible and ended up on the street. More times than I can count, I have been humbled to befriend and love those who, for whatever reason, have found themselves homeless. Some of them are in situations because of broken families and communities; others, because of poor decisions. The fact is: Jesus didn't judge people for being in the situation they were in—He just knew He needed to be with them. And He didn't turn His back because of someone's bad choices.
That's why those on the margins are so important. They've been forgotten and overlooked by most of the world. They've been called "voiceless" even when they have a voice—but often, we're the ones who aren't listening.
The fact that we have marginalized communities is the opposite of what Jesus stands for. At Young Life One, we have a question we ask of our staff: "Who did Jesus hang out with and who would you hang out with, if you were Jesus?" Jesus was for the outcast and the widow and the orphan, regardless of how they came to their state. Read, for example, His response to the woman at the well (John 4). The love of Christ has no parameters. It's extended to all of us.
There is no person too small for the love of Christ.
Many of us have read Luke 15, but how many of us have experienced it? In Luke 15:4-6, we find Jesus telling his disciples a parable: "Suppose one of you has a hundred sheep and loses one of them. Doesn't he leave the ninety-nine in the open country and go after the lost sheep until he finds it? And when he finds it, he joyfully puts it on his shoulders and goes home. Then he calls his friends and neighbors together and says, 'Rejoice with me; I have found my lost sheep.'"
One afternoon during COVID, I got into my car, stopped at the grocery store to pick up food, and drove to the area where some of our kids stay. I sent a text to the team I work with: I'm in Lemon Grove. Who lives near here? One of my leaders responded with a name and address. After I knocked on the door, I was greeted by ten family members who filed into the courtyard of the apartment complex to sit, talk, and eat.
In that moment, I was reminded that while my circumstances are strikingly different from theirs, in many ways, we are all lost sheep. It was the beginning of the pandemic, and we were all lonely, scared, and confused. They may have needed food, but in finding them and bringing it to them, they found me too; they invited me into their space and gave me a seat at their table. They let me see them, and I let them see me. It was a special kind of grace.
Christ is always on the lookout for that person who needs a little extra hope and love—as we should be.
Christ can teach me about Himself through those who are marginalized.
A few years ago, I was volunteering at a fundraiser with one of the girls in the homeless community. In passing, I made what I thought was an innocuous comment about a woman dressed in a silly costume. "That's such a mom thing to do," I said. Immediately, a look came over this girl's face. Later, she told me that my comment had really hurt her feelings, since her relationship with her own mother came with many ups and downs. I immediately asked for her forgiveness and she readily gave it to me. That was Christ in her.
Here's another example: Not too long ago, I developed COVID. One of the moms of kids I serve drove 40 minutes to bring me soup and let me know she cared. Hospitality and grace are common in homeless communities. Without either, loneliness and fear can easily overcome you.
I've also learned about the power of raw, gritty faith—the kind you don't find elsewhere, the kind that carries you through the next meal or the next sheltered night. I am reminded over and over of how dressed up and whitewashed our faith can become when we only rely on God for excesses like a brand-new car or a victory over an opposing baseball team. Not that these things are bad, but I have seen many homeless youth rely on God for a roof over their heads or the next meal—and I have seen God provide, over and over. It's incredible. When I see kids come to realize God's goodness even among the difficulties of their lives, it's good for me, too. He really is among us.
So when I say I "get to" lead a ministry for kids who are or have been homeless, I mean it. We all get to be part of God's work in the world, and we get to see Him at work in some of the least likely places. That's a kingdom promise worth pursuing!
Rachel Karman is director of Young Life One, working alongside schools, churches, and other non-profits to holistically love and care for homeless, incarcerated, trafficked, and/or teenagers in foster care.
The Better Samaritan is a part of CT's Blog Forum. Support the work of CT. Subscribe and get one year free.
The views of the blogger do not necessarily reflect those of Christianity Today.