Four Ways to (Paradoxically) Find Peace Amidst Grief This Christmas
While some of this advice may feel counter-intuitive, research shows each action can help us find healing after loss.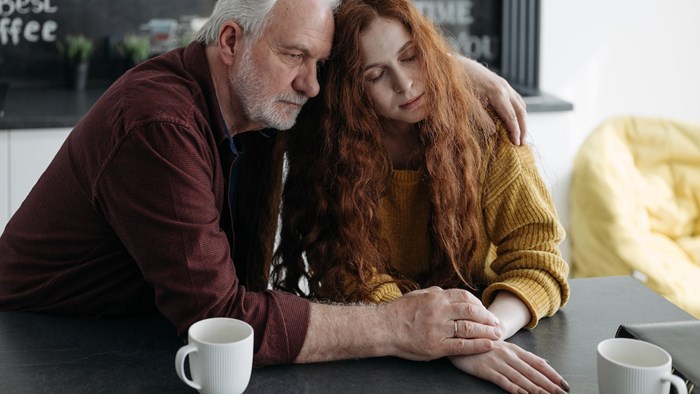 Holidays can be a difficult time of year, especially for those who have lost a loved one. Even if you haven't suffered a personal loss, you're certainly surrounded by many people who are walking through grief.
Symptoms of grief show up differently in different individuals, with the most common reactions being shock, disbelief, denial, anxiety, distress, anger, periods of sadness, problems sleeping, and loss of appetite.
When work, family obligations, home management, and social gatherings demand our attention, we can naturally be tempted to push our grief to the back burner. And yet it continues to simmer there, impacting our emotional health as well as our relationships.
Tragedy often strikes when we least expect it, and working through the process of grieving is difficult. However, there are healthy ways to work through grief and seek the authentic support of others along the way:
Surrender to gain a greater sense of control over your grief.
It may sound counter-intuitive, but spiritual surrender allows us to experience the fullness of God as we face our situation head-on, releasing our tightly-held lives to him. When we let go of what is out of our control at the foot of the cross, we position ourselves to gain not necessarily what we want, but what we really need: eternal hope (1 Thess. 4:13).
God is not the author of suffering, but instead the originator of love, grace and mercy. Throughout Scripture we are reminded that we can trust God with our pain and suffering, especially our grief.
Through several studies, including after Hurricane Katrina, our team has found that those who engaged in spiritual surrender are more likely to view God positively and to be able to release more control to God. Similarly, other researchers have shown that those who are able to surrender what they can't control—such as the death of a loved one—tend to fare better psychologically.
Based on both our research and personal experiences, we've come to understand spiritual surrender as a paradoxical pathway to control. Spiritual surrender helps us recognize what we have control over and what we don't. True spiritual surrender is far from passive; rather, it is a willful act of trusting God. Letting go of control unexpectedly places us in the hands of a God through whom all things are possible, resigns us to what is, and reconciles us to loss.
Hold onto old traditions where you can, but be open to trying new traditions.
Grief often interrupts life rhythms, especially around the holidays. Where possible, choose to keep the important traditions that grounded you before your loss. Maintaining established traditions helps us rediscover a sense of "normalcy."
Carving out calm amidst chaos can help buffer against the roller-coaster effect. Seeking out familiar places, schedules, and people can be soothing and comforting.
Grief can shake our sense of normalcy and make us feel like we are on an emotional roller coaster. Because grief can disrupt our daily lives, trying to keep a routine can be helpful. Create some space in your day, or days surrounding the holidays, for the familiar. Carving out calm amidst chaos can help buffer against the roller-coaster effect. Seeking out familiar places, schedules, and people can be soothing and comforting.
Yet, we also encourage you to practice self-compassion, recognizing you may need to create new traditions.
For example, long-held traditions and rituals that once brought joy may now feel more like a reminder of what's been lost, bringing hurt to the forefront. If changing traditions is what is needed to help you get through this holiday season, know that is okay; you don't have to feel guilty.
Sometimes what gets us through the toughest times is new ways of being, and new traditions may help us regain our equilibrium. As much as possible, try to stay active and do what is life-giving for you.
Welcome help, but also give help (when you're ready).
Accepting help from others can be challenging, but is needed, especially during times of grief. Study after study shows that social support is one of the biggest predictors of resilience after grief. For example, our team's research has shown that positive spiritual support can aid in reducing stress, trauma, and anxiety amid personal loss.
Don't be afraid to reach out to loved ones and friends for extra support, especially around trying anniversaries. This doesn't mean you have to rehash or relive events. Only share what you feel comfortable sharing. If you don't want to talk about things, that's okay. Just spending time and being with others can be healing in and of itself.
Seek professional mental health care if needed. Here are a few signs you could benefit from additional professional support:
You can't shake the distressing thoughts and emotions brought on by grief, after significant time has passed since your loss.

The distress triggered by your grief starts to interfere with your everyday life.

If others are encouraging you to seek professional help, this may also be a good indicator that you should seek help.

Finally, if you find yourself thinking about harming yourself, please call 988 or 911 for immediate assistance.
As you find yourself further along in your grief journey, when you feel you have the emotional and spiritual capacity needed, look for ways to help others. Serving others can sometimes give us brief respite from our own suffering, and even small gestures can make a big difference.
Research has found assisting someone else in need is an effective way for finding meaning and purpose in your own struggle. Dr. Daryl Van Tongeren, a social psychologist at Hope College, notes that helping others fosters a sense of meaning, purpose, and even feelings of happiness. Similarly, Santa Clara University clinical psychologist Dr. Thomas Plante writes, "In a nutshell, if you want to cope better with stress, serve others. Stress management and resilience can be enhanced by connecting with others in need."
When we've suffered loss, serving others helps us continue to be the people we were before grief struck.
Embrace the tension between grief and gratitude.
It is still possible to cultivate a sense of gratitude amidst the grief of the holidays. We don't say this lightly, or to minimize what those who've lost a loved one are going through.
You may feel tempted to try and avoid the difficult parts of your grief story. However, we would encourage you to look for ways to remember and honor your whole story, including the ups and downs. There is not one "right" way to honor your grief experience in its entirety. This is not something to be rushed and takes time. Be patient with yourself and the recovery process.
But while lamenting, also take small steps toward learning to live in the tension between seemingly opposing emotions of grief and gratitude. Though it may feel counterintuitive—and even painful—the gratitude we struggle to muster is more likely to be found by embracing our grief, not avoiding it.
Holding this tension is not easy, but as we continue the season of longing in Advent, we are reminded it is possible. Many of us who have lost loved ones will feel that longing in new ways this year.
As we look further ahead to Christmas celebrations, may it remind us that grief will not get the final word.
Jamie Aten, Ph.D. and Kent Annan, M.Div. are the co-founders of Spiritual First Aid. They also co-direct the Humanitarian Disaster Institute at Wheaton College.
The Better Samaritan is a part of CT's Blog Forum. Support the work of CT. Subscribe and get one year free.
The views of the blogger do not necessarily reflect those of Christianity Today.