The Audacious Challenge of Starting Over: Could I Bring My Church Baggage?
Years of faithful church commitment came with years of church trauma. One woman describes her journey to stay in the Church despite all the baggage.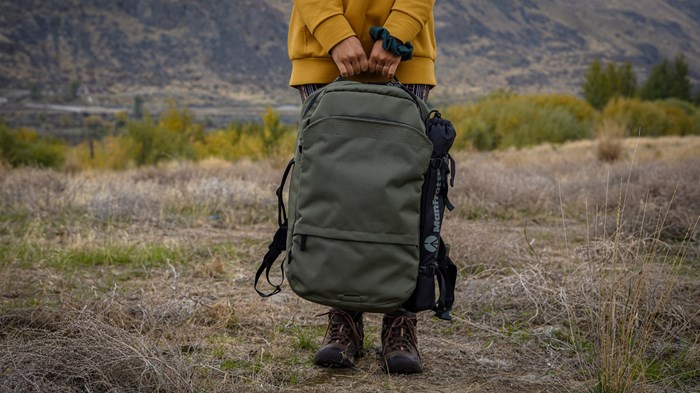 Imagine a scene where a character shows up to a front door in the middle of a storm with lots of suitcases because they need a place to stay.
Oh wait, it's real life and the front door is to the third church we've attended since March 2020.
"Hey, New Friend at New Church, here's all my baggage."
Maybe we were bound to transition out of the first church because of a move and our growing family.
But then I look a little closer at the bags I carry. Deep within one of those suitcases, I find hurt, rejection, and loneliness. It includes an 8-year mentorship that ended because she disagreed with my views on racial reconciliation and the Gospel. There's the slights I dealt with over many years for being the only person of color on church staff or the need to conform to fit into majority culture. There's the, "Why am I the only one who is saying anything about this?"
There is another bag of disillusionment and distrust from where I was part of a staff team and later a volunteer at a smaller campus of a megachurch. Perfection overrode grace. Efficiency replaced healthy habits. Oh, and the senior pastor along with many others at his side, sound like everyone you hear about on the Mars Hills Podcast.
Another bag I thought I did not have anymore comes with me. This one from my college church and its senior pastor. This man, well-esteemed in the community, formed a lot of my theology. In retrospect, he often preached the poverty gospel, encouraged suffering as holiness, and limited the congregation status to a group of despicable sinners instead of a forgiven, children of God. On top of that, more and more information came out this year of his sexual misconduct, church abuse, and over twenty years of lies.
So now I'm at this door, stuck in a carousel of thoughts.:
Why do I try again?
What's their theology? Is it true to the Bible?
Can this leadership team be trusted?
Do they mean what they say?
Is it me? Am I the problem?
Can my family handle one more transition?
Do I let my guard down? Can I trust myself again? Can I trust others again?
Talk about a disaster. So many are leaving their local churches today. I wish I could allow myself to do that.
Yet, the biggest suitcase of all is the one with all the Sunday morning clothes from my immigrant home church: where I sang in the church choir, called everyone "aunty" or "uncle" because we truly were a church family, and spent hours at church on holidays or Saturday nights, not realizing then how much of Acts 2:44 we were living out. In this bag is where I started to memorize Scripture, cherish old hymns in English and our language, and I observed faithful men and women who loved God, loved His church, and loved one another. They were far from perfect in that our church split when I was in high school, but the greatest gift in this bag was that I could be myself. What a gift for someone who felt like an outsider through most of her middle and high school years!
While I can't imagine going back to my home church, I stand at the door of this new space and know and recall church being a safe place. Church can be a place where my daughters can find other "aunties" and "uncles" who will look out for them, pray for them, and perhaps show up for important milestones like mine did for me. Church can be a place where I am myself, unafraid to share my opinions, tell my story, and let the Lord and His people speak truth. And ultimately, the local church is not about me but needs to be a place where we live out our call as the bride of Christ. Though fallen and imperfect, He will not leave us, and He is still at work..
"​​And I heard a loud voice from the throne saying, "Look! God's dwelling place is now among the people, and he will dwell with them. They will be his people, and God himself will be with them and be their God. 'He will wipe every tear from their eyes. There will be no more death' or mourning or crying or pain, for the old order of things has passed away." He who was seated on the throne said, "I am making everything new!"' Revelation 21:3-5
I know I hold a lot of baggage, but just as the Lord is making all things new, I pray and hope that He can help me heal, let go, and once again, devote myself to the teaching and fellowship of His bride. These bags at this door can be a burden I lay at His feet. They are part of my story but do not have to define me.
"Hey, New Friend at New Church. I'm glad God led me here."
Rachel C. Varghese is a teacher, writer, and homeschooling mom who supports the Better Samaritan as Communications Associate. With her past ministry and church staff experience, Rachel is passionate about learning, living out, and equipping others with the Word in all aspects of life.
The Better Samaritan is a part of CT's Blog Forum. Support the work of CT. Subscribe and get one year free.
The views of the blogger do not necessarily reflect those of Christianity Today.