To Expand the Table: Listen More. Talk Less.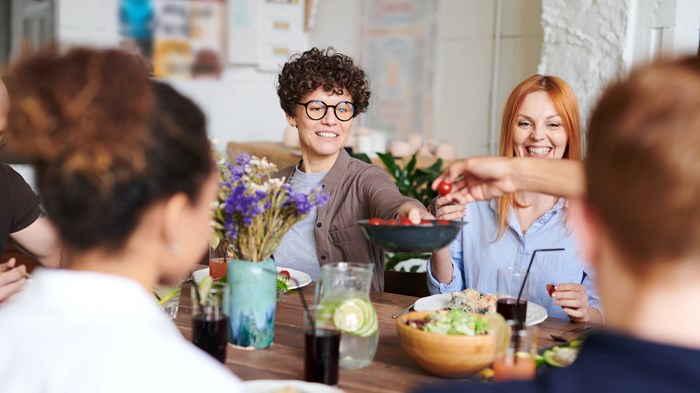 Our tables are too small.
At our tables, in our homes, churches, organizations, decisions are made. We consider how to love our local and global neighbors. We discuss how to welcome a new refugee family into the community or how to provide food relief amid a terrible dry season 10,000 miles away. So often these decisions impact the lives of those far from the table, outside the room, half a world away from the building. Our small tables often exclude those who have the most stake in the decisions that are being made.
In our desire to love our neighbor, we can jump to conclusions or quick fixes. In our haste to help, we often rely on assumptions, failing to hear our neighbors – their needs, their desires, their dreams. Perhaps we fail to hear because we fail to listen.
Seeing our place at the table
We each sit at certain tables within specific spheres of influence. We gather with friends, with family, with coworkers. We sit at tables where decisions are made – decisions that will impact others.
Let's take stock of the tables where we sit, the spheres of influence we inhabit. Let's also acknowledge the limitations of what we bring to the table.
I bring to the table experience in how to listen cross-culturally, building systems and structures to invite feedback, and building capacity towards these ends. What do I not bring to the table? Lived experience of subsistence farming in Malawi, or beginning a start-up in the Republic of Congo, or navigating crop uncertainties with greenhouse farming in Ukraine. It's not threatening to acknowledge our limitations – it's freeing and reminds us to honor our neighbors. What a holy privilege to learn from our local and global neighbors. None of us brings everything to the table.
Pulling a chair up to the table
Consider how often those impacted by decisions are represented at the metaphorical (or literal!) decision-making table. Listening is a means of pulling a chair up to the decision-making table, ensuring the perspective and insights of those impacted by decisions are present. Listening helps bridge the often-present gap of lived experiences between those making decisions and those impacted by those decisions.
Good Samaritans recognize who the true expert is and welcome them to the table as honored guests. Let's expand our limited framework of associating expertise with academic and professional credentials. How might we cultivate, in the words of Father Greg Boyle in Tattoos on the Heart: The Power of Boundless Compassion, "a compassion that can stand in awe at what the poor have to carry rather than stand in judgment at how they carry it." Let's take a humble posture of learning from those we seek to serve.
Being formed by new perspectives
Pulling up a chair alone is insufficient. You can invite someone to the table without creating an environment and invitation for them to speak or truly be heard. That's not the goal, just as diversity without inclusion, equity, and justice is insufficient. Performative listening to quickly check a box doesn't love our neighbor. No one likes to be half-listened to or listened to with full knowledge their ideas won't be thoughtfully considered.
Listening requires a willingness to be formed by new perspectives.
Loving our neighbors through expanding the table by elevating the insight and experiences of those impacted by decisions must be followed up with action toward inclusive change. Not listening to validate our own ideas. Listening to form the future direction and path ahead.
Listening as an act of love
Mr. Fred Rogers taught us that, "Listening is where love begins: listening to ourselves and then to our neighbors." In areas of influence in each of our lives, may we consider who is at the table and who is not. Next time you're involved with making a decision, look around and consider – who here will be impacted by this decision? Pull up a chair. Expand the table.
Rebecca Redfield lives in Lancaster, PA, with her husband, Jordan, where they enjoy the gift of life in community. She currently serves as the manager of listening, monitoring, and evaluation at HOPE International and holds a B.S. in Economics from Texas A&M University.
The Better Samaritan is a part of CT's Blog Forum. Support the work of CT. Subscribe and get one year free.
The views of the blogger do not necessarily reflect those of Christianity Today.