Another MLK Day. A Time to Grieve, Lament, Celebrate, and Become
Sheila Wise Rowe on how we too can continue MLK's legacy despite the pain and grief that comes from active resistance.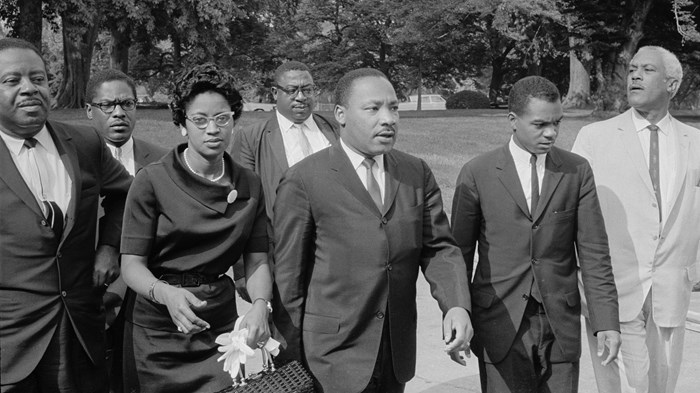 Today we celebrate the birth and legacy of Dr. Martin Luther King Jr. Although it is customary for many to trot out his iconic and hopeful speech, "I Have a Dream," he gave other messages that were more pointed and somber.
In one address, entitled "Beyond Vietnam," Dr. King's call for justice and peace included and extended beyond the boundaries of the United States. After giving that speech, 168 major newspapers denounced Dr. King, followed by then-President Lyndon B. Johnson disinviting him to the White House. For many, Dr. Martin Luther King Jr. crossed a line to condemn the war.
As we intentionally cross a line like Dr. King, we are also engaging in the act of resistance. We resist and battle the strongholds that threaten peace, cause harm, and disconnect us from God and each other. Dr. King said, "true peace is not merely the absence of tension; it is the presence of justice." As we cross a dividing line, we must intentionally choose to pursue peace, love, justice, and mutual thriving. This is essential to fulfilling Dr. King's dream. In many ways, his dream exposes how our ongoing journey in life is one of lament, celebration, and becoming.
Jesus experienced this in his life and ministry, and it foreshadowed the hope and redemption he brought us through his crucifixion. Hebrews 12:2-3 tells us, "Fixing our eyes on Jesus, the pioneer, and perfecter of faith. For the joy set before him, he endured the cross, scorning its shame, and sat down at the right hand of the throne of God. Consider him who endured such opposition from sinners, so that you will not grow weary and lose heart."
Yet like many of his disciples, we too avert our gaze and lose hope at Golgotha. We doubt that there is more to the story. In moments like this Dr. King proclaimed, "Let us not wallow in the valley of despair, I say to you today, my friends. And so even though we face the difficulties of today and tomorrow, I still have a dream." His words encourage me to keep moving even as I lament.
There is a theory about how we heal and grow around grief and lament that suggests we do not fully move on from it. We grow around it. Imagine a circle representing our loss and grief. The circle will initially be covered in gray as the grief is overwhelming. Many of us are disheartened by the backlash of 2020, and it is an act of faith to still trust in God and engage fellow believers. We see people maligned and justice movements, initiatives, training, and books are in disrepute.
Yet ever so slowly, days, months, and years will pass, and the grey area does not grow smaller, but there is a larger circle around it. This larger one represents us; as we experience new people, places, things, deepening faith, healing and moments of joy and justice, this circle grows. As we look up, even in sadness, loss, injustice, and isolation, we see that the Lord is here and still at work. We also discover others present and sitting with us without all the answers.
Then our anger and pain are subsiding, there are moments of peace, and we refuse to despair. We are rebuilding, and it is no longer about the old way of dealing with our pain and the struggle. Instead, our pain and anger are transformed and mobilized from expressions of despair into signs of hope. Our new life is Christ's, and even if it means deconstructing and reconstructing, this is okay. We even find a small amount of meaning around what happened and how we have endured. We begin to dream again and discover what we want and hope for the future.
Dr. King said, "The ultimate measure of a man [or woman] is not where he stands in moments of comfort and convenience, but where he stands at times of challenge and controversy. The true neighbor will risk his position, prestige, and even his life for the welfare of others." So once again, we pray and engage in activism, co-laboring with Christ to bring about the transformation that Dr. King dreamed of.
As we cross the dividing lines, we gently and consistently remind ourselves that our primary motivation is no longer the need to impulsively react or respond. Rather than following the crowd, we pray about how to pursue justice and address our pain and that of the world. Now our motivation is what we value most: Jesus and the who, what, where, and how he has placed on our hearts. We respond in ways that exhibit the heart, hands, and feet of Christ in this broken world. We go at our own pace and help create a more safe, just, and healthy world where all of us are seen, heard, and honored.
Just as crucial as lament, we celebrate. People, events, traditions, rituals can help us rejoice in the victories even in tough times. Celebrations give voice and shape to gratitude, which encourage us to heal and make peace with our story. As we go forward, we are becoming. Philippians 1:6 reminds us that whether we are enduring or lamenting a trial or celebrating a triumph, or on the road to becoming more like Christ we can, "be confident of this, that He who began a good work in us will carry it on to completion." Psalm 69: 32-33 tells us to also be confident in this: "The poor will see and be glad—you who seek God, may your hearts live! The Lord hears the needy and does not despise his captive people." Therefore, we can celebrate and lament today. Dream on, cross the line, deconstruct, reconstruct, build a bridge, and may justice roll down like a mighty river.
Sheila Wise Rowe, the author of the forthcoming title Young, Gifted, and Black (IVP, 2/22) and Healing Racial Trauma, holds a master's degree in counseling psychology. She has ministered to abuse and trauma survivors in the United States for over twenty-five years and in Johannesburg, South Africa, for a decade. Sheila also taught counseling and trauma-related courses. She and her family live in the Boston area, where she is a writer, speaker, and spiritual director.
The Better Samaritan is a part of CT's Blog Forum. Support the work of CT. Subscribe and get one year free.
The views of the blogger do not necessarily reflect those of Christianity Today.