This Gen-Xer Woke up to Adulthood the Day of the Jan. 6 Capitol Riots
Curtis Chang challenges those of his generation to step up and care for our world.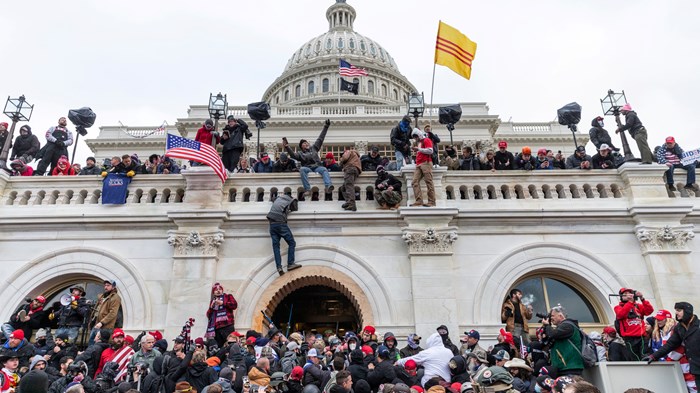 "We're the adults now."
These words escaped my lips as I watched the images of the rioters storming the Capitol on Jan. 6, 2021. I was alone in front of my television, simultaneously whispering this statement to myself and calling out to some set of kindred souls I imagined were watching this scene with me.
One year later, this statement and call feel even more urgent. Something like the Capitol insurrection only happens when multiple layers of national leadership have broken down. Since then, we have learned how close our country came to a coup that included complicity at the highest levels. At the local level, institutions like police departments, hospital systems, schools, and churches are cracking under multiple strains and scandals. Most troubling, the adult leaders needed to repair them seem to be in short supply.
As we head into the new year, the question for each of us is this: Are we called to fill this leadership gap in a new way?
What does it mean to become "an adult now" in one's own context? Consider a typical family household like mine. When my daughters were younger, they were expected to do chores, keep their bedrooms and shared bathroom clean, and respond helpfully when specific needs arose, like unpacking groceries or readying the house for a party. For the most part, they fulfilled their share with diligence. (I'm overlooking one's tendency to leave used dental floss on the counter.) But neither child worried about leaks in the roof or cracks in the foundation. Those complicated and costly issues were not part of their share. The adults took care of those things.
Within an organization, community, or country, becoming an "adult" in this deeper sense of the term is not about ascending to some high positional authority. Rather, it means being willing to recognize a threat to our particular corner of the world and not demurring, "Well, that's for the leaders to worry about."
Since January 6th, I have tried to act more like an adult in my sphere, which is the intersection of faith and public life. When the COVID vaccination effort began in the beginning of 2021, I sensed it would run into a major barrier among white evangelicals who were primed for resisting anything coming from public health institutions. Just a year earlier, I would have behaved like my daughters in the greater American household. I would have assumed the established leaders in public health and the wider American church would grasp this danger (better than I could) and would be on it (with more resources than I have). If someone high up had asked me for something specific, I would have tried to be helpful. But I would have said I'm not qualified to lead. I didn't know much about vaccines, I was not well known in the broader evangelical community, and I'm not white (the latter is still true).
However, for the most part, the more qualified remained out of sight. So my colleague Kris Carter and I founded Christians and the Vaccine, which spearheaded the national effort to persuade evangelicals to get vaccinated. It is impossible to quantify our impact, but the "persuadable but hesitant" segment of white evangelicals had been stuck for months at 28%. Since our efforts began, a large share of those people have been vaccinated.
"Becoming an adult" doesn't mean we are guaranteed to succeed or even do a markedly better job than those previously tasked with such complex and difficult issues. But, in so many cases, we can hardly do worse. We can at least do our share, especially if we are willing to grow our understanding of just what constitutes our share.
The call to grow up in this way applies to anyone of any age, but it has particular urgency for my generation. Not only are the various crises of this moment profound, but also our stage of life calls for this maturation. I am Gen-X, the generation of those born between 1965 and 1981. The Pew Research Center once famously called Gen X, "America's Middle Child" for the way it was sandwiched - and sometimes ignored - between two larger and more culturally influential generations, the Boomers and the Millenials.
The past and the future may belong to our generational siblings, but the present falls upon us. We Gen Xers are now entering our 50s, when people reach a powerful convergence of personal stability, hard earned wisdom, social capital, and institutional power - all combined with just enough energy and health to translate those assets into action. We will never be able to care for the world more ably than we can now. We will never be more needed than we are now. It's our watch.
This is not a call for my generation to "save the world." I am a Christian, which means I am not called to save the world, but I am called to love the world. One of the most famous treatises on love is found in Paul's letter in 1 Corinthians 13, the "love is patient, love is kind" passage read at countless weddings. However, the apostle had a much broader scope in mind. He meant to convey (among other great truths) the ways that love and responsibility go hand in hand, such that to mature in one is to mature in the other. As he writes in verse 11: "When I was a child, I spoke like a child, I thought like a child, I reasoned like a child. When I became an adult, I gave up childish ways."
We're the adults now. Even if we don't feel qualified to comprehend all the problems facing our nation and planet, we must try to repair the fissures we do see right before us, before it's too late. It will be complicated and costly, but it's a sacred honor to live during pivotal times. This January is an opportunity for each of us to resist the temptation to despair by resolving to step up anew. It's our turn to love our corner of the world such that subsequent generations will be able to call it home.
Curtis Chang is the co-founder of Christians and the Vaccine, a consulting faculty member at Duke Divinity School, and is the co-host (with David French) of Good Faith, a new podcast that covers the intersection of faith and public life.
As a theologian, Curtis is on the consulting faculty of the Duke Divinity School and is a Senior Fellow at Fuller Theological Seminary. Curtis is fueled by a passion to help Christians recognize the surprising authority and relevance of Jesus for parts of life that are often left to the secular world. He is married with two children, and lives in San Jose, California. He enjoys hiking, fantasy baseball, and is moderately to severely addicted to dark chocolate.
The Better Samaritan is a part of CT's Blog Forum. Support the work of CT. Subscribe and get one year free.
The views of the blogger do not necessarily reflect those of Christianity Today.