July 20, 2022
How You Can Find Joy in Learning and Discovery, Wherever You Go.
A journey to a historic, biblical site brought on a surprising revelation.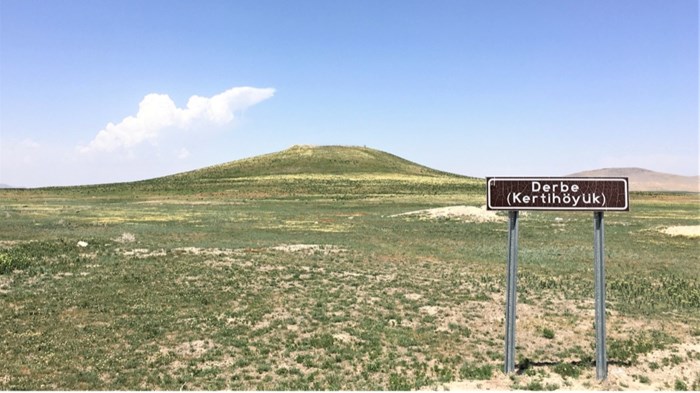 I recently visited a place in the Bible, Derbe, from Acts 14, 16, and 20.
It was part of my journey exploring the towns in Turkey, named in the Book of Acts, where the Apostle Paul visited. Though I've lived in this country for several years, I haven't given much time to discover its rich biblical history. I always knew I had a lot to learn.
​Don't worry if you've never heard of Derbe, or don't remember it, as not much is said about it in the Bible.
Though I had an idea of what my visit there might be like, what I saw surprised me.
I knew getting to Derbe would be a bit challenging – once I arrived at the nearest big city, I had to find where and when the van passed that could take me to a tiny village not far from the site. From that village, I knew I'd have to walk on a straight, gravel road to Derbe, which is a large mound in the middle of nowhere.
On the ride to the village, the van passed groves of apple trees, in full white bloom. However, the road I walked on to get to Derbe was in the middle of newly planted farm fields. Everything around me was brown.​
Men on tractors and motorcycles waved as they drove by me. Dust from the road filled the air after they passed.​
The sky was blue, with a huge white cloud, and I was getting a sunburn on the back of my legs.
Though the region was in need of rain – I learned later, that it was stressing out the farmers – Derbe sprang up like a green oasis, surrounded by farms and distant mountains.
It wasn't until I started walking up the mound that I realized it was covered with tiny daisies – what seemed like millions of them. Their pollen made my shoes yellowish.
​There were daisies everywhere I looked.​
I'd never seen anything like it.
And they were all in full bloom.
It was probably just nature being beautiful, but the flowers almost shouted, "Something great happened here."
A strong smell came from the daisies. It wasn't pleasant, but it wasn't awful.
Walking around and looking at the views of the farms and mountains, I tried to imagine what it was like living there 2000 years ago – what Paul and others experienced in that city.
As I was leaving, I could hear birds singing, as if they were enjoying the oasis as much as I was.
Whatever remnants of the ancient city of Derbe still exist, they're all underground, in that mound. But the flowers on the surface tell us the story of life continuing, and are almost a way that the site remembers the place where Paul preached and many people believed in Jesus (Acts 14:21).
There's no museum at Derbe.
No vendors selling ice cream.
No historical remains to marvel at.​
Limited excavations began and concluded a few years ago. Large holes in the ground at the top of the mound remain.
Derbe is a quiet place where the only visitors are young locals who go there to hang out with friends, and Christians from far away countries who make a stop there on pre-planned tours.
I'd soon leave that area, and continue my journey to the next place on my list, before pausing my trip for a while to go back home.
I've learned a great deal on this journey so far. Mapping out the places and reading about them has been a learning process. Exploring the sites, meeting people along the way, and experiencing more of this country, have been full of discovery. Furthermore, writing and sharing about the journey gives me a feeling of purpose and joy.
For me, learning, discovery, and embracing purpose are important to my well-being. This can come in a variety of forms, and I'm fortunate to have had many opportunities (and privileges) that have allowed me to learn and discover throughout my life.
When looking at students in the Wheaton College Humanitarian & Disaster Leadership program, I see individuals on their own paths of learning and discovery, striving to touch people's lives along the way. For example, Hailey, who served in the Peace Corps, now works on the global action team of a large organization in Illinois; Nancy serves Afghans who have newly arrived in her community in the state of Montana, working to help them feel settled and cared for; Hilário, before studying at Wheaton, had a leadership role in a music school in his home country of Mozambique, while at the same time serving an organization that helped train children to keep them safe.
Each of these individuals has embraced learning and discovery in their own way, and in their own community, connecting this with service to others.
We shouldn't forget that one way to think about serving others may relate to where we work. How often do we view our jobs as a form of service, or as a way to learn and discover things that will enrich our lives and the lives of others?
Learning and discovery don't have to come from embarking on a big adventure. And you don't have to go far away to experience it. You might explore a nearby park or forest, visit someone you don't know very well, read a new book, or watch videos about places in the world that fascinate you. For some, a structured learning environment—in a classroom or online—may help them grow or advance their career, enabling them to learn and discover while being challenged in new ways.
Furthermore, if you're looking to connect learning and discovery with serving others, there may be local volunteer opportunities through your church or a nonprofit in your community.
Though I knew nothing about the ancient city of Derbe, except what I'd gathered from books and a few things online, the memories of that time, alone, on that mound will stay with me for a long time. Whatever learning and discovery look like for you, I hope you'll ask God to help you see it as a beautiful experience of joy.
You can follow along John Christopher Frame's journey exploring places the Apostle Paul visited. Learn more here: http://www.johnchristopherframe.com/Apostle-Paul
John Christopher Frame is the author of 7 Attitudes of the Helping Heart: How to Live Out Your Faith and Care for the Poor and Homeless at Harvard: Finding Faith and Friendship on the Streets of Harvard Square. He loves traveling on the cheap, visiting outdoor markets, balcony gardening, and working in quirky cafés in his neighborhood. He also enjoys spending time with his wife, whom he met while buying a carpet at a souvenir shop in Istanbul, Turkey. You can download his free devotional guide, 7 Days to Upping Your Prayer Life, Loving Others, and Having More Joy, at: http://www.johnchristopherframe.com/prayer
The Better Samaritan is a part of CT's Blog Forum. Support the work of CT. Subscribe and get one year free.
The views of the blogger do not necessarily reflect those of Christianity Today.