Why Don't More Churches Make Use of Their Unused Sanctuaries?
A look at the disparities—and possibilities—that currently exist between dying mainline churches and growing, ethnic congregations.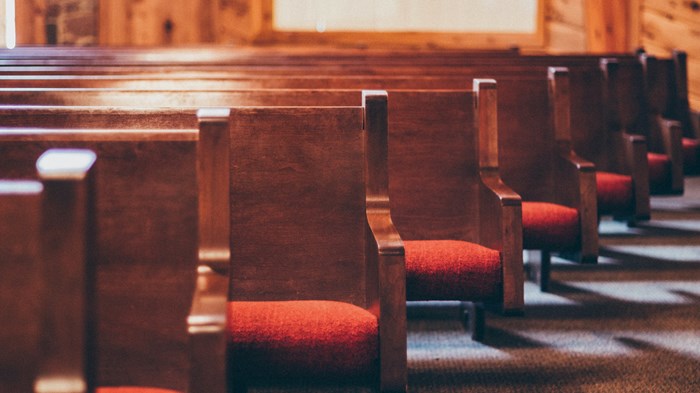 When Pastor Ulysses began church planting, he never imagined that his biggest challenge would be finding space for his people to meet.
From taekwondo studios to school gymnasiums, Pastor Ulysses's Renewal Church has explored a variety of locations. Currently, his 200-person, predominantly Asian-American congregation meets in the senior center of Sunnyvale Community Center, renting by the hour. "We're a church in a box," says Pastor Ulysses. "We have to invest time each week setting up and tearing down."
While Pastor Ulysses's people continue to expend extra energy each week creating a temporary space to gather, there are hundreds of existing churches where aging congregants sit in sparsely filled pews discussing the grim state of their finances. This situation highlights two stark realities: 1) most (up to 85%) local congregations are steadily declining, and 2) churches that aren't declining, like Renewal Church, are significantly more diverse in age and race than their older, white counterparts.
Twenty years ago, Yale scholar Lamin Sanneh predicted this shift of global Christianity away from the West, which has resulted in shrunken mainline congregations overseeing inordinate amounts of unused space. In contrast, thriving minority church plants typically can't afford to purchase property, especially in urban contexts. While one group is left with space they don't need and can't maintain, another struggles to find space to accommodate and support their growth.
Underutilized church property is meant for more than mounting repairs and annual church events. In fact, it is the responsibility and privilege of these more affluent, established congregations to work to create greater equity and opportunity for minority churches. This is how the body of Christ grows and thrives– by each of us investing our talents as we're able. The death of one manifestation of the church gives new life to the next.
"Rather than using buildings that are too big exclusively for their own congregations," says Pastor Ulysses, "it would be amazing if those churches would consider partnering with or supporting growing churches like my own."
But why don't more established churches explore this option?
Because it takes a great deal of bravery to die well. Because many congregations refuse to see how dire their situation is. Because renters are risky, selling is scary, and comfort feels better than the hard work of self-denial in service of the Kingdom.
But we must understand that, in Jesus' Kingdom, dying is not necessarily failing.
A declining church can have a legacy of community outreach, evangelism, missions, and service. At one time, they may have fostered relationships, built bridges, and made disciples. And when that congregation is no longer growing, no longer giving, no longer serving their local community, they should be encouraged and empowered to embrace death as an opportunity to offer new life to another. This act is at the heart of the message Jesus communicated on the Road to Emmaus–and it is fundamental to the Christian ethos.
There is no single model for transition. One church may start an earlier service so a minority-majority church can operate during "prime hours." When two dozen aging congregants meet at 8 AM, which allows bustling young families to gather with scores of others at 9:30 AM, death is met with new life, and one's sacrifice is sewn with another's security. A different congregation may choose to strategically phase out their organizational life, gradually hand over their facilities, specifically partnering with a church plant that wouldn't be able to afford a permanent home otherwise.
Death may feel daunting, but we serve a God of resurrection and life eternal, so we don't need to fear the end of our earthly work. After all, the call to follow Christ centers on the path of the cross, demanding we ask: where may I die to my own dreams and expectations so that others might more fully live?
The disparity that currently exists between mainline church space and growing ethnic congregations is a pressing issue. It represents a growing problem for older congregations but also a chance to support a new generation. As a church, we must map the road to Golgotha, each of us–young and old–identifying where and how we need to die so another may live. On this journey, Jesus promises to meet us, help us, and love us, even as we walk toward death. And we will continue down this road, even though it may be long and hard, because resurrection awaits us on the other side.
Dominic Dutra aims to partner with organizations to reach fiscal sustainability and create more effective ministry. His first book, Closing Costs, is now available. Follow Dom on Twitter @Dominic_Dutra_.
The Better Samaritan is a part of CT's Blog Forum. Support the work of CT. Subscribe and get one year free.
The views of the blogger do not necessarily reflect those of Christianity Today.