Three Lessons To Learn from a Ukrainian Church Under Attack
Brian Jose, part of the Radstock Network of churches on mission, answers questions on Ukraine and discusses some of the specific ways the Church can respond and help right now.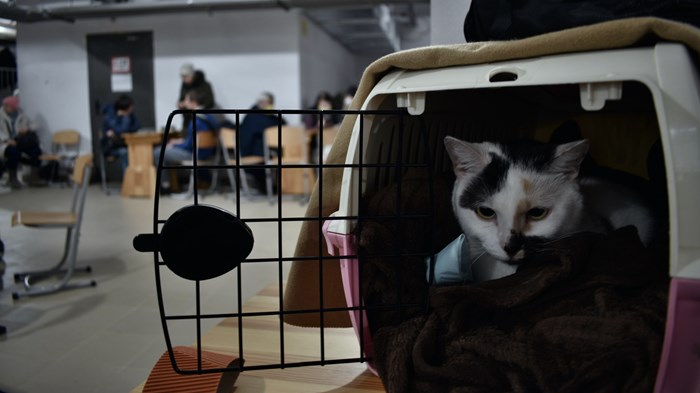 Brian, you have a long history with Ukrainian churches. Can you share how you've been involved there – and how you're connected now?
I cut my teeth in global missions during the days of the USSR as a "Bible smuggler." In 1983, my wife, Audrey, and I delivered a compact printing press to the unregistered Baptists in Ukraine, who used it to produce underground Bibles. After communism, Radstock Ministries helped churches launch drug rehabilitation centers, and partnered with a Baptist ministry to street children. In the 2000's a Presbyterian church in Kyiv became a primary partner in our network and we helped develop church partnerships to augment their English evangelistic camps and give training in missions, theology and church leadership. The most fun was hosting groups of 6 to 8 in Albania for a few weeks at a time for our trainman "Academy." Audrey has also taught Ukrainian women who came to Christ out of abuse and addiction.
Tell us what you're hearing from your church contacts in Ukraine.
A friend and former elder a church in Kyiv sent this message:
Early morning on the 24th at 5 am we were very hesitant but decided to leave Kyiv. All the girls as well as a turtle and a cat are with us. A church is currently hosting us and we found a place to rent at $20 per day. With this amount of evacuees it's a hard task and the market here is very small.
…It was a miracle for us to be able to leave Kyiv. The traffic was extremely heavy and the driving took us twice more but now, just two days later the bridges that we were using to depart Kyiv are exploded not to allow Russian tanks into Kyiv. It breaks out hearts to leave our relatives… but I am so blessed to see that my children are safe and do not experience the horror of the war. Although they see it happening with their friends.
It's so ugly - the occupants cover with fire residential areas, hospitals, kindergartens and orphanages. They destroy everything. Praise God the banking system is still working. We were able to pay for groceries with credit card at a supermarket. Please keep us in your prayers. So that we could stay safe as long as it possible and no occupants reach this part of Ukraine.
You talk sometimes about how churches are nimble responders in times of crisis. What does that mean generally and how do you see this in practice in Kyiv?
The attacks seem intended to isolate and frighten. The church community seems to be a powerful antidote to that.
God's people are there. Now. In the midst of the bombing and shooting, I've seen how their their basement office — the same one some of us had used for weekend teaching sessions a few years ago — became a bomb shelter for the neighbors. I saw a short video clip and it was jammed full. There was even a dog trotting around. But spirits were high. What food they had, they were sharing. I definitely don't know much about war, but the attacks seem intended to isolate and frighten. The church community seems to be a powerful antidote to that.
Everyone in Kyiv is of course incredibly vulnerable right now. In crises, some people are always even more vulnerable. How are churches responding to this need?
One church leader volunteered for military service but was declined, for now. He decided that "the best way to serve (his) country" would be to evacuate women and children to safer regions in the west of the country. So he's been driving back and forth at great risk in order to lead people to safety. Another friend said they slipped out of their shelter to deliver food to older adults who are isolated in their apartments. Churches are doing what they can with what they have — so simple and so profound. If they have a stove, they cook food for the displaced. If they have a car, they shuttle women and children from train stations to border crossings. A missionary friend with Mission to the World tells me their three centers in Lviv are overwhelmed and their 90 bed hostel is overflowing.
With your history in Ukraine and texting you've done with people there during the past week, can you share how you've seen faith in Christ (both early in your experience with the underground church in the Soviet Union and texting and talking this past week) be part of people's resilience?
I asked a friend how manages to sleep amidst the horror and uncertainty, and he simply texted back Psalm 4:8: "In peace I will lie down and sleep, for you alone, Lord, make me dwell in safety." It took my breath away. I met people in my Bible smuggling days who went to prison for their faith. Today's church stands on the shoulders of those "of whom this world is not worthy." I don't want to portray an idealized church. They have their disputes and divisions, too, but it strikes me that many walk the same path as earlier generations by understanding that the way of Christ involves suffering and simple — not to say shallow — faith. I need to keep being reminded of that.
Brian Jose went to Europe for 2 years in 1980 to serve as a Bible courier to communist countries, and stayed for 37, the final seven in Albania, fostering missional church partnerships. He is the Executive Director of Radstock Ministries and leads the planting team for Village Church in Newcastle, Ontario.
The Better Samaritan is a part of CT's Blog Forum. Support the work of CT. Subscribe and get one year free.
The views of the blogger do not necessarily reflect those of Christianity Today.