Generation Z Is Sinking in a Post-pandemic Mental Health Crisis
Study results from Springtide Research Institute show how faith leaders can make a difference.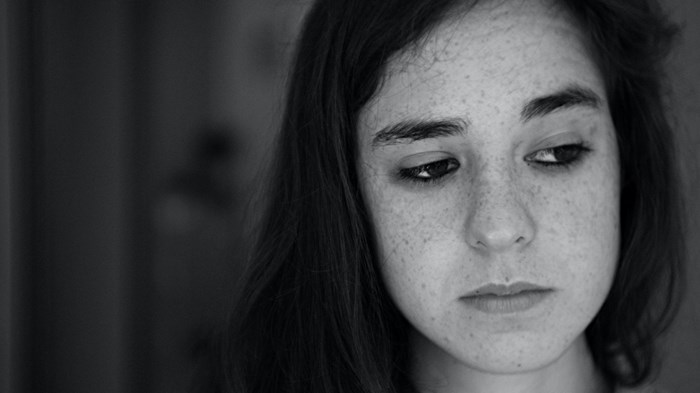 The world is in a state of transition. The gravest years of the pandemic seem behind us, but for many young Americans, the future remains uncertain.
In many instances, young people are missing entire developmental markers and moments, formative and singular events that in many cases cannot be easily made up for or replaced. And often, these losses are coupled and magnified by a loss of support systems, the kind that would normally help them move forward in times of uncertainty or growth. In essence, the pandemic has not been a speed bump in their life. It has been a sudden and dramatic left turn.
At Springtide Research Institute, we survey and interview young people ages 13-25 by the thousands each year on their spirituality, mental health and more, and we've kept a close eye on them throughout the pandemic.
We recently released sobering new findings on Gen Z's mental health after two years of pandemic life, and what we discovered is alarming. The New Normal: Updated & Expanded found teens and young adults feeling extremely depressed, anxious, stressed, and lonely. Even worse, the adults in their lives don't truly know the extent of it.
We also discovered that religion and spirituality maintain a special power to bring life – and that means pastors and other faith leaders have a unique opportunity to step in and make a difference.
Not okay
Over half of young people (53%) told Springtide in March 2022 that the biggest challenge they faced during the pandemic was their mental health – the most popular choice among all the options in the survey. Nearly half of young people (48%) say they are moderately or extremely depressed, while 1 in 4 say they are extremely stressed (25%) and 1 in 5 say they are extremely anxious (26%) or extremely lonely (21%).
These aren't necessarily ground-breaking findings. Experts were keeping an eye on America's "loneliest" generation and their fledgling mental health before the pandemic began. Our own research confirmed that even before the pandemic, young people were struggling to find belonging and form relationships even while connected with a religious community.
However, consistent with our mission to help adults care better for young people, we asked participants if the adults in their lives don't truly know how much they're struggling with their mental health. Six in ten (61%) confirmed that "The adults in my life don't truly know." This included 59% of young Protestants, 60% of young Catholics, 61% of young Latter-Day Saints, and 62% of those who say they're "Just Christian."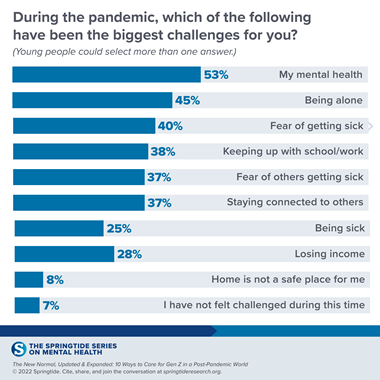 Faith counts
If you are a pastor or faith leader, you may be uniquely situated to play a supportive role in a young person's life as they navigate mental health struggles. For young people of faith, 73% tell us that religious and spiritual practices positively impact their mental health, while 63% agree that in order to flourish in their mental health, their spiritual needs must be met – even if that's outside of traditional religious institutions.
The healing power of spirituality is likely one reason why more young people are coming out of the pandemic with a stronger faith (30%) than weaker (18%) or lost completely (8%).
In contrast, young people who did not select a religious worldview in the study (e.g., atheists, agnostics, nones) experience acute mental health struggles and have less support from the adults in their lives. For example, 42% of young atheists and 47% of young agnostics say "I am NOT flourishing in my mental health" compared to only 25% of young Protestants.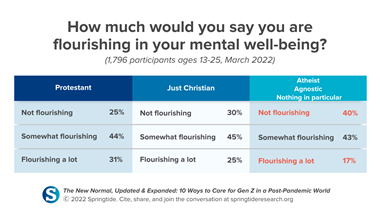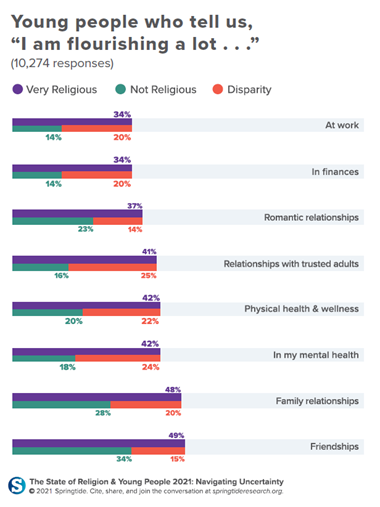 This isn't totally surprising. Data from our 2021 annual report, The State of Religion & Young People, demonstrate a clear correlation between religiosity and mental healthiness. Young people who tell us they are "very religious" are more likely to tell us they are flourishing in their mental health. The inverse is true for those who say they are "not religious at all"—they are more likely to say they are not flourishing in their mental health.
This is excellent news for both religious young people struggling with mental health issues and the faith communities who want to support them.
However, our data still shows a strong trend of Gen Z distancing themselves from traditional faith practices, attending services and engaging with faith leaders less frequently, and diverting their spiritual curiosities to nontraditional sources and settings.
Unfortunately, this distancing has gone both ways: In a previous piece for The Better Samaritan, we shared from our initial pandemic study that just 10% of young people heard from a faith leader during the first year of the pandemic. We've now learned just 14% say their relationships with faith leaders became stronger during the second year of the pandemic (2021-22).
Trusted adults, including faith leaders, are desperately needed to come alongside young people in their mental health struggles. However, this should be done with care, with the right approach and resources in hand.
Making a difference
Nearly 8 in 10 young people agree with the statement, "I am more likely to listen to adults in my life if I know they care about me."
The New Normal: Updated and Expanded offers specific actions that faith leaders and communities can take to start caring for struggling young people. Many of the steps are intuitive to religious institutions, such as creating opportunities to build community through special events and outreach, offering practical and financial help with counseling costs, or making referrals to mental health professionals.
However, in the process of developing programs and resources to address problems, some forget about the importance of establishing a consistent presence with young people, building trust, and providing care. As a result, young people aren't enticed by these programs and resources. What they desire, more than institutional interventions, is a sense of belonging and relationship. This is why our new report, which includes ten practical recommendations for supporting young people post-pandemic, begins with three that are relational in nature:
1. Create safety to help young people regain their footing.
2. Grieve what's been lost without dwelling on the negatives.
3. Celebrate what's been gained without insisting on optimism.
Though young people are navigating complex issues, don't underestimate the power of what Springtide calls "relational authority," or, pairing the expertise you bring with authenticity, transparency, listening, and care.
When you feel out of your depth, refer young people to clinical professionals. In the meantime, keep showing up, listening with curiosity, and being open about your own experiences. Take time to process what it means for your church or youth ministry to be a safe community. Know that these investments in the health and flourishing of young people are not in vain.
Dr. Josh Packard (@drjoshpackard) is Executive Director of Springtide Research Institute.
Jamieson Taylor (@jamiesontaylor2) is a freelance writer who works in media and public relations for Springtide Research Institute.
The Better Samaritan is a part of CT's Blog Forum. Support the work of CT. Subscribe and get one year free.
The views of the blogger do not necessarily reflect those of Christianity Today.