Take Another Look. What if We Saw Asylum Seekers as Our Brothers and Sisters?
Some Christians have bought the lie that the US Border is under invasion. They could be rallying to keep out revival.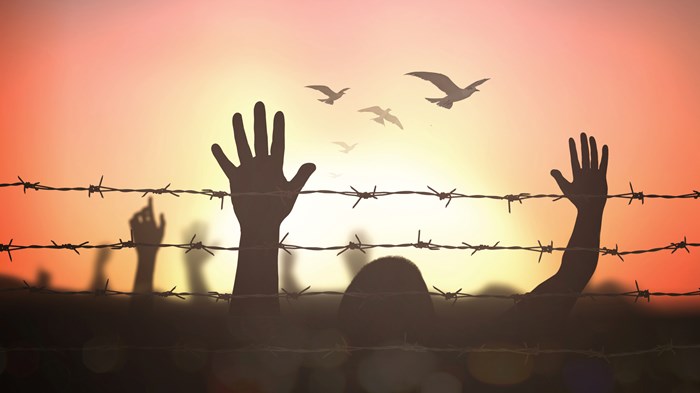 The governor of Texas recently said he's considering a formal declaration that the large number of immigrants arriving at the US-Mexico border constitutes an "invasion," echoing bluster long used by conservative talk radio and cable news. As the world watches – in horror – as an actual invasion occurs in Ukraine, the absurdity of this rhetoric to describe migrants coming to the U.S. in search of safety and sustenance as if they were a military operation is clear to many.
But many others – including a disproportionate number who share my evangelical Christian faith – seem to have bought this mischaracterization, even though migrants at the border are largely Christians themselves. In fact, the very individuals some U.S. evangelicals view as invaders could actually be bringing spiritual revival.
Let's be clear: an invasion is what the Russian military has done to Ukraine, crossing a border with the intention of violent domination. When Ukrainians flee that violence to Poland, Romania and other neighboring countries, it is not an invasion: it is seeking asylum, which under European and U.S. law is a legal right for someone fleeing a credible fear of persecution. And that's also what many Central Americans, Mexicans, Venezuelans, Cubans and others who have been apprehended along the US-Mexico border – including a significant number of Ukrainians in recent weeks – are seeking to do.
Most asylum seekers would prefer to avoid a dangerous crossing between ports of entry, but a series of policies employed across the US-Mexico border by both the Trump and Biden administrations have meant that most who simply approach the port of entry and express a fear of persecution are turned away. Many – oftentimes with the help of a profit-motivated smuggler – have crossed between ports of entry instead, which can be unlawful but still, explicitly under U.S. law, allows an individual to request asylum.
Christians who believe in the dignity of each life as made in the image of God should want our government to err on the side of care...
That does not mean all who reach the U.S. qualify for asylum and are or should be allowed to stay, but it does mean they are entitled to due process. Christians who believe in the dignity of each life as made in the image of God should want our government to err on the side of care before casually returning anyone to a situation where they could be persecuted or killed.
That pro-life insistence on due process for asylum seekers is why, since 2020, evangelical leaders have voiced concerns with Title 42, which is essentially a public health emergency power that the U.S. government has said is justified by the COVID-19 pandemic, and which remains in effect although the Biden administration has announced its intention to stop using it later this month. Gratefully, our European allies have not tried to use the pandemic as a pretext to turn away Ukrainian refugees without consideration of the credibility of their fear of persecution.
They are human beings, seeking help and mercy.
Whether they ultimately can document a credible fear of persecution and qualify for asylum or not, individuals who come to the U.S. border looking for officers of the U.S. government – not bearing weapons but with supplicant, pleading open hands – are not invaders: they are human beings, seeking help and mercy.
Christians, who believe we have been recipients of divine grace, should be the first to want to extend help to others. Obeying Christ's command to love our neighbors as ourselves, a command that Jesus clarified, in his parable of the Good Samaritan, certainly applies to a vulnerable traveler of a different ethnic and religious background who is in need. And, indeed, many local churches on both sides of the border, including some supported by World Relief that I've visited personally, are caring sacrificially for asylum seekers.
But plenty of other Christians – especially of my variety, white evangelicals, whose views on immigration are more often informed by media than by the Bible and whose media diet skews toward anti-immigrant perspectives – have been deceived by the rhetoric of "invasion."
What's particularly ironic is that the vast majority of migrants apprehended at the U.S.-Mexico border actually profess to be fellow Christians, coming from countries in Latin America that are far more Christian (at least by self-identification) than the U.S.
While my Christian faith compels me to offer hospitality and love to immigrants of any religious tradition – and the U.S. government should not consider religion in setting immigration policies, except to the extent that one's religion is actually the ground of persecution that qualifies an individual for asylum – the reality is that the many of those whom some U.S. evangelicals view as invaders are fellow evangelicals. The Central American countries of Honduras, Guatemala, El Salvador and Nicaragua, which collectively accounted for almost half of all apprehensions at the U.S.-Mexico border last fiscal year, are also the most evangelical Protestant countries in Latin America. I've personally prayed with evangelical Central Americans waiting for months in a church on the Mexican side of the border for the opportunity to seek asylum. Their faith in God's provision inspires me – and to hear fellow Christian compare them, essentially, to Vladimir Putin committing atrocities is deeply offensive.
Immigrants may actually present the best hope for a revival of Christianity...
As my co-authors Eric Costanzo and Daniel Yang argue in our new book Inalienable: How Marginalized Kingdom Voices Can Help Save the American Church, far from being invaders, immigrants may actually present the best hope for a revival of Christianity in the United States, bringing with them (or sometimes embracing upon arrival) a vibrant Christian faith that can help U.S. evangelicals recognize some of the blind spots and syncretism within our own faith. As Asbury Theological Seminary president Tim Tennent observes, "the immigrant population actually presents the greatest hope for Christian renewal in North America… this group that we want to keep out is actually the group that we most need for spiritual transformation."
Of course, the U.S. government needs to establish and enforce laws – both to keep out anyone who might intend harm and to offer protection to those fleeing harm – without regard immigration's impact on the growth or decline of any particular religious tradition.
But as Christians, we should steadfastly reject language of "invasion"—both because it's slanderous toward vulnerable neighbors, and because these vulnerable neighbors are in many cases brothers and sisters in Christ whose presence would be a blessing to the U.S. church.
Matthew Soerens serves as the U.S. Director of Church Mobilization for World Relief and is the coauthor of Inalienable: How Marginalized Kingdom Voices Can Help Save the American Church, Seeking Refuge: On the Shores of the Global Refugee Crisis and Welcoming the Stranger: Justice, Compassion and Truth in the Immigration Debate.
The Better Samaritan is a part of CT's Blog Forum. Support the work of CT. Subscribe and get one year free.
The views of the blogger do not necessarily reflect those of Christianity Today.