3 Steps to Building a Sustainable Care Ministry in Your Church
Follow these steps to most effectively minister to the suffering people in your congregation.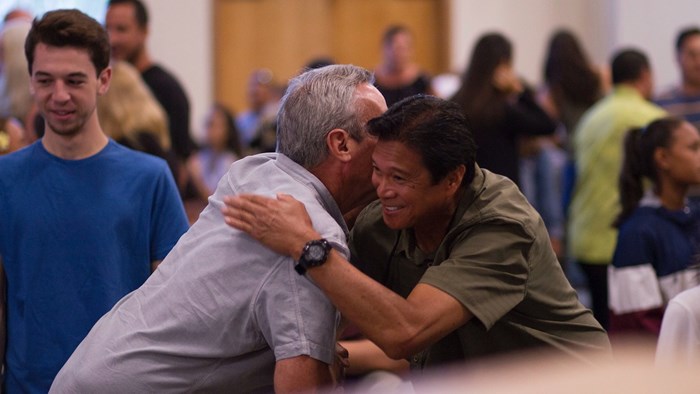 Did you know churches are often the number one front-line mental health resource for their members? With 1 in 5 people in North America impacted by mental illness and millions more struggling with addiction, relationship issues, and stress management, the church is often the first place people turn to for support and help.
While the pastoral staff is a key component of that support, they may quickly be overrun if they're the sole resource for those suffering. It's wise to have a care team and an intentional care plan in place to prevent staff and volunteer burnout.
To create a sustainable care ministry, churches should consider implementing these three steps:
Leverage Community Partners
Those looking for support often experience exceptionally complex issues, and it's unrealistic to expect the pastoral team to be equipped to support every one. That's why it's essential that churches partner with specialty organizations within their community or region to appropriately support the comprehensive needs of congregants.
By building relationships with organizations, specialists, and resources in their community, a church becomes more effective in meeting its congregation's needs. Leaders and volunteers can then confidently refer individuals to a specialized program that is better suited to help them.
Build a Volunteer Care Team
It's not helpful—or healthy—to have a single person responsible for the care needs within your congregation. Yet, this is the most common way churches deal with mental health needs, and it can leave the leader highly susceptible to compassion fatigue.
A congregational care program is best done as a team so that caregivers have a) access to mutual support and debriefing b) a chance for respite and c) a diverse range of experiences to offer those seeking support.
There are 3 categories of caregivers:
Clinical—professionals offering treatment
Pastoral—pastoral staff offering guidance through the biblical lens
Peer—those with lived experience offering support
All three types of caregivers have value and can contribute to a care team.
Finding volunteers is difficult at the best of times, let alone when it involves supporting those who are suffering. Most empathetic people don't see their ability to show mercy as a gift, so they are less likely to respond to a general request for volunteers. Also, people minimize their gifts of mercy and compassion, so it is best to personally and individually invite people.
When churches are seeking volunteers to be on a care team, leaders should look for natural helpers. By talking to people one on one or as a small group, leaders can ensure that they communicate the expectations of the volunteer role.
Diversity (of culture, gender, age, and experience) on a care team is a strength and an asset, as long as each person has the maturity to maintain ethical standards and confidentiality.
Train and Develop the Team
Once a church has built community partnerships and gathered a team of passionate caregivers, it's time to ensure the team is properly trained to provide effective support within their skill set.
Clinicians offer treatment, pastors offer biblical counsel, and peers offer support. And even though all three types of caregivers come with unique expertise, it's important that they receive sufficient training so they can be confident and competent in the support they offer.
Training goals are not only to equip caregivers to support others, but also to support and strengthen the caregiver, so they can maintain their well-being.
In time, a robust care ministry can become your church's greatest strength.
To that end, Hope Made Strong and Spiritual First Aid are offering a free virtual training event for pastors, church leaders, and volunteers: the Church Mental Health Summit.
During the Church Mental Health Summit, participants will be equipped with practical tools, engage with Biblically-based resources, and learn research-developed strategies to support mental health. With over 50 speakers, this event is a great opportunity to access high-quality training focusing on knowledge growth, skills development, and leaders' wellbeing.
Pastors and leaders: you are strategically positioned in the neighborhoods of your community. As people find freedom and support, your church's light and witness will grow. You will become known as a place where broken people can find healing, those who are struggling can find grace, and the unlovable can find hope.
Building a sustainable care ministry means that you can care for the growing needs of your community—without burning out your team. Through leveraging partnerships, building a volunteer care team, and developing a training strategy, you can grow a sustainable care ministry to transform the lives of suffering people.
Hope Made Strong, Spiritual First Aid, and the Church Mental Health Summit are here to help you on your caregiving journey.
Let's build the kingdom of God together.
As the founder of Hope Made Strong and the Church Mental Health Summit, Laura Howe is a mental health clinician and a community development strategist for churches that want to transform their community with care ministries. She also hosts the Care Ministry Podcast. Laura specializes in supporting local church leaders to overcome and prevent burnout, creating effective and sustainable care ministries and helping churches grow their community impact and influence.
The Better Samaritan is a part of CT's Blog Forum. Support the work of CT. Subscribe and get one year free.
The views of the blogger do not necessarily reflect those of Christianity Today.