Why The Church Should Lead In Building the Future With Migrants and Refugees
Our view of God grows because of our interactions and relationships with those who came from different countries.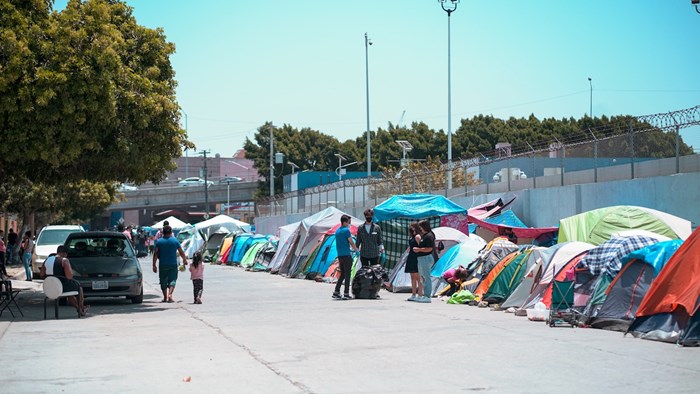 National Migration Week, an event has been celebrated by the Catholic Church for nearly half a century, was September 19-25. The week always culminates in a celebration with the Vatican on the last Sunday of the month, called The World Day of Migrants and Refugees. The theme this year is "Building the Future with Migrants and Refugees," which I believe is a timely and appropriate theme due to the recent events in our country.
On August 31, 2022, approximately 100 asylum seekers and migrants arrived in Chicago. Since that date, hundreds more have come into our city. Initially, these asylum seekers and migrants entered the U.S. via our southern border and were bussed from Texas. The people arriving on these buses have already been actively fleeing persecution from their home countries for days or weeks, and were forced to leave so that they and their families could be safe. They crossed the U.S. border seeking safety in the form of asylum.
Asylum seekers are not in violation of any federal laws, despite some popular thought. According to The UN Refugee Agency (UNHCR), "Asylum is a form of protection which allows an individual to remain in the United States instead of being removed to a country of feared persecution." Actually, it is federal law that anyone who is on U.S. soil can apply for asylum, whether it is through an official point of entry or crossing over a border. It was created as a means for persecuted people to escape violence and death and find protection in our country. Once they are on our land, they can apply for asylum and safely await their case.
Like all immigrants to the United States, asylum seekers and migrants must undergo a long and lengthy application and interview process, and it can take years to see a judge who will decide their case. While they are waiting, asylum seekers and their families need all the necessities that we do: a place to stay, food, and money. There is little support that the U.S. government gives to asylum seekers, and they cannot work until they receive a work authorization, which can take up to 6 months to a year to be approved. As a result, many of these families find themselves on the streets or in unhealthy and dangerous situations. This is where the church and local communities can step in to help by not only meeting their felt needs, but also through taking part in advocacy and educating people on the value that asylum seekers, migrants, and refugees add to our society.
Showing compassion and hospitality to these image-bearers blesses and nourishes our own souls.
As a Christian living in the U.S., I am compelled to care for refugees, asylum seekers and migrants arriving in our country because of God's Great Commandment to us as believers. God commands us in Leviticus to not mistreat the foreigner in our land, but rather treat them as native-born and love them as we love ourselves. Along with the commandment to love asylum seekers, refugees and migrants, we must also recognize how showing compassion and hospitality to these image-bearers blesses and nourishes our own souls. In other words, their presence in our lives benefits us as Christians by expanding our capacity to give and receive love.
Pope Francis cited Isaiah 60:5 in his message for The World Day of Migrants and Refugees, in which which it is prophesied, "Then you shall see and be radiant, your heart shall thrill and rejoice; because the abundance of the sea shall be turned to you, the wealth of the nations shall come to you." The wealth of the nations is represented by the richness immigrants, asylum seekers, and migrants bring to our communities. We need only to look at our storied history to see what great contributions immigrants and refugees have made to building our cities and infrastructure. Think about the diversity we experience in food, innovation, cultural practices, and friendships. Our view of God grows because of our interactions and relationships with those who came from different countries.
Building the future cannot happen without asylum seekers, migrants, and immigrants because our past was built by them. Our country, cities, societies, and communities would not exist without the contributions of foreigners. Let's remember this truth, and the great beauty which comes from seeking unity with all people, while recognizing that our differences enrich our lives and bring us closer to the heart of God.
Our differences enrich our lives and bring us closer to the heart of God.
Pope Francis ended his message with the following beautiful prayer. May it be our posture and prayer not only for National Migration Week and The World Day for Migrants and Refugees but also for any time we have an opportunity to engage with these groups of people. May we be a welcoming light, ushering them in from the margins to build the future—as one body for Christ.
Prayer:
Lord, make us bearers of hope,
so that where there is darkness,
your light may shine,
and where there is discouragement,
confidence in the future may be reborn.
Lord, make us instruments of your justice,
so that where there is exclusion, fraternity may flourish,
and where there is greed, a spirit of sharing may grow.
Lord, make us builders of your Kingdom,
together with migrants and refugees
and with all who dwell on the peripheries.
Lord, let us learn how beautiful it is
to live together as brothers and sisters.
Amen.
Further resources for engagement:

Lora Kim Kwan is committed to walking with marginalized and vulnerable people towards wholeness. Lora is an alumna of the Wheaton Humanitarian and Disaster Leadership MA program and currently works for World Relief. Through her professional work and pastoral care counseling ministry, she has the privilege of being witness to the restorative power of the Holy Spirit and the unfathomable love that God has for all of His children. She seeks to embody Christ to all those that she meets and create communities of welcome for all marginalized people. Lora hopes to be a peacemaker and bridge for racial reconciliation, as well as a champion for cultural connection.
The Better Samaritan is a part of CT's Blog Forum. Support the work of CT. Subscribe and get one year free.
The views of the blogger do not necessarily reflect those of Christianity Today.