PODCAST: How Do Churches Combat COVID Misinformation?
Interview with Dr. Nicolette Louissaint, Exec. Director of Healthcare Ready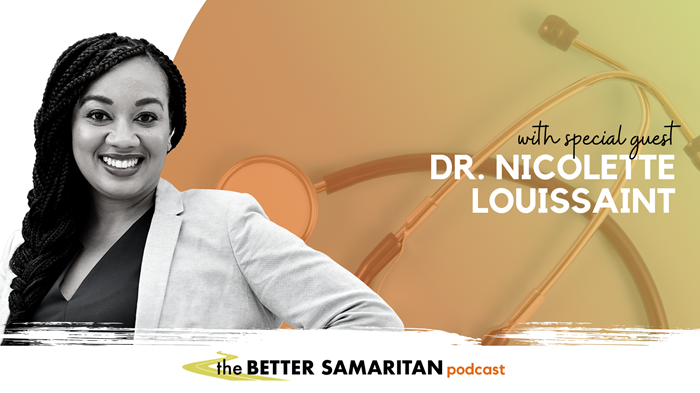 According to healthcare and preparedness authority Dr. Nicolette Louissaint, the church is a place to contextualize what we are hearing about the pandemic.
In this episode, she discusses with Kent and Jamie the crucial role of the church in public health, how long pandemic recovery is *actually* going to take (hint: it won't be over in September), explains the Tuskegee Experiment, unpacks the way disasters amplify inequities, and provides a professional opinion on COVID puppies.
"I've never seen a disaster create a vulnerability that didn't already exist." —Dr. Nicolette Louissaint, Exec. Director of Healthcare Ready
Dr. Louissaint previously served as the Senior Advisor to the US State Department's Special Coordinator for Ebola. Now, she is executive director and president of Healthcare Ready, a nonprofit organization that focuses on strengthening the United States' healthcare supply chain preparedness and response before, during and after natural disasters and disease pandemics. She has an MBA from the University of Baltimore and a PhD in Pharmacology and Molecular Sciences from Johns Hopkins University School of Medicine.
Dr. Louissaint spoke at Humanitarian Disaster Institute COVID-19 summit: Infectious Disease Expert on How the Church Can Help During COVID-19.
University of Pittsburgh researcher Junia Howell's longitudinal study on 3,500 families across the U.S. on how natural disasters and FEMA Aid widen the racial wealth gap
Sign up for updates from Healthcare Ready, Dr. Louissaint's organization.
(Note to the listener: In this podcast, sometimes we'll have evangelicals, sometimes we won't. We thinking learning how to do good better involves listening to lots of perspectives, with different insights and understanding with us. Sometimes it will make us uncomfortable, sometimes we'll agree, sometimes we won't. We think that's good. We want to listen for correction. Especially in our blind spots.)
"On Being a Good Neighbor", sermon draft by the Rev. Dr. Martin Luther King, Jr.
This episode produced by Laura Finch
Theme Song "Turning Over Tables" by The Brilliance
The Better Samaritan is a part of CT's Blog Forum. Support the work of CT. Subscribe and get one year free.
The views of the blogger do not necessarily reflect those of Christianity Today.