Undercut the Old Narratives to Show the Love Jesus Requires
If you want to make the world safer, but are used to privilege, you might need to lower your fists.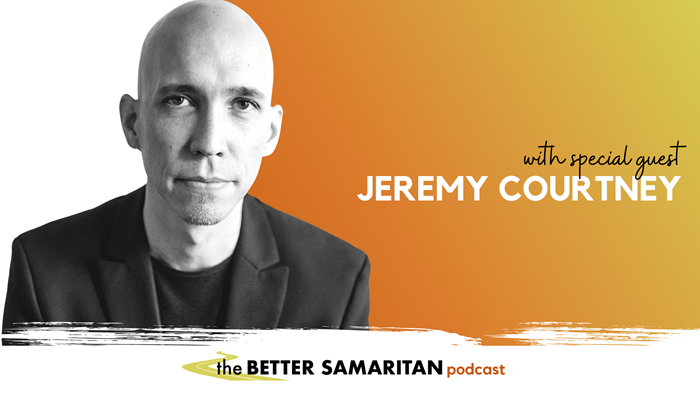 Today marks the 10th anniversary of the Syrian civil war–a conflict which has already killed and wounded 12,000 children. So we asked Jeremy Courtney, whose organization Pre-emptive Love works with Syrian refugees, to get raw with the Better Samaritan about journeying from privilege into ministry, and back again... a constant grapple between pride and service.
Preemptive Love is a global coalition of peacemakers confronting fear with acts of love. The coalition performs emergency relief for families victimized by ISIS, lifesaving heart surgeries for children, peacemaking in conflict-zones, empowering grants for small business owners, education for at-risk children, and provides counsel to policymakers in D.C., London, Baghdad and beyond.
Episode Highlights from Jeremy:
"[Pre-emptive Love is]...Undercutting the narrative of us vs. them, rich vs. poor. If you're getting shot at, I'm getting shot at."
"When your economics go down, you become a lot more vulnerable to violence spreading through your community."
"If you feel like this world is yours by default… we can make the world a lot safer by lowering our fists, by choosing postures that get our fists down. By seeking to live in an open posture of vulnerability and welcome. It's a discipline and practice that we're trying to undercut generations of default programming. But we do have to give it up, if our goal is to make the road safer."
RESOURCES:
Join the work of Pre-emptive Love
"On Being a Good Neighbor", sermon draft by the Rev. Dr. Martin Luther King, Jr.
This episode produced by Laura Finch
Theme Song "Turning Over Tables" by The Brilliance
Subscribe:Apple Podcasts | Google Podcasts | Spotify | TuneIn | Stitcher | RSS
Follow us on Twitter:@kentannan | @drjamieaten | @laura_e_finch | @JCourt
(Note to the listener: In this podcast, sometimes we'll have evangelicals, sometimes we won't. We thinking learning how to do good better involves listening to lots of perspectives, with different insights and understanding with us. Sometimes it will make us uncomfortable, sometimes we'll agree, sometimes we won't. We think that's good. We want to listen for correction. Especially in our blind spots.)
The Better Samaritan is a part of CT's Blog Forum. Support the work of CT. Subscribe and get one year free.
The views of the blogger do not necessarily reflect those of Christianity Today.