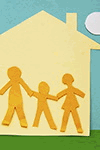 Adoption and the Local Church
How should individual churches help families who adopt?
Single Session Bible Study
Overview
Adoption among churchgoers is much more common than it was in the past. What does that mean for churches? How can and should the church help those who adopt. What benefits are there as the entire church learns to embrace these children? This Bible study looks closely at what the first two chapters of James have to say about these issues.
Table of Contents
SCRIPTURE: James 1-2
LEADER'S GUIDE
• Identify the Current Issue
• Discover the Eternal Principles
-Teaching point one: The church needs to help those considering adoption to think through the issues carefully.
-Teaching point two:The church needs to take responsibility for the adopted child.
-Teaching point three:The church must value people over wealth and status.
-Teaching point four:The church should demonstrate faith by their deeds as they relate to an adopted child.
• Apply Your Findings
• Additional Resources
ARTICLE FROM CHRISTIANITY TODAY
• "How Can Churches Best Support Parents Who Adopt from Overseas-, October 2013
Total number of pages - 11 pages
Adoption and the Local Church
SmallGroups.com offers a diverse set of adaptable training tools for small group models that can be customized to a church's unique needs.
14-Day Free Trial
Get complete access free for 14 days.
Featured Training Tools:

Connect People into Small Groups
A la carte price:
Theological Discussions for Everyone
A la carte price: