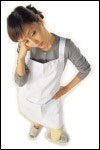 A Crisis of Faith
God's faithfulness to us is not dependent upon our level of faith in him.
Single Session Bible Study
Overview
Enduring a crisis of faith is difficult, but it is doubly difficult for those in spiritual leadership. Not only must we face the bewildering challenges of our own relationship with God, but at the same time we must be mindful of those we serve.
In this study, we will look at the lives of several biblical characters who faced their own crises of faith. We will see that a crisis of faith is a normal part of the spiritual maturing process, and that we're not alone in our desert experience. We will also examine some of the possible reasons that we go through faith crises, and we will remind ourselves that though we may falter in our faith, our God remains faithful to us.
Table of Contents
SCRIPTURE: Job 13:12-15; 29:1-6; 40:1-7; 42:1-16; Psalm 22:1-8
LEADER'S GUIDE
• Identify the Current Issue
• Discover the Eternal Principles
-Teaching point one: A "crisis of faith" is a normal part of a mature Christian life.
-Teaching point two: God can use a faith crisis to develop a deeper relationship with us.
-Teaching point three: Trust and faith work together.
• Apply Your Findings
• Recommended Resources
ARTICLE FROM CHRISTIANITY TODAY
• "A Crisis of Faith" by Sherryl Stone
(GiftedforLeadership.com)
Total number of pages - 8
A Crisis of Faith