Everyone has heard the expression, "print is dead," and there is no shortage of opinion about the explosion of digital publishing in the past few years. This massive shift in how people read has been changing the publishing industry, but it also affects something near and dear to Christian hearts: the Bible. Does the increasing popularity of digital publishing mean that the classic, tried and true, leather-bound, print Bible is dead?
According to 2016 statistics from Barna's research study, The Bible in America, the Bible is still the best-selling physical book on earth, with over five billion copies sold. According to the study, more than a third of Americans are reading the Bible at least once a week, and 88 percent of US adults read a print version of the Bible on their own in the last year.
Additionally, a 2014 poll conducted by BibleGateway, the popular Bible website, revealed that 65 percent of respondents said they were reading the Bible—print and digital versions—more than they used to because of Bible apps. Even though congregants with smart phones out during sermons is becoming more common, the familiar sight of churchgoers filing into the pews, Bibles tucked under their arms, is not going away any time soon. So what are Bible publishers doing with their print Bibles to keep them viable and valuable in today's fast-paced, media-saturated culture? To find out, we asked five major Bible publishers about the most innovative Bibles they've published in the last five years.
She Reads Truth Bible (CSB) – B&H

I think what makes this Bible innovative is that it aims to live at the intersection of beauty, goodness, and truth, inviting every woman to count themselves among the She Reads Truth community. It offers unique aspects like original, artfully designed maps, charts, and timelines—both hand drawn and digital—specifically tailored to add context to the book in which they appear. It also includes over 200 devotionals developed to point readers back to Scripture. Many women journal as they read their Bibles, so we've included wide margins for journaling throughout. There are reading plans for every book that include supplemental passages for guiding the reader through Scripture and developing a deeper understanding of God's Word. Along the same lines, the She Reads Truth Bible features 66 key verses, one for each book, which together offer a full story arc of the Bible. To aid in Scripture memorization, each of the key verses is highlighted by wonderfully inspired art created by one of 15 artists.
—Eric Mullet, Marketing Strategist, Bibles & Specialty B&H Publishing Group
NIV Beautiful Word Bible – Zondervan

One Bible we are especially proud of is our NIV Beautiful Word Bible because of the way it has helped thousands of women experience God's Word more deeply and personally. I consider this Bible innovative for how it leverages a journaling experience and unique trim size, pairing it with beautifully illustrated Scripture artwork. I was fascinated to learn that talented, artistic women across the country were doing their own illustrated artwork in their Bibles—finding fresh and creative ways to respond to their Scripture reading. But no one was helping these masses of women, who were already creatively engaging with Scripture, see that as a viable way to respond to God's Word. So we wanted to provide a Bible specifically designed to help them do it. This full-color Bible helps women explore a creative way to reflect on and respond to God's Word, whether in their own personal devotional time or in Bible study groups.
—Melinda Bouma, Associate Publisher, Zondervan Bible Group
Know the Word Study Bible (NKJV) – Thomas Nelson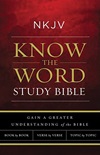 The Know the Word Study Bible is specially designed to help transform readers into students of Scripture. Know the Word's innovation lies in its invitation to engage with Scripture at three levels—verse by verse, book by book, and topic by topic. Like many study Bibles, the bottom-of-the-page notes illuminate Scripture one verse at a time. But this Bible also has hundreds of chain-referenced "Study the Book" articles that guide readers through the central themes of each Scripture book, placing each within the larger context of the Bible's overarching message. And the topical articles (also chain-referenced) walk readers through the core doctrines and teachings of the Christian faith—topics like creation, Trinity, Christology, and salvation—in a way that's practical, engaging, and grounded in Scripture. Wherever someone is in their walk with Christ, the Know the Word Study Bible is the perfect invitation to become a better student of God's Word.
—Daniel Marrs, Associate Publisher, Thomas Nelson Bible Group
NLT Illustrated Study Bible – Tyndale House Publishers

One of the most rewarding and challenging projects I have worked on in over 10 years of being at Tyndale is the NLT Illustrated Study Bible. We wanted to create a study Bible for today's visual generation. This required close collaboration between our editorial and design teams. Sitting down with designers and editors to come up with the right things to illustrate and the right way to illustrate them was an amazing experience. We found images and illustrations that would help convey the message of the Bible in tangible ways so that the reader would be drawn into God's story and would see things they hadn't seen before. This Bible is filled with full-color maps, photos, charts, and illustrations. Color-coded book and section introductions, over 300 articles on biblical themes, and more than 25,000 study notes help draw the reader into the text. We love hearing the stories of people who have connected with the message of Scripture in new and profound ways through this Bible.
—Kevin O'Brien, Study Bible and Reference Brand Manager, Tyndale House Publishers
ESV Reader's Bible – Crossway
Without a doubt, I think Crossway's most innovative Bible recently has been the ESV Reader's Bible. This beautifully bound, six-volume set presents the Bible text in an immersive, clutter-free format. Chapter and verse numbers, footnotes, cross-references, and section headings have been removed. The text stands on its own, free from all distraction. By removing the clutter of the typical Bible page, this edition is designed to encourage deep, immersive reading of the Bible.
Additionally, dividing the Bible into six separate volumes provides the freedom to present the text in a beautiful, book-like format—with generous margins, an elegant typeface, ample line spacing, and high-quality paper. Our aim is not to replace traditional Bibles or to downplay the importance of careful study of small portions of Scripture. Rather, it is our hope that this specific edition will encourage readers to spend more time in the text and to be swept up into the overarching storyline of the Bible.
—Don Jones, Vice President of Bible Publishing, Crossway
Caleb Lindgren is associate theology editor at Christianity Today.