If you're the kind of person who has a million new questions pop up every time you hear a sermon, Logos 6 is the perfect resource to help you explore the Bible. Whether you start wondering about the original Greek, find yourself curious about historical cultures, or desire to see visual maps for a biblical text, you'll find what you're looking for in this Bible software.
It took me weeks of using Logos 6 to feel like I had a good idea of all it offered. That speaks to its breadth of tools—but it also speaks to how long it took me to understand how to use it.
After recently receiving Logos 6, I took a lot of time to explore. This is the first time I've owned a Logos product, and I admit that I was overwhelmed at first. There are so many tools and resources—especially on the desktop version of Logos—that I wasn't quite sure where to start, so I downloaded the Logos app to my Kindle Fire. The idea of sitting at my desktop to read the Bible during my devotions wasn't all that appealing, but reading on my Kindle feels more natural. And if you use an iPad, there's a Logos app for that, too.
Devotional Reading
I recently heard a pastor teach on Micah 6:8, so I decided to read through the Book of Micah on my own. Using Logos 6, I could read the text in my preferred translation, highlight, make notes, compare multiple translations, and even look at a library of commentaries as I read—all from my Kindle. It was really helpful. The app was beautiful to read, and the resources were available when I wanted them.
Later that week, I used the Logos app on my Kindle at my small group to look up our Bible passage. I was able to highlight and write myself a note right on the verse. And these notes and highlights are incredibly easy to pull up later—whether you're on your Kindle, desktop, or phone. The Logos app seamlessly syncs between your platforms. So you can take notes in your Sunday school class, during your personal study, or during the weekly sermon.
Not sure what to read? Logos 6 offers great Bible reading plans including 6 Days on Light, 10 Days on Discipleship, and 30 Days on Marriage. If none of them pique your interest, generate your own by entering the text you'd like to read—Ephesians, the Gospels, the New Testament—and Logos will generate a plan for you based on the timeframe you enter. You can also make customized plans that include both Bible readings and readings from related resources like Bible dictionaries or commentaries.
Explore a Passage
After finishing Micah, I wanted to dig a little deeper on some of the themes from the book. I was able to search "justice," "mercy," and even "Micah" to learn more. Logos pulled a plethora of resources from commentaries, Bible dictionaries, books on the topics, ancient texts, and even illustrated encyclopedias. I could see maps of where Micah lived and preached, a timeline that explained his place in relation to other minor prophets, and an easy-to-understand overview of Micah. Searching on your desktop brings up results in helpful tabs, and you can even save your search to come back to it later. This was really helpful when I wanted to look up that week's small group study passage without losing my work on Micah.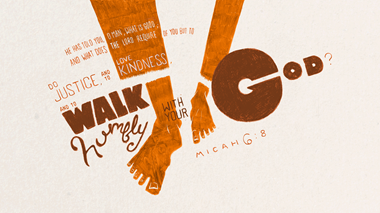 As a fun bonus, I was able to find great visual art for Micah 6:8 on my desktop version of Logos. Each day, the team at Logos releases a verse of the day that is beautifully designed. The verse of the day is visible in all Logos apps, and it's a fun surprise to see the artwork each day.
When you're reading the Bible on your desktop, you can highlight a verse or passage, and select "visual copy" to bring up any past artwork t created for the verse. Plus, you can create your own with any verse by selecting from their templates. This is a great tool for sharing verses on social media, with your group, or as part of a message or presentation. Teachers who use PowerPoint will love this feature.
Connect with Others
Logos is integrated with FaithLife, a free website that connects people in small groups. You can choose from existing groups, or you can create your own group and invite friends to join in. On that platform, you can share group notes, prayer requests, and even the Bible reading plan you're using.
If group members have Logos, though, there are great tools to learn from Scripture together. Group members can highlight and make notes on your group study passage in Logos, and the notes and highlights will show up for the entire group to see. You can also share resources related to your study, even highlighting and making notes on them. You can also share group prayer requests, remind members to read the next passage, and even choose or create a Logos reading plan to do together. To get the most of these group tools, however, requires multiple (or all) group members to purchase Logos, which may be too large an investment for some. If your group members already have Logos, though, be sure to create a group through FaithLife to take advantage of these integrated group tools.
Overall Review
The Logos 6 app is great for reading the Bible, comparing translations, highlighting, and taking notes. I love that it syncs across platforms, so you never lose your notes—regardless of whether you're reading on your phone, iPad, or computer. But Logos 6 is pricey if you're only using it as a Bible reading app.
For those who enjoy digging deeper into the Word, referencing multiple resources like Bible dictionaries and commentaries, and seeing visual tools like timelines, Logos 6 is a great investment. It could completely change your personal Bible reading.
If you're a teacher or pastor, you'll love the in-depth tools of Logos 6 to quickly put together a sermon or presentation. Between the plethora of resources and the visual copy artwork, you can pull together a PowerPoint presentation in no time—whether for a Sunday school class, Bible study, or sermon illustration.
I didn't find Logos to be intuitive, however, and it took me a while to learn how to use the various tools. I'm actually still learning, but their support videos and articles have been helpful. Be aware of this. Chances are, you'll need to spend considerable time learning how to use Logos. Once you learn how to use it, though, there are incredible resources available.
Logos 6 is available now.
—Amy Jackson is managing editor of ChristianBibleStudies.com; copyright 2014 by Christianity Today.