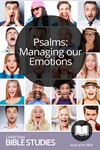 6. Psalms: Managing Our Emotions
Learn how God's word in the Psalms deeply affects our emotions.
12 Session Bible Study
Emotions are complicated and complex. Even the experts are not sure what causes us to experience emotions. For Christians, emotions can be troubling, frustrating, and untrustworthy. Some emotions seem deeply spiritual; other emotions seem downright sinful. God created us to experience emotions, yet there are still godly and ungodly ways to manage them. This 12-session study on the Book of Psalms will help you sort this out.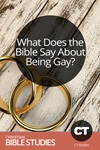 7. What Does the Bible Say About Being Gay?
Shining God's light of truth on a polarizing topic
3 Session Bible Study
In general, Christians have done a poor job of talking about sexuality, especially when it comes to same-sex orientation. For many, it's a taboo topic to avoid at all costs. Others speak about it plenty, but they focus solely on truth without any love or grace. What does the Bible really say about being gay? And how should we respond to people who experience same-sex orientation? This study draws on three articles—two from Christianity Today and one from Her.meneutics—to address these questions in truth and love.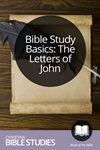 8. Bible Study Basics: The Letters of John
Live out the message of Jesus.
Multi Session Bible Study
As time passed after Jesus' death and resurrection, the believers had an increasingly difficult time remembering his actual teachings. Believers from different places were preaching different messages. As fewer and fewer people who had spent time with Jesus in the flesh were alive to share their experiences, John wrote these three letters to clear up Jesus' teachings and to call believers back to his message. The drift away from Jesus' message happens all too easily—even today—and we can all gain from John's wisdom. Learn how to stay true to Christ in a very gray world.
9. The Minor Prophets: God Still Speaks
Lead your group in experiencing God's sovereignty, holiness, and love.
12 Session Bible Study
Be honest. When did you last read a book like Obadiah? Or Nahum? Or perhaps the better question is "Have you ever read Obadiah?" or "Where do I find Haggai"?
The Minor Prophets form the last 12 books of the Old Testament. Theologian James Montgomery Boice comments on how the Minor Prophets dramatize the character of God as few other books do: "They highlight God's sovereignty … holiness … [and] love …. In the Minor Prophets, we will hear the voice of God speaking to us in a fresh way … as individuals and as a spiritual fellowship in the Church." Explore the great wisdom in these books in this 12 session study.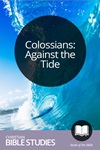 10. Colossians: Against the Tide
The Book of Colossians teaches principles for living a Christian life in the midst of a non-Christian culture.
9 Session Bible Study
The Book of Colossians teaches principles for living a Christian life in the midst of a non-Christian culture. Sometimes this calls for us to stand against the tide of public opinion or popular trends. This nine-session study will address such issues as how to please God, develop a stable walk with God, think like a Christian, practice spiritual self-defense, live with a focus, and become a prayer warrior.
Kristen Cloyd is the Marketing Coordinator for ChristianBibleStudies.com.