It's that time of year again: The days are shorter, the holiday season is in full swing, and the annual list of our most popular Bible studies is here! From prayer to stewardship to emotional health, these top 10 studies cover a wide range of topics that will help guide your daily walk—whether you're using them for your own personal quiet time or in a group study (or both!).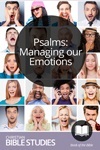 1. Psalms: Managing Our Emotions
In this twelve-session course, learn how God's word in the Psalms deeply affects our emotions.
12 Session Bible Study
Emotions are both complicated and complex, both mysterious and mystifying. Even the experts are not sure what causes us to experience emotions. Both social science and neurobiology have tried, to no avail, to explain the origin of emotions. And for Christians, emotions can be troubling, frustrating, and untrustworthy. Some emotions seem deeply spiritual; other emotions seem downright sinful. God created us to experience emotions, yet there are still godly and ungodly ways to manage them. This 12-session course on the Book of Psalms will help you sort this out.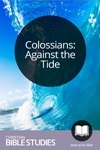 2. Colossians: Against the Tide
The Book of Colossians teaches principles for living a Christian life in the midst of a non-Christian culture.
9 Session Bible Study
The Book of Colossians teaches principles for living a Christian life in the midst of a non-Christian culture. Sometimes this calls for us to stand against the tide of public opinion or popular trends. This nine-session study will address such issues as how to please God, develop a stable walk with God, think like a Christian, practice spiritual self-defense, live with a focus, and become a prayer warrior.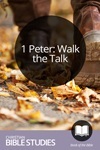 3. 1 Peter: Walk the Talk
Transformation—the process of becoming holy—begins in your mind.
7 Session Bible Study
Transformation—the process of becoming holy—begins in your mind. We will see in this seven-session Bible study that the apostle Peter shows us how to begin to think differently, which will radically affect our behavior. We all make split-second decisions in any given moment to do right or wrong. To choose right, we must learn to be obedient to God, which will give us an appetite for being good. This kind of obedience will create a radical change in our relationships, so that our quality of life will improve. Finally, we will learn how to prepare for suffering that inevitably comes to everyone, as we trust a loving God who has promised to take care of us.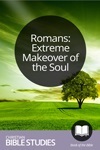 4. Romans: Extreme Makeover of the Soul
How God transforms our lives.
4 Session Bible Study
Have you ever wondered what kind of person you would be if you lived up to your potential? Have you ever wondered what God had in mind when he made you in the first place? Have you ever wondered if this life is really worth all the pain and heartache? God wants to make us into new people—an extreme makeover of the soul, something we cannot do on our own. Our extreme makeover begins when God justifies us through faith in Jesus Christ, freeing us from our past, securing our future, and initiating God's transforming work in our lives. The great news is that it is his work, not just ours. He gives us his Holy Spirit to guide and empower us through each step of growth.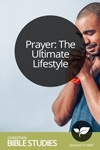 5. Prayer: The Ultimate Lifestyle
We simply can't know God without prayer.
6 Session Bible Study
Prayer is one of the most important components of the Christian life. We simply can't know God without it. This six-session course will cover some of the essentials of prayer. We will be looking at the fact that we pray to a Father who always honors his name, and that prayer, by nature, is surrender. We will also look at practical aspects of prayer, such as developing a prayer lifestyle, examining the guidelines God has given us for prayer, and learning how to pray for ourselves and others.